COVER STORY | Long Live Slowdive
Neil Halstead and Rachel Goswell talk 30 years of Souvlaki and the creation of everything is alive—the band's first new album since 2017
Photos by Ingrid Pop & Martyn Goodacre/Getty Images
Music
Features
Slowdive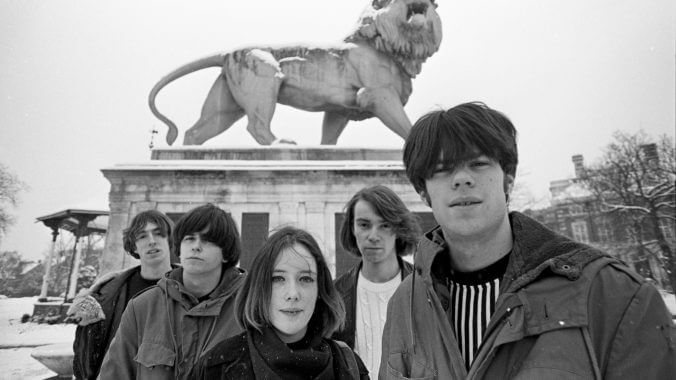 When their third album, Pygmalion, came out in February 1995, Slowdive had already been marching towards their own funeral. The album had been finished and delivered to Creation Records a year prior and, in the time between, the band had long run out of funds to survive as a unit. Neil Halstead, Rachel Goswell, Christian Savill and Nick Chaplin had to pick up day jobs just to get by, and their original drummer Simon Scott had left the band after hearing the direction in which Halstead was taking the sound—notably a complicated gloss that included a drum machine instead of Scott's involvement. The original finale of Slowdive had been etched in stone far before anyone else ever realized it. When Halstead was laying down the guitar parts for "Trellisaze" in the studio, album engineer Chris Hufford turned to Goswell in the control room and said, "I just don't understand what he wants, what he's trying to do." Chaplin and Savill were disaffected by the process, and Creation canned the band a week after Pygmalion's release; label co-founder Alan McGee was expecting a pop record, despite Halstead telling him it wouldn't be. The four original members of the band never sat down and had a "we're done" conversation—Slowdive just ceased to be.
Halstead wasn't interested in making guitar music at that point. He was influenced by techno, early Aphex Twin and John Cage, and wanted to put his own imprint into that realm. Slowdive had always made records in professional spaces until Pygmalion, which was crafted in bedrooms and kitchens as well as the band's homebase of Courtyard Studios. Much of their then-final album came together on just a sampler and a cubase—though Goswell would come by and track her vocals in Halstead's flat in Ladbroke Grove. In retrospect, Halstead admits that he forced Pygmalion through, even though he still likes the record. "[Pygmalion] came at a cost," he says. "It came at a cost to Creation, as well, because, when they did hear the final thing, they were a bit shocked. They weren't expecting that kind of record and I think the band reached its end. I don't think there was a lot of buzz—there certainly wasn't much interest from everyone at that point, which is a shame."
The band's previous outing, Souvlaki—the Slowdive album now considered a masterpiece and a revolutionary, pioneering artifact from the UK's burgeoning shoegaze period 30 years ago—was initially met with lukewarm reception from writers, despite having a name like Brian Eno attached to it. Perhaps journalists of the time were expecting, or hoping, that all succeeding records in the genre would stack up with My Bloody Valentine's Loveless, but mining for that kind of uniqueness with such an intentionality can only stir up a greater risk for failure. It's what effectively killed the post-Is This It rock revival in New York City 10 years later, and it's what makes the shoegaze era feel like, in retrospect, such a stone-set bubble. Souvlaki proved troublesome to finish, too, as Halstead and Goswell had ended their relationship—the former turning to a much more remote songwriting as a result, and it would take full effect on Pygmalion.
Despite having no money and, essentially, no real prospects post-Souvlaki, Goswell remained with the band and stuck by Halstead and his vision. "I was still—even though, from a financial view, the band had completely drowned by that point—really passionate about the music," she says. "Even though Neil and I had a very difficult time during Souvlaki, on a personal level, I still wanted to make the music and be a part of it." Prior to Slowdive's 2014 reunion, the band's existence was riddled with expectations that couldn't outmuscle the low critical standing they—and many of their contemporaries—faced in the wake of Loveless coming out in 1991 and UK music writers puffing up a scene that, in actuality, didn't exist.
When Slowdive came to be in 1989, they were just five kids from Reading who were stoked on Dinosaur Jr., Sonic Youth and Cocteau Twins—finding a haven in My Bloody Valentine's debut album Isn't Anything and forming a close, symbiotic companionship with fellow hometown outfit Chapterhouse. Alternative bands who went heavy on distortion pedals became enigmatic and tethered to one shapeless, mystical force that music magazines pulled from thin air. "It felt like all of those bands had honorable intentions, that they were trying to make interesting records and they weren't all trying to make the same-sounding records at all," Halstead muses. "It's interesting that everything got bunched into one thing, but I think everyone was trying to make guitar records that would sound different. The Jesus and Mary Chain were like the godfathers of that whole scene for us, the original guitar terrorists."
I think about how The Strokes made rock 'n' roll in New York City that sounded like it could've come out of a Midwest garage and then, suddenly, anyone who sounded minutely similar was of kinship. The Meet Me in the Bathroom era became defined by acts like The White Stripes, Franz Ferdinand and The Hives, all of whom held home bases in Detroit, Glasgow and Fagersta. Similarly, the shoegaze movement is largely identified with Slowdive, Lush, Pale Saints, The Jesus and Mary Chain, Cocteau Twins and My Bloody Valentine, all of whom were from Reading, London, Leeds, East Kilbride, Grangemouth and Dublin, respectively.
Slowdive and Chapterhouse were friends, as Goswell's first "proper" boyfriend was best friends with Chapterhouse's drummer Ashley Bates. "Ashley and I, we used to sit in the basement of his parents' house, playing Sisters of Mercy songs on the guitar when we were 17," she says. "That's what we used to do, that's what I used to do. Chapterhouse formed around the same time Slowdive did, and we both played in Reading a lot. We were friends. We weren't socializing in London and going to the same gigs. We used to go up to gigs in London to see the Mary Chain or the Valentines. For me, that's as far as it went, in terms of a scene. We weren't uber-pally with everybody, because we didn't live up there. We were outside of it but, obviously, the press created the hype and shoegaze and the scene that celebrates itself. I guess we were all varying guitar bands around the same time."
When I tap into Souvlaki now, all of it sounds just as crisp and timeless as it did 30 years ago. Other genres that became prominent at the same time as shoegaze, like New Age or new jack swing, just don't hold up in that kind of way. Halstead chalks that up to Slowdive avoiding the urge to sound like early-'90s bands. "Sometimes the production can obscure things a bit," he says. "We weren't really trying to make records that sound good on the radio, because we really had no interest in being played on the radio—because that wasn't something that seemed like a reality. We were just trying to make records that sounded great when you played them loud in the studio, which is, sometimes, not the best way to make a record sound good on the radio. We weren't coming at it from a technical viewpoint." When I tell him that Souvlaki, to my ears, remains ageless, Halstead is grateful: "We certainly never imagined that that would be the case. Something weird happened, where we got it right—somehow."
The first time Slowdive came over to America, it was for a package-deal tour with Blur in 1991 because, as Halstead puts it, they were both "weird-sounding bands from the UK" on the same American label, SBK—which was an odd creative choice, given that Slowdive and Blur have never once sounded similar to each other. "It didn't really work as a double bill," he says, laughing. "I've got lots of great, somewhat-blurry photographs from that tour," Goswell chimes in. "We played lots of really small clubs, and I know for a fact that Neil and I, definitely on more than one occasion, would have been stoned when we were playing—and Blur were quited pissed. The combination of all of us was probably quite messy, but I've got some photographs of Damon [Albarn] quite literally just dripping in sweat and climbing up a PA stack." But, when Slowdive returned to North American a later with the Oxford quintet Ride, the reception was much warmer, nodding to any sort of hubbub that rock historians try to drum up in retrospect around the era.
"It felt really exciting, because there were kids who were as young as we were—18, 19—at these concerts," Halstead says. "It felt like they were excited about the music that we were doing. It definitely felt like [our music] connected with a certain audience. We never really got played on the radio at all in America, maybe on some of the college stations." It's true, Slowdive did find a presence on college radio, around the time Souvlaki came out—and, at the time, that was such a big pathway for young folks to not just get into the industry, but to influence it, too. Being left of the dial was a way of life; without it, I even begin to can't imagine what might have happened to contemporary music at the time.
By the time Pygmalion hit the shelves, the UK had moved on from what Slowdive was doing—even if the record greatly careened away from everything they'd been doing on Souvlaki. Shoegaze had already hit the wayside, even though Pygmalion was much more industrial, experimental, ambient and, to put it plainly, misunderstood. "I was disappointed. Six years of making records, six years of touring—it's weird to look back on it now," Halstead adds. "We were 24, 25 years old, but we felt like we'd been in the music industry for a long time—which is weird to think about, because we really hadn't and we still didn't really know much about it. It had definitely taken a toll, it was quite a rough and tumble place in the early '90s. There was a lot of criticism of the band at that point, and that was quite difficult to deal with. There was a certain inevitability."
Critics were much more interested in—and fascinated by—the relentless hypnosis of Britpop. Why rehash old news with Slowdive when Oasis and Blur were churning out tracks that became magnets for the glow of contemporary success? John Harris of NME called Pygmalion a "career suicide." Perhaps he was right then, but time passed has favored the Reading shoegaze practitioners greatly in the 28 years since. It's hard to trust any critic who stakes a claim on what piece of art derails a career and what doesn't. In 2013, NME ranked Blur's Parklife as the 22nd greatest album of all time. 12 spots later, in 10th, they placed Oasis' Definitely Maybe. For them, Britpop was not a fad; it was a timeless moment—one that Slowdive would likely never be able latch onto, nor did they really ever want to. Much like how, after Nevermind blew up in 1991 in the States, every rock label tried to sign the next Nirvana. "The shoegaze bands didn't really stand a chance in getting anywhere, particularly in America, at that point," Halstead says. "Everything else completely paled in significance, and it was very much a lad culture," Goswell adds. "It was everything I hate in music, really. Although, I do like a lot of the Blur records, having said that."
You might be wondering: Did Slowdive ever feel any pressure to try their hand at making Britpop? Goswell sums it up pretty succinctly: "No," she says. "We knew, when we did Souvlaki, that Creation weren't into it. One thing that we've always done is we've always done what we want to do—aside from the Souvlaki demos that we gave to [Alan] McGee, who said 'You've got no songs, they're all shit.' That was a bit of a shock, to have to go away and do more stuff—out of which came 'When the Sun Hits' and 'Alison.' But we always don't follow fashion with our music. All the Britpop stuff was very formulaic, but you could argue the same about any genre of music."
But once Pygmalion came out, Halstead was already planning his next move. He had a collection of tracks and invited Goswell and Ian McCutcheon (who'd been credited as the drummer on Pygmalion) to come do vocals and drums for them. She notes that she tracked her singing for a tune called "Love Songs on the Radio" on a mattress on Halstead's kitchen floor. Slowdive's longtime manager, Sheri Hood, had known Ivo Watts-Russell for years and sent their demos to him. Immediately, Ivo said yes and signed the trio to 4AD. They debated over what name they should file the songs under but, ultimately, came to the conclusion that it wasn't Slowdive anymore, that it was a different band altogether. Thus, Mojave 3 was born—and it would continue to harness Halstead and Goswell's chemistry for a decade across five records.
Everything, however, came to a stop for Goswell in 2006, when she caught a bout with labyrinthitis and lost a lot of her hearing in her left ear as an immediate result. She quit Mojave 3 and touring altogether, spending a year in physiotherapy just learning how to walk in a straight line again and combat intense vertigo. Even today, she still has tinnitus and profound hearing loss in her ear. "I had no choice [but to stop touring], I became too ill," she says. "It took me a couple of years to come to a place of peace, mentally, with the thought of not being a musician anymore. I thought I could no longer do it. It was a definite grieving process at the time." Fast forward a handful of years, and Goswell gave birth to her son Jesse. Three years later, Halstead contacted her about resurrecting Slowdive for some shows. Initially hesitant, Goswell was able to return to her old band—using a combination of wearing earplugs during rehearsals and in-ears during gigs, to prevent her tinnitus from flaring up.
Between 1994 and the band's return in May 2014, there had been a few times where folks would inquire about whether or not Slowdive would consider playing a couple of gigs. But the conversations always stopped quicker than they started. Halstead and Goswell were zeroed in on Mojave 3, never much interested in breaking away from that momentum—until Goswell's departure and the trio's eventual dissolution in 2011. When Slowdive turned up at Primavera in 2014, the appearance snowballed into a mult-year itinerary of shows and Slowdive—their grand, long-awaited comeback album—in 2017.
The eponymous record was widely revered across the board, garnering high-praise reviews and adoration from audiences and outlets who weren't even around when Souvlaki struggled to catch fire in 1993. Prior to Slowdive, I had my reservations about whether or not my biases towards the album were a product of the band's reformation after a 22-year hiatus, or of the project's actual quality. "Sugar For the Pill" is, in my opinion, one of the best songs of this century and—after over five years to digest Slowdive in many different settings—I still can't fathom how the band was able to reconvene and make such dreamy, maximalist familiarity. It's like Duncan Harman wrote in his review for The Skinny: "[Slowdive] represents an awareness of legacy, and the importance of not pissing all over it." Four years prior, My Bloody Valentine had released their own reunion record, m b v, after their own 22-year hiatus. It, too, was adored and sent to the moon—not skewing the trajectories of any '90s band's comeback record, instead mapping out the topographical blueprint for every successor to tap into and pull from, much like they had with Isn't Anything and Loveless three decades beforehand.
Now, six years after Slowdive, the quintet have returned with everything is alive, possibly their most cohesive-sounding album yet. Each chapter blends in with the next—fashioning the project into this cinematic experience distilled into 42 minutes of atmospheric, punctuated synths and vivid, droning guitars. What Harman wrote about Slowdive in 2017 returns at an even greater magnitude this time around, as Halstead, Goswell, Chaplin, Savill and Scott have crafted what is—in my opinion—the talismanic, spiritual successor to Souvlaki. Concise and prismatic and a proper balance of darkness and angelic glow, everything is alive beckons a push and pull between pop and ambient—a middle ground where shoegaze and the gauze of dreamy bedroom lo-fi live and breathe.
The specifics of when Slowdive decided they would make another record is uncertain. Halstead says they decided on it during the pandemic, while Goswell points to loosely making the decision during the comedown of their tour with The War on Drugs in 2018. They'd chosen to take all of 2019 off, because, since 2014, they'd been playing gigs and recording relentlessly. During that time away, Halstead was tinkering away, recording a bunch of electronic tracks with modular systems that he would then—during COVID—present to the rest of the band. "I remember us being on flights to various places and [Halstead] would be there with his laptop and headphones on ProTools," Goswell says, snickering. "He was gathering stuff."
It's true. In fact, Halstead had sent in about 40 demos for possible use on the next Slowdive album—a number later whittled down to a miraculous eight. Much of the resources he forwarded to his bandmates were synth-driven and bare-bones, but songs like "shanty" and "prayer remembered" came through rather quickly—the former of which Goswell listened to on loop for multiple days, because it instilled a long-awaited excited about making music with her bandmates again after quarantine. Slowdive had six weeks at the Courtyard booked for April 2020, but COVID made them wait until October of that year—where being able to get out of the house and record together glossed the entire process over with joy. "We started working on some of the material I had sent, adding bits and pieces to see if it would work as Slowdive material. And some of it did. It was a hodge-podge of things coming from these very minimal electronic pieces of music," Halstead adds.
It would take multiple years to finish everything is alive, as the quintet moved around from Oxfordshire to the Wolds of Lincolnshire to Halstead's own Cornish studio between 2020 and 2022, when Shawn Everett was tapped to mix 3/4s of the album. Fast-forward to this summer, when the project was first teased with lead single "kisses," the poppiest track Slowdive have ever put out—and one that took many attempts to get right, including an xx imitation and an '80s electro-pop version. The record fleshes out all that is good and perfect about the band—the three driving forces that make Slowdive so distinctive: instrumental work, pseudo-pop songs and cuts where Goswell and Halstead fashion their voices into instrumentations that wedge nicely into the niches of dynamic arrangements—even though Halstead isn't particularly keen on his on own vocal takes. "Years ago, I accepted the limitations of my own voice," he says. "I always want to just keep the demo version of the vocal, because I hate redoing it. I'll always try to do the vocals at the same time as I'm doing the guitar. In the '90s, we'd always re-record, do the vocals at the end of the tracking."
"When we first used to mix records, I would think about the voice being used as another instrument," Goswell adds. "My dad, for most of my life, would go, 'You can't hear the vocals! I can't hear what you're singing about,' and I'm like, 'Well, maybe it's not so important what I'm singing about. It's more about the feeling that you get from the overall sound of the song that's important,'" Goswell says. "It's about the atmosphere and the feeling it gives you, rather than pinpointing specific lyrics." I ask her if her dad ever tried to decipher what the Cocteau Twins were singing about. "Definitely not, it's bad," she replies without skipping a beat. "I spent years trying to figure out what Liz Fraser was singing about."
Tracks like "skin in the game" and "andalucia plays" emerge as some of the best Slowdive installments ever—highlighted by Halstead's lullaby vocals that hum and vibrate like a spectral force. "andalucia plays," in particular, is a magnetic, six-minute centerpiece that swells from a sparse synth-oriented arrangement into a subtle, poignant guitar effort. The title is a nod to the John Cale song "Andalucia," but it's very much a love song that strikes a captivating chord. "I dream like a butterfly, perfect and temporary," Halstead intones, as Goswell wraps her harmonies around him delicately. "I actually didn't want to sing on that song, because it's such a personal song [for Halstead]," Goswell tells me. "I was always trying to argue with him, in a polite way, that it just doesn't sound like it should have a female voice on it. But Neil insisted that I sang on it, so I did." The song "prayers remembered" was finished quickly after Halstead brought it to the group. "It had that bit of magic that, sometimes, comes up—like 'Avalyn' did," Goswell adds. "It just has that something about it, where it just felt finished."
More now than maybe ever before, Slowdive are a machine at their peak—a sum of parts who can't help but thrive on an alchemized embodiment of surefire, devastating and rewarding alternative music. The keyboards are spiritual and gothic, as is Scott's lucid, profound drumming. Chaplin's basslines are cosmic, while Savill's rhythm guitar parts are pronounced and full of pastoral tones. Look at "alife" and you'll be rewarded with Goswell's (likely) greatest harmony performance in 30 years. Much of what Halstead was trying to do on Pygmalion all those years ago crops up on everything is alive, too, in the ways the project lifts the focus off of the guitars in hypnotic and confident methods. The record is the antithesis of rigid, as it builds aglow and unravels like silk. Isn't it a funny thing, how the experiments that once ostracized a band from critical spheres can now take a full, cohesive and dynamite shape on their best album yet?
everything is alive is a document of transitional life: The record is dedicated to Goswell's mother and Scott's father, both of whom passed away before the band reconvened in 2020, and, in 2019, Halstead's youngest son Albert was born. The project is a proper balance between lightness and darkness. As Halstead puts it, everything is alive comes in many shades—as it deftly explores human trauma and human growth. All of it morphs into the music in some inexplicable, divine way. The turn towards promise was an organic occurrence, built out of both post-lockdown synergy and music-making as a means of combating grief. Goswell and Scott would have conversations with each other about their losses, while Halstead was one of the few people allowed to attend Goswell's mother's funeral (COVID restrictions were still shrinking gathering numbers at the time). It was a mourning that found its way into the music, a communal coloring of romance and psychedelia and purgative, visceral performances by all five band members.
"When you lose your mother or your father or a sibling, fundamentally the DNA of that person is living within your bones, as well," Goswell says. "That's not to sound trite about it. My dad would say to me, after my mum passed, 'She lives on through you.' It's still a very sad thing, three years down the line now. But I tried to hold onto that. She's in here every single day, and I'm sure it's the same for Simon as well." While there's much catharsis rooted in the foundation of the album, everything is alive is, at the very core of its soul, a hopeful, enduring dissertation on the profundity of energy and the duality of sorrow and gratitude.
When Slowdive made Just for a Day in 1991 and Souvlaki in 1993, the band spent a lot of time living in the same house. Making records was a big means of survival. Now, they're traveling the world again, playing shows at festivals and having cameras pointed at them while they work on-stage. What Slowdive has come to be a part of now is numerous universes removed from the place they left after Pygmalion 28 years ago. "It was what we had," Halstead says. "It wasn't like we had kids or other stuff going on, it was all about the band. It was a very focused, intense time. At this point, we duck in and out of it. It sits alongside real life. I don't know what our real lives were, when we were first putting records down. We were teenagers and it was just this brilliant, weird dream—because we got to put records out on Creation, which was our favorite label, and we got to play big gigs in America. It just was alive for six years and, now, it's a much more balanced experience. In some ways, you get to really enjoy it more because it's not as overwhelming as it was when we were kids."
Now, in 2023, there are many conversations around shoegaze music—many of which around what actually defines the genre. Numerous bands and artists employ a distortion pedal in their tunes and get championed as the second coming of My Bloody Valentine or Swervedriver. Halstead points to Wednesday as an immediate contemporary resource, as he appreciates the way they meld shoegaze and outlaw country sensibilities. A whole new generation has been tapping into electronica and shoegaze and synth-pop and post-punk and building upon the work started 30, 40 years ago—and Slowdive see those young bands' energy and how they've got copious amounts of it, and they've been paying attention for almost two decades now.
"Years ago, when Morr Records put out a Blue Skied An' Clear compilation, where they had all of their bands do cover versions of Slowdive tunes, that was, for me, a weird moment—because that just seemed to come out of nowhere in the 2000s and because shoegaze seemed, to me, to have disappeared off the map," Halstead notes. "And this little label that was putting out Múm and some really good acts. I realized that shoegaze had probably had more impact on electronic artists, at that point, than they had had on mainstream indie pop."
When Slowdive came out in 2017, it had been touted as a rebirth—or at least that's what you would expect a first record released in over 20 years to be for a band. But now, I'm not so sure. For Slowdive to go from playing small pubs and dives to huge festivals and theaters all over the globe—with nothing but inactive space in-between—is nothing short of a miraculous evolution. The endurance of their legacy speaks to a greater mythicality in music—the mystery that surrounds what bands get to make survive and what bands don't. My Bloody Valentine haven't made anything in 10 years; Chapterhouse ended in 2010; Lush called it quits in 2016. In many ways, Slowdive are one of the few pillars of their era still left intact—they've outrun their own expiration date. They say to achieve a rebirth, you must first disappear altogether. everything is alive speaks to one of the few remaining truths in this world: Slowdive never really left us. You can hear it in spades on those early Wednesday records, or in the work coming from folks in Drop Nineteens and DIIV.
When I ask Goswell how she feels about Souvlaki finding its central audience 30 years later, or what it means to be making music at the same time as newer bands who continue to study from the blueprint Slowdive first constructed in a Reading flat many moons ago, she offers a sweet, gracious line of affection: "It's a lovely thing and it makes me smile. And I just think it's something good in the world, which is nice to be a part of."
---
Matt Mitchell reports as Paste's music editor from their home in Columbus, Ohio.