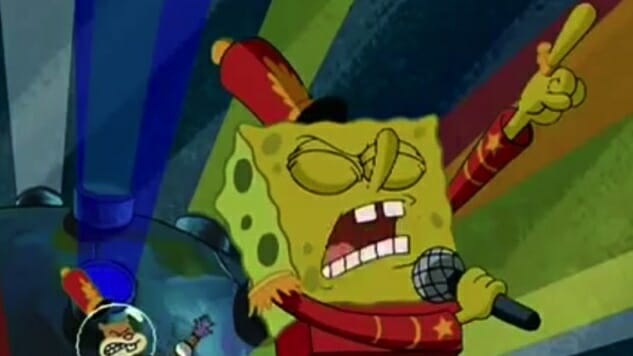 If ever there were a longshot, Israel Colunga's SpongeBob SquarePants petition was it.
Colunga posted the petition on change.org in late November, calling on the NFL to arrange the performance of a song called "Sweet Victory" at the Super Bowl halftime show in February. The song figures prominently in the cosmology of SpongeBob, and a live performance would pay tribute to creator Stephen Hillenburg, who died Nov. 26 of Lou Gehrig's disease, or ALS. He was 57.
The petition was a nice idea, as a kind of inside joke for fans of the beloved animated show about a nerdy yellow sea sponge who lives in a pineapple, and the underdog adventures he has with his pals in Bikini Bottom, on the ocean floor. Colunga created the petition in response to a Twitter thread about "Sweet Victory," and then mostly forgot about it. Naturally, it went viral: nearly a million people have signed their names over the past three weeks, the writers of "Sweet Victory" have expressed their support and even the host of Super Bowl LIII—Mercedes-Benz Stadium in Atlanta—tweeted a SpongeBob gif last weekend in apparent acknowledgement of Colunga's effort.
"At first I was laughing about it, and I didn't really believe that many people could rally together over a song, but now my mind is completely blown. I'm in awe still," Colunga, 18, tells Paste. The aspiring filmmaker from Portland, Oregon, is a SpongeBob devotee who has been watching the program since he was a little kid. "It's the one show that truly inspired me to follow my creative intuition and pursue a career in filmmaking," Colunga says. "I wanted to make people laugh the way SpongeBob made me laugh. It's a huge part of my childhood."
"Sweet Victory" appeared in the second season of SpongeBob in 2001, as part of an episode called "Band Geeks," and was later included on SpongeBob SquarePants: The Yellow Album in 2005. Long story short, one of SpongeBob's friends gets his marching-band a gig performing at halftime of the Bubble Bowl. Though rehearsal goes poorly, they nail their big moment with a soaring '80s-style power ballad about overcoming the odds, with SpongeBob himself on lead vocals. "I don't think I've laughed harder at a SpongeBob episode," Colunga says. "Even now, I snicker just thinking about it."
SpongeBob's singing voice came courtesy of David Glen Eisley, a veteran hard-rock singer who fronted the bands Sorcery, Giuffria and Dirty White Boy in the '80s. Eisley co-wrote "Sweet Victory" with the producer and guitarist Bob Kulick, who has worked with Lou Reed, KISS, W.A.S.P. and Michael Bolton, among others. Eisley and Kulick wrote "Sweet Victory" in the late-'90s as part of a continuing collaboration that began when they met playing baseball with a group of other rockers. The SpongeBob producers picked "Sweet Victory" from a catalog of tunes at Eisley and Kulick's music licenser, APM. The next time Eisley knew anything about the song was when his young daughter came running out of her bedroom to tell him, "The sponge is singing, and it's your voice!"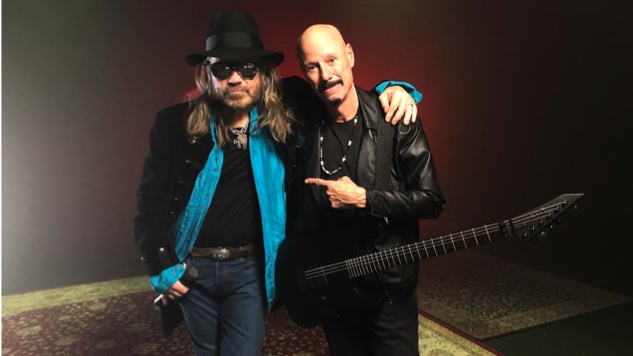 David Glen Eisley (left) and Bob Kulick
Like Colunga, Eisley and Kulick are amazed that a song they wrote 20 years ago continues to resonate so widely—and that an online petition has brought it so much renewed attention. "Even people who are not fans of the style of music that Dave and I do, if you tell them, they'll say, 'I know that song!'" says Kulick.
"It's touching a lot of people, way, way beyond what we ever imagined," Eisley says. "We owe this kid a big dinner for what's happening now."
Colunga envisions Lady Gaga heading a full-on production of the song. "I want dancers, I want lines of instruments, I want lasers, I want fire," he says. Still, despite the attention, and the ever-increasing number of signatures on the petition, Colunga is realistic about the likelihood that someone will perform "Sweet Victory" at the Super Bowl. "I don't think there's much of chance, if I'm being completely honest," he says. "I think the idea was there and it's fun to imagine it happening, but Maroon 5 is slated to perform." (A publicist for Maroon 5 had no comment.)
Eisley and Kulick are more optimistic. "I know for a fact that the NFL is aware of what's going on," Eisley says. "They've contacted the departments of talent acquisition and stuff like that, and people have been beating on their doors and saying, 'You've got to get these guys to come out and do that song.'"
The NFL communications office didn't respond to requests for comment.
Kulick and Eisley have been toying with idea of tweaking the sound of "Sweet Victory." "We were even thinking about remixing the song and maybe putting a choir on there, or an orchestra on there, and bringing it up to date," Kulick says. And while they'd be happy—thrilled, even—to perform it at the Super Bowl, Kulick says they want to make sure whatever happens is a tribute to Hillenburg's memory. "We're open to whatever would make sense to honor him, and put the song out there as something really positive," Kulick says. "That to me is the most important thing about it."