Sports Team's Debut Is a Celebratory Greatest Hits Album
Despite relying on old songs, Deep Down Happy shows why Sports Team are one of the most exciting bands in Britain
Music
Reviews
Sports Team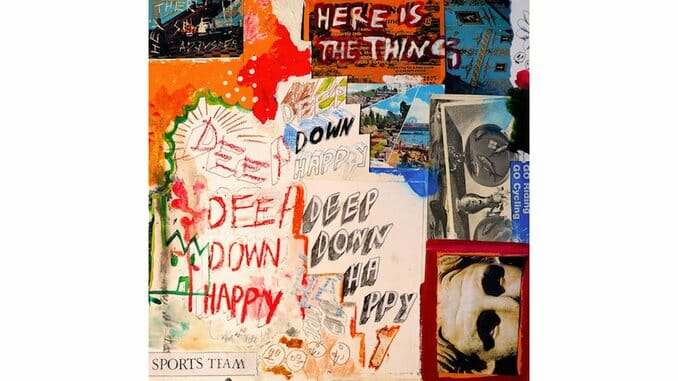 "Ohhhh you've been waiting for a while!" exclaims guitarist Rob Knaggs on lead vocals in the opening seconds of Sports Team's debut album Deep Down Happy. In some sense, the cheeky line is true: Sports Team have been one of the buzziest British indie bands in quite some time. The six-piece has been selling out shows over the past couple years on the strength of a handful of EPs and singles—their most recent New York gig saw three members of Hinds leading the moshpit—and their debut LP is about as hotly-anticipated as any new English rock act could get these days, even giving Lady Gaga a fight for the number one album on the U.K. charts.
The first line of album opener "Lander," shockingly not sung by lead singer Alex Rice—one of the most charismatic and arresting frontmen to arrive on the scene in what feels like ages—is laced with irony. Deep Down Happy's tracklist serves as more of a best-of playlist of the band's first few years than anything else. Two of the 12 songs here ("Camel Crew," "Kutcher") are at least two years old, while others ("Here It Comes Again," "Fishing" and "The Races") saw initial release in 2019. Add another three pre-release singles into the mix (the incendiary "Here's the Thing" is itself four months old now) and suddenly 75% of the album was already out before Deep Down Happy ever hit streaming sites. For longtime followers of the group, it's easy to be disappointed by a debut that doesn't really feel all that new.
But there's also a lot to love here. For those hearing Rice's screamed "HERE IT COOOOOOOOOOOOOOMES AGAIN!" or his "I just wanna be your mid-noughties MTV star" refrain at the thrilling finish of "Kutcher" for the first time, welcome. The songs, from the peppy, swagger-filled "The Races" to arms-around-your-friends singalong "Fishing," feel every bit as joyful now as they did when they were first released. Rice's Mick Jagger-meets-Jarvis Cocker delivery over an instrumental hybrid of "Country House"-era Blur and The Stooges with more than a bit of mid/late 2000s British indie isn't reinventing the wheel by any means, but it's a much-needed breath of fresh air in an age when rock bands are afraid to channel the stylistically irrelevant U.K. groups that critics once dubbed "landfill indie."
Almost every song here feels like an honest-to-god attempt to write a youth anthem, filled to the brim with some of the most infectious choruses in years. Even when the songs get weighed down by iffy lyrics ("I only listen to old bands / I pray the CD don't skip / Cause it keeps me going soft / Only on the weekend" on "Going Soft" is particularly bad), they'll still be stuck in your head for days. Though it occasionally takes itself seriously—"Here's the Thing" takes on lying politicians and Britain's most hypocritical slogans—it's an extremely fun listen that (in Normal Times) begs for thousands of festivalgoers to go ballistic to.
The previously-released singles are still the strongest offerings here, and the newest material, with the exception of "Here's the Thing," never quite lives up to the band's earlier highs. "Lander'' kicks things off with an upbeat speak-sung missive about the monotony of contemporary post-grad life in England ("I really hope that my business speak works / And I get a job cause I really need one"). It works as a mission statement of sorts for the band, detailing Gen Z anxieties and aimlessness over crashing guitars, but it would have been better served had Alex Rice taken lead vocals (ditto for Rob Knaggs' languid singing on "Long Hot Summer," the slowest song on the record). But Knaggs' deeper, heavily British-accented voice absolutely ratchets things up a bit on the tail end of "Here's the Thing," when he and Rice trade the spotlight in the last third of the track. His screaming adds a level of unbridled chaos to the track, a moment that surely will be the highlight of their live set when the group is allowed to hit the stage again.
The other batch of new songs, from the lo-fi "Feels like Fun" to the midtempo album closer "Stations of the Cross," the latter of which features thrilling bursts of energy, don't really showcase anything new about Sports Team, but they compliment the older songs well. The previously-unheard tracks feel a bit like filler at times—and the record could have been better served by older, stronger EP cuts like "Margate," "Stanton" or "M5"—but none of them are particularly tiresome. They're simply good songs in an album full of great ones.
Even if tracks like "Born Sugar" or "Going Soft" don't quite live up to the electrifying highs of "The Races" or "Camel Crew," Deep Down Happy still serves as a much-needed jolt to British indie rock. Animated and charming as hell, Sports Team offer an alternative to the trendy post-punk scene, ruled by bands like black midi, IDLES, Shame and Fontaines D.C. Deep Down Happy may be the most fun indie rock release you'll hear this year, simultaneously recalling the best of Britpop, the 2000s indie invasion and '70s punk stuffed into a package that feels fresh. That may be Sports Team's greatest strength: These songs feel immediately familiar and timeless—you could have sworn you heard these melodies on so-and-so's album from 15 or 25 years ago, but it never feels contrived despite obvious comparisons throughout. Sports Team are exciting in a way rock bands of this ilk haven't felt in ages. Let's just hope that momentum carries into their first LP that doesn't rely on older material.
Watch Sports Team's Paste Studio session below.