The 25 Greatest Steely Dan Songs, Ranked
Photos by Michael Ochs Archives/Getty Images
Music
Lists
Steely Dan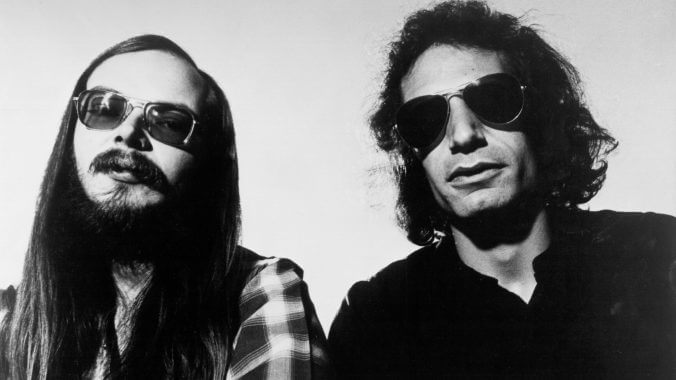 20 years ago today, Steely Dan—the godfathers of yacht rock and ancestors of sleaze—released Everything Must Go, a project that would become their ninth and final album. Donald Fagen and Walter Becker had enjoyed an off-and-on 30-year career, producing some of the greatest records of all-time. After putting out Gaucho in 1980, the boys went their separate ways for a brief time. They each let out some solo roars before reuniting for gigs in 1993. Eventually, they would release the Grammy-winning LP Two Against Nature. No matter how you feel about that record—or whether or not you think it should have won Album of the Year over Kid A—it marked a triumphant, admirable return for Fagen and Becker.
But Everything Must Go would mark a (fittingly titled) end for the duo, who'd set rock 'n' roll ablaze with one of the best seven-album runs you'll ever see: Can't Buy a Thrill, Countdown to Ecstasy, Pretzel Logic, Katy Lied, The Royal Scam, Aja and Gaucho. No band has ever come out the gates like that. I mean, seven perfect—or near-perfect—albums released in succession? It's hard to argue against it. And perhaps you have long tried to resist the oozing, fractured beauty of Steely Dan and the imperfect humanity they embellished across their albums. I'm sorry to report that none of us, no matter how hard we try, will ever outrun the Dan.
So throw on your Aja bootleg sweatpants, crank "Dirty Work" to full-volume in your car like Tony Soprano and bask in the drug-soaked affections of West Hollywood and the characters who call it home. This article is going to be a long, strange, unforgettable trip. If you're new to Steely Dan, may we suggest ensconcing yourself in the burning glow of their discography? To celebrate the 20th anniversary of the band's final chapter, we've ranked their 25 best songs. If you disagree with what we've got to say, well, hey, that's showbiz! We don't make the rules; we just put 'em in order, baby.
25. "Black Cow" (1977)
The opening tune from Steely Dan's best work, "Black Cow" is the ultimate first chapter of Aja. That synthesizer at the jump? Ice-cold and perfect. Victor Feldman's use of a Fender Rhodes is ridiculous here and, when you pair it with Joe Sample's clavinet, it was clear—immediately—that Aja wasn't going to be like any of the band's other albums. And it certainly wasn't. A great lyrical performance from Fagen here, too, especially when he sings "Like a gangster / On the run / You will stagger homeward / To your precious one / I'm the one / Who must make everything right" before harmonizing with a backing chorus of Clydie King, Venetta Fields, Sherlie Matthews and Rebecca Louis.
24. "The Royal Scam" (1976)
The six-and-a-half-minute closing title track of The Royal Scam is big, bustling and immaculate. That Larry Carlton guitar solo? Life changing. It's a haunting, piano-driven track that fragments choral harmonies and six-string licks. I do think that The Royal Scam is Steely Dan's most-underrated entry in their initial seven-album run, and lines like "They are hounded down / To the bottom of a bad town / Amid the ruins / Where they learn to fear / An angry race of fallen kings" atop a jazz-rock waterfall emphasize just how literary, funky and chaotic—even in its meticulous restraint—the album is. In turn, "The Royal Scam" is one of the few Steely Dan songs I can return to and almost always tumble into some fresh detail I'd never paid much focus to before. As I'm writing this list, it's the keyboard twirling faintly in the background at the 2:38 mark. This is one of those songs in the band's catalog that feels like a true, bonafide improv jam.
23. "Reelin' In The Years" (1972)
This one is still a go-to car jam for me. Hitting the highway? "Reelin' In The Years." About to run errands? "Reelin' In The Years." It never gets old, nor should it. Fagen and Becker built this song to last, and it almost cracked the Top-10 on the Billboard Hot 100. What sticks out now, even after the thousandth listen, is Elliott Randall's guitar solo—which he pulled off in one take and is, supposedly, Jimmy Page's favorite solo ever. That's high praise that sticks the landing. Steely Dan would later call "Reelin' In The Years" "dumb but effective." That's just their opinion, though, as the alchemy of their first hit would inspire everyone from Thin Lizzy to Boz Scaggs. "You been tellin' me you're a genius since you were 17 / In all the time I've known you, I still don't know what you mean" remains one of my favorite lyrics Fagen ever laid to tape.
22. "The Fez" (1976)
Though, in real life, a fez is a brimless Moroccan hat first worn by Byzantine-era Balkins, Steely Dan weren't necessarily tapping into that textbook definition on "The Fez"—one of the best Royal Scam tracks—in 1976. No, the song is pretty plainly about refusing to have sex without a condom on. The protagonist is adament about maintaining purity in bed, to some extent. "Please understand I wanna be your holy man," Fagen sings atop a bed of lush vocal harmonies. With an instrumental aptly concocted like a porno backing track, "The Fez" is a groovy, unavoidable fixture of yacht rock in the best possible way—led by Becker's otherworldly guitar solo, which remains, undoubtedly, the best lick he ever pulled off.
21. "Kings" (1972)
A cut from Can't Buy a Thrill that is far too overlooked, "Kings" is a soulful affair that spotlights the backing vocals of Clydie King, Sherlie Matthews and Venetta Fields—who envelope Fagen's singing in a blanket of choral ecstasy. Using the story of Richard and John from Robin Hood, Steely Dan weigh in on contemporary politics, even though Nixon's resignation was still two years away: "While he plundered far and wide / All his starving children cried / And though we sung his fame / We all went hungry just the same / He meant to shine / To the end of the line," Fagen sings. There's no bad track on Can't Buy a Thrill, and something about "Kings" keeps bringing me back over and over. It's no "Do It Again," but, hey, how many songs actually are?
20. "Time Out of Mind" (1980)
I am a notorious Gaucho truther, and that's simply because it is one of the greatest records ever made. So prepare to see damn-near the entire tracklist on this list. If it was acceptable, I would have tried to fit all of it in the Top-10. But, for the sake of giving other tunes a fair shake, we start here, at the genesis of the Top-20, with "Time Out of Mind"—one of the sexiest, coolest numbers Steely Dan ever let go. What does "Put a dollar in the kitty / Don't let the moon look pretty" mean? Hell if I know! But, with Doobie Brothers alum Michael McDonald singing in the backing chorus and Dire Straits brainchild Mark Knopfler on guitar solo, Fagen and Becker were on fire here. "Tonight when I chase the dragon / The water will change to cherry wine / And the silver will turn to gold / Time out of mind" is a chorus that ranks in the echelons of Steely Dan choruses and is one of the thinnest-veiled allegories for heroin use. The fact that this is, like, the fifth-best song on Gaucho is unfathomable.
19. "Show Biz Kids" (1973)
"Show Biz Kids" is sick because the slide guitar that screams across the track was provided by the hoochie koo king himself, Rick Derringer. While Can't Buy a Thrill was loaded with chart-worthy tunes, its follow-up—Countdown to Ecstasy—was Steely Dan's first real foray into the sound, themes and aesthetics that would turn them into bonafide legends by the mid-1970s. "I've found this to be true / While the poor people sleepin' / With the shade on the light / While the poor people sleepin' / All the stars come out at night," Fagen sings. With backing vocals from Sherlie Matthews, Myrna Matthews and Patricia Hall and Derringer's bonkers-mad solo, "Show Biz Kids" is a slice of cool that's equally heavy as it is sublime. The song gnaws at the new American dream, one of gangsters and night-crawlers hustling young folks for drugs and quick cash; with a stable of jerk-off made Shakespearean, Countdown to Ecstasy and "Show Biz Kids" were spiritual and naked and washed anew by mountains of tinsel.
18. "Brooklyn (Owes The Charmer Under Me)" (1972)
The heavy-hitters on Can't Buy a Thrill have long earned their place in Steely Dan's legacy and the rock 'n' roll zeitgeist at-large. But, there are some deep cuts on that record that stand the test of time just as firmly. The most-obvious choice to me is "Brooklyn (Owes The Charmer Under Me)," which sees co-vocalist David Palmer helming the singing duties—and landing every single note in ways that, honestly, Fagen really couldn't. But that was why Steely Dan would've never prospered like they did had Palmer stuck around after Can't Buy a Thrill. His voice was too soulful, too empathetic. I hear Palmer sing and I feel like I can sympathize with him. But these characters that live within the Dan universe, they don't deserve our sympathies. From a musical standpoint, "Brooklyn" is one of the band's most-soulful sketches ever. It was a tried-and-true entry into the soft rock cannon that was dominating the Billboard charts. This cut was never intended to find success on the Hot 100 chart, but it remains an outlier in Steely Dan's catalog—and a damn fine one, at that.
17. "Don't Take Me Alive" (1976)
I've gone on record in this list already that The Royal Scam is the most-underrated pre-Two Against Nature Steely Dan album, and it's this song that fuels my point the most. Larry Carlton's opening guitar riff-slash-solo hybrid remains one of my absolute favorite moments in all of the band's catalog. Something so powerful and enticing, I can't believe Becker didn't have his mitts on the axe for that shredding masterclass. "Don't Take Me Alive" is also one of my favorite stories in the Steely Dan catalog, as the narrative unfurls from the perspective of an alienated man who—dejected and despondent—has taken hostages and negotiates with the cops. "Got a case of dynamite / I could hold out here all night / Yes, I crossed my old man back in Oregon / Don't take me alive," Fagen sings. It's giving Dog Day Afternoon in many ways, and it's one of the toughest examples of his and Becker's prowess—as they transcribe an entire story arc, flawlessly, across a sub-five-minute track.
16. "Dirty Work" (1972)
All hail The Sopranos for bringing "Dirty Work" back into the cultural fold in 2001. We can all relate to Tony Soprano singing this legendary, everlasting Steely Dan tune. Another number with David Palmer helming the lead vocals, there's something so beautiful about Fagen's Wurlitzer electric piano here. "Dirty Work" is not some grand, enigmatic masterpiece of sleaze. Instead, it's a solemn chronicling of an extramarital affair. Palmer's vocals are perfect for this moment, as he exudes just enough softness and vulnerability in his cadence to really sell just how down bad our protagonists are. "Like the castle in its corner / In a medieval game / I foresee terrible trouble / And I stay here just the same," he sings. There's much to love about this song, but it's the backup vocals from Fagen, Becker and drummer Jim Hodder that all but seal the deal on the endurance and sentimentality of "Dirty Work."
15. "Rikki Don't Lose That Number" (1974)
With a guitar solo by future Doobie Brother Jeff "Skunk" Baxter, "Rikki Don't Lose That Number" is pure jazz-rock bliss that incorporates elements of boogie and bolero perfectly. From Victor Feldman's flapamba intro to Baxter's first riff that was lifted from Horace Silver's "Song for My Father," the track is often misinterpreted as being about weed, but Steely Dan has debunked that idea and have insisted that "Rikki" is a writer Fagen had an unrequited crush on in college. "You don't wanna call nobody else / Send it off in a letter to yourself," he sings. The Pretzel Logic opener was another Top-5 hit for the band, and it helped define the entire album at-large. I don't return to this one often, but it's still one of the greatest Steely Dan tunes. And for that, respect must be given.
14. "Gaucho" (1980)
Tom Scott is one of the most-underrated saxophonists of the last century. His opening solo on "Gaucho"? Immaculate and unbeatable. What this song—and the album—is about, is still up for interpretation. In many ways, it's about men who are past their prime. But, on the other hand, the compositions on Gaucho very much point to Fagen and Becker's crumbling creative partnership that was deeply fractured by heavy drug use. "Just when I say / 'Boy we can't miss / You are golden' / Then you do this," Fagen sings at the opening, possibly hinting at how Becker was hit by a car and then saw his girlfriend die of a drug overdose. While Becker was in the hospital recovering from the accident and secondary infections, he and Fagen worked on Gaucho together over the phone. You'd be hard-pressed to outmuscle the romance of a companionship as mythical as theirs.
13. "Bodhisattva" (1973)
I think Countdown to Ecstasy was the last pre-Two Against Nature Steely Dan album that I thoroughly fell in love with. And now it's probably, like, my third favorite album of theirs. Opening chapter "Bodhisattva" is a stone cold boogie with a Skunk Baxter guitar solo that rivaled anything the Allman Brothers ever did around the same time. It's five minutes of unforgettable jazz club bebop and sounds (relatively) unlike anything Steely Dan ever made (before or after). Lyrically, it's not doing much—but it doesn't need to! This is one of the tightest compositions Fagen and Becker ever made together, and it signifies just how top-to-bottom immaculate Countdown to Ecstasy is. "To sparkle in your China / Yes, I'll be there," Fagen sings. Is "Bodhisattva" the coolest song about Buddhism in rock 'n' roll history? Survey says yes!
12. "Doctor Wu" (1975)
Katy Lied, as a whole project, is one of the most-consistent efforts Steely Dan ever made. Songs like "Black Friday" and "Bad Sneakers" are standouts that I return to often, but the album's very best resides in the saxophone-heavy eternity of "Doctor Wu." And what a story this number tells: An addict discovers that his girlfriend (Katy, who supplies him with drugs) is sleeping with his therapist on the sly. Some of the band's greatest songs arrive when they perform incomparable feats of short-storytelling, and "Doctor Wu" is no exception—as Fagen delivers some terrific lines here: "I went searching for the song / You used to sing to me / Katy lies / You could see it in her eyes / But imagine my surprise / When I saw you" and "I was halfway crucified / I was on the other side / Of no tomorrow." But the pinnacle of this thing is that Phil Woods saxophone solo. My goodness, if I made something as perfect as that, I'd never attempt to make anything else ever again.
11. "Cousin Dupree" (2000)
I admittedly struggle to give as much space in my listening rotation to Two Against Nature and Everything Must Go as I do the seven albums that preceded them, but there is a lot of incredible work to mine there. The clear standout is "Cousin Dupree," which, thematically, would have fit in perfectly with the songs on Gaucho. A song with a narrator who is infatuated with his own cousin shouldn't work, but Fagen fills out his character with an added layer of embarrasement—especially when the cousin drags our protagonist across hot coals ("Maybe it's the skeevy look in your eyes / Or that your mind has turned to applesauce"). Some of Fagen's best colloquials live in "Cousin Dupree," including "I've worked a lot of nowhere gigs / From keyboard man in a rock 'n' ska band / To haulin' boss crude in the big rigs" and "the dreary architecture of your soul." But there's a whole mess of accurate, skin-crawling cringe on display here—which just so happens to make for a perfect Steely Dan song.
10. "Aja" (1977)
It is no secret that Aja is Steely Dan's greatest album. At just seven songs, the band turned 40 minutes into a lifetime of all-time compositions. The record's title track is the epitome of jazz rock, a story serenading the beauty of "a dude ranch above the sea." Featuring a shattering, butter-smooth tenor saxophone solo from jazz legend Wayne Shorter and drumming from session great Steve Gadd, "Aja" stands alone in Steely Dan's catalog. "Double helix in the sky tonight / Throw out the hardware, let's do it right," Fagen sings. Whether it's a luxurious song that's either about shooting heroin or jamming with your boys, you can't help but soar alongside the eight-minute runtime. Like much of the band's work, the narrative is opaque, but that's what makes these songs so easy to love. There's thrill in mystery; the world of "Aja" is dense and full of magic.
9. "Hey Nineteen" (1980)
No one knows how to lampoon predatorial pedagogies better than Steely Dan, and "Hey Nineteen" is, arguably, the best example of how Fagen and Becker could get us invested in the story of such a horrid, unforgivable protagonist. This song's hero reminisces on the glory days of being hot shit in a college fraternity, before riffing on the cultural disconnect between him and the teenager he's enamored by. The mere idea of her not knowing who Aretha Franklin is nearly sends him to the brink. And, before we let ourselves feel bad for this dude, we remember that he's a huge asshole poking fun at the taboo nature of his own romantic inclinations: "No we got nothin' in common / No we can't dance together / No, we can't talk at all / Please take me along when you slide on down." Most songwriters can't blur the line like this, but there's a reason why Steely Dan are the greatest novelists of their generation.
8. "Kid Charlemagne" (1976)
The Royal Scam was a perfect turning point for Steely Dan. Though they were not yet in the masterpiece status of Aja and Gaucho, they had become eons better than where they were four years prior on Can't Buy a Thrill. "Kid Charlemagne" chronicles the public life of infamous acid chef Owsley Stanley III and his outlaw ways in a counterculture era long gone. There's a great Larry Carlton guitar solo in here, but what makes the Royal Scam opener such a generational, enduring track is the story at its heart. "On the hill, the stuff was laced with kerosene / But yours was kitchen clean / Everyone stopped to stare at your / Technicolor motorhome / Every A frame had your number on the wall / You musta had it all," Fagen sings. It's likely the best pre-Aja narrative arc, and it would later be sampled by Kanye West on his Graduation song "Champion."
7. "Deacon Blues" (1977)
"Deacon Blues" is Fagen's ode to loserdom. "Learn to work the saxophone / I play just what I feel / Drink scotch whiskey all night long / And die behind the wheel," he sings atop Larry Carlton and Lee Ritenour's dueling guitars, which make sweet love with Pete Christlieb's bustling tenor sax. With nods to Alabama football and moon-drenched crawls across clean streets, the tune is a tight seven minutes of pure, unabashed finesse. I'd kill to make anything half as good as "Deacon Blues," but I'm thankful beyond measure for Fagen and Becker bringing the "expanding man" into my orbit. And, for a band that's made enough masterpieces to serve an entire orchestra, there's something utterly grand and singular about a song that would be among the best parts of nearly any other album ever written; the fact that it's the second-best chapter on Aja is what makes Steely Dan such a talismanic entity in rock history.
6. "Any Major Dude Will Tell You" (1974)
This is a personal favorite, as few other Steely Dan songs exhibit such an optimistic sweetness. In a musical universe full of criminals, predators and losers, "Any Major Dude Will Tell You" pierces through the sludge delicately with Fagen's soulful electric piano and Skunk Baxter's lead guitar guiding its warmth. "Any minor world that breaks apart falls together again," Fagen sings. "When the demon is at your door / In the morning it won't be there no more." There's a comfort here—as the song's narrator is attempting to console a friend in distress—that is undeniable and worth returning to over and over again. Pretzel Logic was a benchmark in soulfulness for the band, and, under the leadership of "Any Major Dude Will Tell You," it's a perfect detour from the Hollywood showboat jazz of Countdown to Ecstasy.
5. "Babylon Sisters" (1980)
"Babylon Sisters" is one of those Steely Dan tracks that I wasn't immediately sold on, but, wow, has it grown on me immensely over the years. One of their greatest album openers, Fagen and Becker are not the stars of this show. Instead, the real treat of the tune is the alchemy of its background singers: Lesley Miller, Patti Austin, Toni Wine, Lani Groves, Diva Gray and Gordon Grody. Their harmonies—paired with Tom Scott's tenor sax, Don Grolnick's electric piano and Bernard Purdie's pattering high-hat—are, without a doubt, one of the slickest components of any song in the band's catalog. "We'll jog with show folk on the sand / Drink kirschwasser from a shell / San Francisco show and tell / Well, I should know by now that it's just a spasm," Fagen sings. Idiosyncratic, provocative and melty, "Babylon Sisters" is a track that cracks open the sky upon every single listen.
4. "Glamour Profession" (1980)
In my humblest opinion, I don't think there's a better story in the Steely Dan cannon than the one Fagen and Becker tell on "Glamour Profession." A true Los Angeles odyssey, we follow Hoops McCann on a drug deal outside a stadium, making stops at the "Carib Cannibal / Off to Barbados" and a meet-up with Jive Miguel (who's in from Bogota, if you didn't know!) at Mr. Chow's for some szechuan dumplings. All of this, paired with an incendiary guitar solo from Steve Kahn and Fagen's ubiquitous synthesizer, made for a career-defining moment. Steely Dan often examined the lifespan of mythical villainy; how does one survive in a town stuck on the silver screen? I don't think they ever fashioned a legitimate answer, but there's a chorus in "Glamour Profession" that haunts me—the one that goes: "Local boys will spend a quarter / Just to shine the silver bowl / Living hard will take its toll." When Fagen sings those lines, it's hard to imagine he's talking about anyone but himself and Becker, who got caught up in addictions that would soon derail the band completely upon Gaucho's release—and bring their utopic rendering of Southern California's underbelly to a halt.
3. "Do It Again" (1972)
It's not often that a band's first song on their first album endures as one of their best, but Steely Dan achieved such a greatness with "Do It Again" on Can't Buy a Thrill. What's funny is they almost instantly shed the Latin jazz and mambo-rock tones they employed here, though the track did reach the Top-10 on the Billboard Hot 100 chart. But, ever the chameleonic troupe, Steely Dan took a stab at a Western epic of revenge and mortality, singing about a killer who gets spared at the gallows. Denny Dias' electric sitar solo followed by Fagen's plastic organ solo on a Yamaha YC-30 is still one of the coolest sequences on any Steely Dan song ever—or any rock song ever, for that matter. And it features one of the greatest opening verses in all of history: "In the mornin' you go gunnin' for the man who stole your water / And you fire 'til he is done in but they catch you at the border / And the mourners are all singin' as they drag you by your feet / But the hangman isn't hangin' and they put you on the street."
2. "My Old School" (1973)
I think I could write a whole book about "My Old School," which is one of the slickest rock songs ever laid to tape. Written about his and Becker's alma mater of Bard College in Annandale, New York, Fagen sings of getting busted for drugs alongside 43 other people by the Poughkeepsie police after a friend betrayed them to Daddy Gee (aka Watergate villain G. Gordon Liddy). Instrumentally, this is one of bossest fusions of jazz, pop and volcanic rock 'n' roll you'll ever hear—and it solidifies Skunk Baxter's guitar power more than any other entry he's featured on. Every piece of this song goes in its own direction, only to all end up in one unrelenting, suave coda of galvanized shredding and sax-playing. "My Old School" also has—in my opinion—the best Steely Dan lyric ever: "California tumbles into the sea / That'll be the day I go back into Annandale." Au revoir, you beautiful Bard.
1. "Peg" (1977)
It's hard to argue with the eminent grandeur of "Peg," one of the greatest rock 'n' roll songs ever cooked up. Steely Dan were often plagued by their own perfectionism (and drug addictions, to be fair), a technical flaw that partially fueled their break up three years after Aja was completed. But that meticulous habit spurred "Peg," and we can remain thankful for that. One of the most-devotional songs in the Steely Dan catalog, you can't help but glow when Fagen sings "I like your pin shot / I keep it with your letter / Done up in blueprint blue / It sure looks good on you / And when you smile for the camera / I know I'll love you better." Whether or not the "Peg" in question was Peg Entwistle or just a glamorous girl made up completely by Fagen and Becker, this moment in the band's catalog is so deeply affectionate that we, too, have fallen madly head-over-heels for the titular inamorata. That limitless guitar solo took attempts from seven guitarists before landing on Jay Graydon's version; Michael McDonald is in the backing chorus. If your song gets sampled by De La Soul, you must have done something right. "Peg" today, "Peg" tomorrow, "Peg" always and forever. It will come back to you.
---
Matt Mitchell is Paste's assistant music editor. He lives in Columbus, Ohio, but you can find him online @yogurttowne.