Daytrotter Session - Nov 28, 2011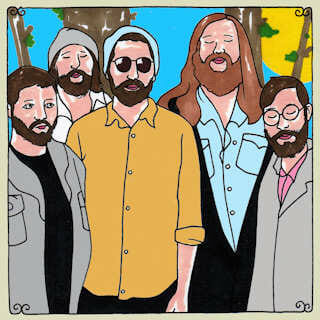 Welcome to Daytrotter
Winter Trees
Wooden Heart
Time
Jealous Hands
The other morning, we made French toast and it went well. You can't mess them up too much, but you can be inattentive. You can have the fire too hot and forget about the slices you've got on the griddle and they can burn in a hurry. It's been known to happen and bring out the curses for the foolishness. This morning, there was none of that. The slices were damn near perfect – a good golden on both sides, not too mushy and not too firm, with the appropriate hints of butter, vanilla and cinnamon to seal the deal. Still, the kitchen and other parts of the house smelled as if some burning had happened. It lingered all day and all night, every time we came in the door – that thick stench of someone fucking up a meal.
The horrible smell that we had to deal with reminded me of some other smokes, particularly the ones that Boston, Massachusetts, band Tallahassee call to order. Whether they know it or not, the four-piece, fronted by former New England Patriots lineman Brian Barthelmes, makes us think about the way certain things smell when they burn. Most of this is entirely unintentional. They meant for little of it and yet, when Barthelmes sings about things smelling like cedar trees and smoke on the brilliantly minimal song of sadness and loss, "Jealous Hands," we can't help but be thrust into this sensory overload and this imagery of those blue and gray ribbons of exhaust coming off of more than just logs and candle wicks. We imagine the smoke that begins to billow slowly from the surface of bliss, when it's winding down, when everyone involved with it starts to sense that these are the end times and there's almost nothing that could stop the smoke from coming. This might be the smell of cedar that Barthelmes was singing of, a smell that can't really be hated, for it brings to mind a smell that we find delight in. It's not like a tire fire or the smoke that comes off an overheated car engine. It's a smell that we covet, that we inhale into our bodies, relishing the way that it sticks in our nose for days, like a pleasant stain. Smoke typically comes after the burn has stopped. It comes at the end of a flame and there's but a finite period of time for the smoke to behave before it fades from view. Even with it out of sight, it stays around to remind us that all of what came before did happen.
Much of what Tallahassee – which is completed by guitarist Scott Thompson, bassist Shawn Carney and drummer Matt Raskopf – wants to convey to us is that of the limitations of time. They're specific about it frequently, reminding us that "time ain't no friend" to any of us. We're real dopes if we think it is. It's our friend when we've already got all the friends we could ever want and aren't looking for any more friends like that. It betrays us and leaves us beaten. When it's finished with us, it leaves behind that smoke that we will always smell living in the fibers of our clothing, as if the smoke was all that we were wearing. People leave us and we leave other people. We leave a trail of smoke that very leisurely weakens and finally dissipates forever. Sometimes it's too soon and others it's never soon enough.