Jack White and Jack Black Make Gray in New Mini-Documentary
Image via JablinskiGames/YouTube
Music
News
Tenacious D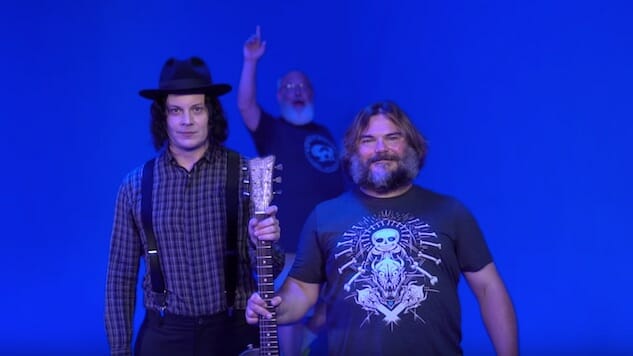 Jack Black and Kyle Gass' comedy-rock/heavy-metal behemoth Tenacious D has done the unthinkable: collaborated with the ever-stone-faced, ever-enigmatic raconteur Jack White.
The comedy duo have shared a short documentary titled Jack Gray detailing their visit to White's Third Man headquarters and forthcoming "kickin' chicken, stone-cold jam."
The 18-minute video shows a lot of commotion and very little collaboration: Black and Glass are given a tour around Third Man's live recording space, shoot the shit with White, and perform a ditty or two for the camera, including a botched a cappella version of "Seven Nation Army." The anachronistic legend himself even chimes in on the duo: "I didn't realize, but they're actually not very nice guys," White says of Tenacious D. "They're actually really mean."
Black and Glass are then shown driving to White's home studio in Nashville to record the 8-tracked forthcoming collaboration, where we are given a brief glimpse of the gate at the front of the house before the camera cuts off.
Though White's interiors will forever remain a mystery to us, Black offered some musings about his home recording studio: "I've never seen so many cool antiqued toys and little moviolas and furniture. It's what you would expect—Jack White's house is going to be off the chain. I'm still floating on cloud nine."
Further details of the Gass-Gray collaboration have yet to be announced, but we can likely expect the new single to arrive soon.
Check out the documentary below.