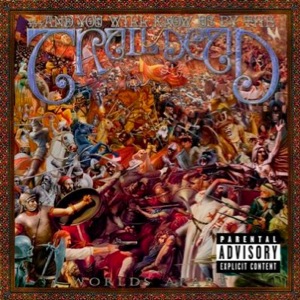 The Ominous/Ridiculously Ominous
I've always preferred the ridiculously ominous to the just-plain ominous.
1. …And You Will Know Us by the Trail of Dead (I always wonder what comes before the ellipses.)
2. I Love You But I've Chosen Darkness (Still, he does love you.)
3. Megadeth (I hate intentional misspellings, but megadeth is a real unit of measurement—the death of one million people in a nuclear disaster.)
4. Bloody Wall of Gore (If you're going to go gore, you have to go all the way)
5. Motörhead (Umlaut's should never be put into the hands of amateurs, but Lemmy knows how to use them.)
6. Dead Kennedys (Despite the insensitivity of their name, they did continue the Kennedy cause of fighting Republicanism during the Reagan '80s.)
7. Suicidal Tendencies
8. Wiccan Guidance Counselor (These guys know how to scare your mom.)
9. Sex Pistols
10. The Brian Jonestown Massacre
The Grand Hyperbole
If you're going to name yourself The Supremes, you better back it up. They did.
1. The Supremes
2. The Jesus and Mary Chain
3. Queen
4. Supreme Beings of Leisure (also falls under truth in advertising)
5. They Might Be Giants
6. T. Rex (And Marc Bolan lived up to the bigger-than-your-average-carniverous-dinosaur name.)
7. Jesus Lizard
8. Tenacious D (Great name, but most of the hyperbole comes from the mouth of Jack Black)
9. 40 Lb Head
10. Thank God We're Immortal
The Meek/Mild
A great band name doesn't always have to be grand or scary. Sometimes it can be just the opposite.
1. Super Furry Animals (A band of great big Welshmen of varying levels of hairiness.)
2. Echo & The Bunnymen
3. Fuzzy Bunny Slippers (The ska is sweeter in New Jersey.)
4. Modest Mouse (Pulled from a Virginia Woolfe line, but I still wouldn't want to mess with Isaac Brock.)
5. Startled Insects (Who can forget their 1987 breakout LP, Curse of the Pheromones?)
6. Local to Indianapolis (No big aspirations here)
7. The Rural Alberta Advantage
8. Pixies (When Black Francis gets on stage, a fairy is the last thing that comes to mind.)
9. The Replacements (Rumored to have been chosen when a different band didn't show up for a gig)
10. Black Moth Super Rainbow
The Perfectly Executed Pun
There are hundreds of terrible band name puns. We love all of them, but here are the worst/best:
1. Japancakes
2. The Dictatortots
3. Swimming Pool Qs
4. Hostile Comb-Over
5. Alcoholocaust
6. Abracadaver
7. Pabst Smear
8. Test Icicles
9. Rumpleforeskin
10. Furious George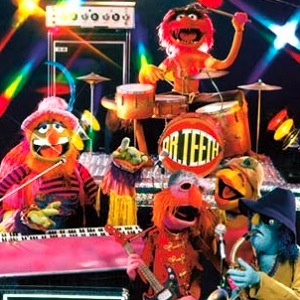 The Best of the Best
Rather than completely copping out on the rankings, these are our 10 absolute favorites, in order. Let us know what yours are in the comments section below.
1. Dr. Teeth and the Electric Mayhem (Leave it to The Muppets to come up with the BEST BAND NAME OF ALL TIME.)
2. Guided By Voices (This always seemed like the secret to Robert Pollard's prolific and bizarre output.)
3. Joy Division (The name came from the 1955 novel House of Dolls in which a Nazi concentration camp had a prostitution arm.)
4. Led Zeppelin
5. A Tribe Called Quest
6. 13th Floor Elevators
7. Godspeed You! Black Emperor (Like Lemmy and the umlaut, we'd have retired random punctuation after these post-rock legends used it best.)
8. Public Enemy
9. Man… or Astro-Man? (After seeing them live, you still wonder.)
10. We Were Promised Jetpacks! (Yes, Scottish frontman Adam Thompson, we sure were.)