The 25 Best Frontwomen of All Time
From Dolores O'Riordan to Diana Ross, we're counting up and narowing down the greatest frontwomen in pop-music history.
Getty Images/ Andrew H. Walker
Music
Lists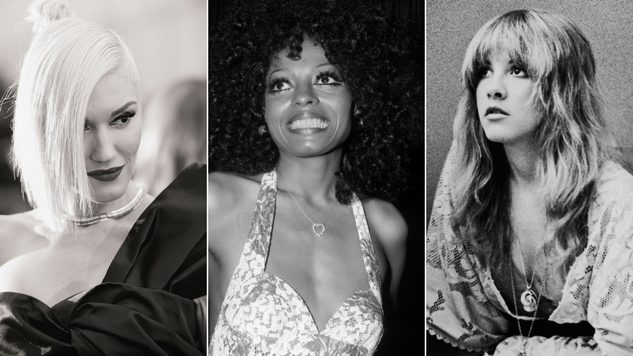 As Kim Gordon knows, there's no such thing as "a girl in a band," but there is definitely a thing as the girl in the band. Compiling a list of history's greatest frontwomen isn't easy, not just because what makes one performer "better" than another is almost totally subjective, but because it's difficult to define what exactly a "frontwoman" actually is. Tina Turner burst from the confines of her partnership with husband Ike Turner to become a solo superstar, and that's mainly how we think of her now: less a frontwoman and more her own woman. Same with Patti Smith, who once fronted the great Patti Smith Group but has released most of her albums under her name only. (Basically, if, like Smith, Turner and Joan Jett, their name was the group's name, we excluded them from this list.) Mary Timony has fronted not one but four awesome, fringe-y bands over the past 25 years, each a catalyst in its own way. All of these women are extraordinary, but none of them are included here. In ranking music's 25 greatest frontwomen, we weighed factors including range, style, artistic achievement, impact on future generations, and the popularity of both the frontowman and her band(s). What all these women have in common is that without them, music history would look a lot different, and a lot worse.
Here are the 25 Greatest Frontwomen of All Time.
25. Hayley Williams (Paramore)
Pop-punk has historically been a boys club, but since Paramore first hit the scene in 2005, Hayley Williams has been changing the game. Just 16 when Paramore released their debut album All We Know Is Falling, she has since led the band through four more LPs, platinum sales, lineup changes, endless Warped Tours, and a Grammy win ("Ain't It Fun" was named Best Rock Song in 2015). And she's still just 29. Her wide-ranging soprano voice has the power to match any of her band's most dramatic songs, and her slight twang evokes her Mississippi roots. Most of all, Williams has been an important role model; for many young women who love pop-punk and emo, she isn't just a singer but a real, relatable heroine.
---
24. Vanessa Briscoe Hay (Pylon)
Pylon never reached the same heights as their close friends R.E.M. and The B-52s, but thanks to their place in the close-knit Athens, Ga. music scene, they are revered as idols of the '80s underground. After releasing two searingly brilliant full-length records—1980's Gyrate and 1983's Chomp—and touring with the likes of Gang of Four, Talking Heads and U2, the art-rockers called it quits. It was an amicable decision made by bandmates Randall Bewley, Michael Lachowski, Curtis Crowe and singer Vanessa Briscoe Hay, and thanks to the incredible legacy they left behind, Briscoe Hay's voice still stands at the forefront of punk history. Whether whispering or screaming, her dynamic, well-measured approach was the perfect foil to Pylon's caustic guitars and churning rhythms.
---
23. Jenny Lewis (Rilo Kiley)
Las Vegas native Jenny Lewis started out as a child actress, appearing in commercials and half-popular teen films like The Wizard and Troop Beverly Hills. She was destined for stardom, but not in Hollywood. She formed Rilo Kiley in 1998 with her then-boyfriend, guitarist Blake Sennett, and the band's appealing blend of country, twee, and indie rock was perfectly suited to the mid-2000s, when the music world was clamoring for a smart, savvy, vintage-dressed icon like Lewis. She played bass, guitar and piano, but it was always her confessional, clear-eyed lyrics, delivered with a delicate yet confident style, that defined the band and launched a thousand more like it. (There would be no Waxahatchee, for one example, without Rilo Kiley.) After taking the group as far as she pleased, she shifted into a thriving solo career and, most recently, another frontwoman gig for the glossy post-punk supergroup Nice as Fuck. Prolific and versatile as ever, Lewis is always up to something, and it's always something good.
---
22. Alice Bag (The Bags)
Of all these great frontwomen, Alice Bag might be the baddest. Born Alicia Armendariz in East Los Angeles to Mexican immigrant parents, she grew up listening to ranchera and soul music, eventually developing her own rough, aggressive vocal style. In the 1970s and '80s, the nascent L.A. punk scene, led by Black Flag and The Germs, was hostile, masculine and destructive; as the founder and singer of The Bags, whom she co-founded with bassist Patricia Morrison, Alice held her own and then some, influencing a new wave of hardcore acts to follow. The Bags released just one single, 1978's strutting "Survive," but Alice's explosive live performances solidified them as punk pioneers. Today, Alice Bag is an author, activist and visual artist. In 2016, she released her first solo record via Don Giovanni.
---
21. Ari Up (The Slits)
Ari Up represents one of rock 'n' roll's wilder and ultimately more tragic tales. As the German-born stepdaughter of The Sex Pistols' Johnny Rotten, she was raised in a house of musicians, forming The Slits at age 14 and developing her own remarkable vocal style. Born Ariane Forster, she was known for her flamboyant stage presence and elaborate outfits. Musically, her love of reggae helped mold The Slits' signature sound of dub-influenced post-punk. After The Slits disbanded, Up settled with her family in Kingston, Jamaica, performing with New Age Steppers and as a solo artist until breast cancer took her life in 2010 at age 48. In a 2012 interview, Johnny Rotten said that Up had refused chemo until it was too late, because she didn't want to lose her dreadlocks. Until the very end, Ari Up did things her way.
---
20. Gwen Stefani (No Doubt)
In many ways a direct descendant of punk foremothers like Ari Up and Alice Bag, Gwen Stefani took the baton and ran around the world with it, "just a girl" bringing punk and ska to the masses with a pop sheen that made it perfect for '90s radio. A global takeover might not have been in the cards for another West Coast pop-punk band at the time, but Stefani's star turn on 1995's MTV-friendly juggernaut Tragic Kingdom made her a goddess to a whole new wave of pop singers. Stefani's glam-but-relatable persona and heart-on-sleeve lyrics gave her instant credibility with young fans, helping No Doubt rocket out of the SoCal underground and, later, sustained a hit-filled solo career. Twenty years since her breakout, Stefani is a Hollywood staple thanks more to her high-profile relationships, but the naked emotion of No Doubt hits like "Just a Girl" and "Don't Speak" remain timeless.
---
19. Laura Jane Grace (Against Me!)
Laura Jane Grace has faced many more challenges than most frontwomen on this list, and each one seems to have made her, and her music, stronger. The Against Me! singer and guitarist came out as transgender in 2012, but she had written about her gender dysphoria as well as barbed topics like war, protest and class struggle throughout the band's career. 2014's Transgender Dysphoria Blues was a landmark record, addressing these thorny, hyper-personal subjects head-on. As badass as Laura Jane Grace was before her transition, she's now a badass in heels, and Against Me! fans love her for it.
---
18. Poly Styrene (X-Ray Spex)
Few rock frontwomen were as raw and confrontational as Poly Styrene, an immense and important voice—and woman of color—in the '70s U.K. punk scene. Styrene, born Marianne Joan Elliott-Said, recorded her first demo album at 18, eventually forming X-Ray Spex after seeing the Sex Pistols. Styrene, the bold face of the band from 1976 to 1979, was known for wearing thick braces on her teeth and eschewing any traditional notion of what a sex symbol should be. The band's breakout single begins with her signature rallying cry: "Some people think little girls should be seen and not heard… but I think 'Oh Bondage! Up Yours!'" Styrene's youth and music were tools to combat society's problematic institutions, and she wielded them with power and force.
---
17. Dolores O'Riordan (The Cranberries)
A figure of ethereal mystery and noir sophistication in the snarling era of grunge, Dolores O'Riordan was a rare and special frontwoman of the '90s. Her lyrics, which blended personal and political topics seamlessly, launched The Cranberries from indie janglers to international pop stars in a style that was at once distinctly Irish and universal. O'Riordan's vocals could be gentle and plaintive on songs like "Linger," and scathing on songs like the politically jagged "Zombie" (basically the band's update of U2's "Sunday Bloody Sunday"), her voice cracking with bursts of rage after nearly every line. O'Riordan's recent passing has brought mega-hits like "Zombie" and "Dreams" back to the pop-culture consciousness, proving that she'll be remembered not just for her voice, but the words it delivered.
---
16. Brittany Howard (Alabama Shakes)
When Alabama Shakes emerged in 2012 with their debut LP Boys & Girls, it was easy to waive them off: another scruffy Americana kitten with a friendly disposition for the jam-band circuit to take in. At least they were really from Alabama. Then Brittany Howard opened her mouth four bars into opener "Hold On," and everything changed. "Bless my heart, bless my soul / didn't think I'd make it to 22 years old," Howard sang in that husky low register, with flashes of grit and polish streaked throughout. Unlike with most young singers wielding that kind of deep-blues trope, you believed her. By the time the sonically adventurous Sound and Color came out in 2015, Howard was a star for all—a plus-sized, mixed-race, bespectacled belter from the deep South, commanding the spotlight with a voice she seems barely in control of, making it all the more thrilling. (She's also a drastically underrated guitarist.) And yet, her magic is derived as much from her striking normalness, both as performer and storyteller.
---
15. Courtney Love (Hole)
Courtney Love's inclusion on any list of great frontwomen is sure to be controversial: Her run with Hole through the '90s comprised just three albums, only one of which, 1994's Live Through This, really cracked the pop-culture stratosphere. But not including her? Unthinkable. For better or worse, Love was the shocking face of female grunge, making equal headlines for her music and her tumultuous personal life. Hole was very much a reflection of her intense personality, with songs like "Teenage Whore" and "Celebrity Skin" doubling as loud, fuzzy manifestations of her distinct perspective. She was the perfect rock frontwoman of the '90s: talented, volatile, image-conscious, anarchic, an embodiment of pre-millennial rock 'n' roll in all its destructive insolence. All infamous associations aside, Courtney Love had no problem making noise on her own.
---
14. Kate Pierson / Cindy Wilson (The B-52s)
From the moment they sprang out of Athens, Ga., in the late '70s, The B-52s were known to borrow from the past, but they were also way ahead of their time. Forming a rare two-woman front line, Kate Pierson and Cindy Wilson crafted a throwback style that was playful, nostalgic and totally innovative, fusing the classic looks and sounds of girl-groups with the burgeoning attitude of punk. The band's sounds were ever-evolving, and Pierson and Wilson kept up with each shift of rhythm, every brazen beat. In fact, they were centrally involved with its creation. Whether it was Wilson's frantic screams on the chorus of "Dance This Mess Around" or Pierson's seductive crooning on the verses of "Love Shack," the two women could sing apart or together, but their contributions to the band were equally essential. Nearly 40 years on from The B-52s' genre-smashing debut album, with its timeless funk freakout Rock Lobster," both Pierson and Wilson continue producing music, most recently with Pierson's Guitars and Microphones (2015) and Wilson's Change (2017).
---
13. Ronnie Spector (The Ronettes)
When Veronica Bennett, her sister Estelle and their cousin, Nedra Talley formed a singing group, they called themselves The Darling Sisters. It wasn't until they changed their name to The Ronettes that history was made. Once the New York natives teamed up with Phil Spector, The Ronettes quickly became icons with hits like "Walking in the Rain" and "Be My Baby," the latter still regarded as the pinnacle of the '60s girl-group movement. While Spector achieved fame for her instantly recognizable voice, with its big-city inflections and vibrato, the music was only one element of her influence; equally significant was her darker take on the image of the female pop star, with her tight skirts and sky-high hairdos evoking a stormy romanticism. There was danger in her voice as well as vulnerability—not an easy combination to pull off. Shortly after The Ronettes disbanded in 1967, Ronnie found herself trapped in a nightmare marriage with Phil Spector, who subjected her to his raving, violent insanity for six years. In retrospect, Ronnie Spector's own legacy as one of the great pop singers of all time is unassailable.
---
12. Janis Joplin (Big Brother and the Holding Company)
Yes, Janis Joplin would be pissed that she isn't higher on this list. She was the premiere frontwoman of her or arguably any era, always leading a band with an overly '60s name (Big Brother and the Holding Company, the Kozmic Blues Band, Full Tilt Boogie). But the bands go in parentheses because she was so singular, both in her talent and in her titanic impact on popular culture, that she's always been just "Janis Joplin." She was on her own as a Texas expat in San Francisco when she joined Big Brother in 1966, and she instantly turned them from minor-league utility players to rock stars. Joplin's coming-out at Monterey Pop in 1967, where she floored the crowd with her eruptive, emotional performance of Big Mama Thornton's "Ball and Chain," detonated the conventional idea of what a female star was supposed to look, act, or sound like. She would pay a steep price for that achievement. The last song she ever recorded, "Mercedes Benz," was just Joplin and her blues.
---
11. Beyoncé Knowles (Destiny's Child)
Okay, so Beyoncé is Beyoncé. You know, like Beyoncé. One of the most talented, popular and successful entertainers of our time, she's known these days for her outstanding solo career, which began in 2003 with the release of Dangerously in Love. But as younger fans and anyone over the age of 30 knows, she made her name as the lead attraction in the mega-selling group Destiny's Child. They were billed as a girl group in an era when the world was moving on from '90s heroines like TLC and En Vogue, but everyone knows they were really a Beyoncé group. Without diminishing the contributions of Kelly Rowland and Michelle Williams, Beyoncé was born to stand center stage, and her solo career was a foregone conclusion. At the time, though, feminist radio anthems like "Say My Name," "Bootylicious" and especially "Survivor" made Destiny's Child the most important R&B group in the world. Two decades later, they remain one of the most popular trios ever. Meanwhile, Beyoncé remains on top of the world.
10. Ann Wilson (Heart)
One of the best pure singers in all of rock music, Ann Wilson always gave Heart's songs the grandeur they needed to pull off that latter-day Zeppelin bit. On the band's first singles, "Magic Man" and "Crazy on You," from 1975's Dreamboat Annie, it's Wilson's crystal-clear voice charging out in front of the stomping guitars and drums. She was truly the Robert Plant of Heart, which was ironic because she was basically aping Plant's feminine wailing thing. At first anyway. When Heart made their huge comeback in the '80s with radio-ready ballads like "These Dreams," it was still Wilson's undeniable voice that made it all fly. Think about an epic like "Alone" without her, and it's just another disposable '80s pop track. With her, it's a song that anyone who likes to sing sings. Wilson, who grew up in the Seattle area, also became a bridge from the early metal of Black Sabbath to the frontperson-centric grunge era that sprouted in her neighborhood, collaborating with Layne Staley and Alice in Chains in the early '90s.
---
9. Siouxsie Sioux (Siouxsie and the Banshees)
At 17, Susan Ballion dropped out of school and entered the London club scene. An early punk innovator, she developed her own fashion-forward style of goth and bondage attire and became Siouxsie Sioux. (Her first band featured Sid Vicious on bass.) In 1976, along with friend Steven Severin, Sioux formed Siouxsie and the Banshees and released a classic single ("Hong Kong Garden") and a classic album, The Scream, which featured gems like "Carcass" and "Suburban Relapse." Though she couldn't yet play an instrument, her dramatic voice, punk spirit and raw confidence made her a star, and the Banshees were her vehicle for dark, theatrical expression. Unlike most of her compatriots, Siouxsie never really slowed down, continuing to make strong new-wave and "alternative-rock" albums into the mid-'90s, where a new generation of stars —including Thurston Moore, PJ Harvey and Courtney Love—was waiting to soak up her influence.
---
8. Chrissie Hynde (The Pretenders)
Akron, Ohio, native Chrissie Hynde moved to London in the late 1970s to work for NME and hang out with rock stars like Mick Jones, Johnny Rotten and Sid Vicious. Eventually, she became one of them, forming The Pretenders in 1978. Hynde did most of the band's songwriting, and her historic achievement was to take all the credibility and confidence and attitude of punk music and inject them directly into pop songs that would get radio airplay for the rest of time. "Middle of the Road" and "Back on the Chain Gang," from 1982's Learning to Crawl, were instantly accessible hits for fans of punk rock, rootsier Americana, and straight garage rock. They were basically dance hits written by a sneering, take-no-shit rock star. A fearless frontwoman in the male-dominated scene, Hynde has never stopped writing great songs, serving as an inspiration for female artists across the spectrum. As Madonna once recalled, "She was amazing: the only woman I'd seen in performance where I thought, 'Yeah, she's got balls, she's awesome!' It gave me courage, inspiration, to see a woman with that kind of confidence in a man's world."
---
7. Grace Slick (Jefferson Airplane)
If the Summer of Love had an anthem, it was Jefferson Airplane's "White Rabbit." That's how essential Grace Slick was to the explosion of youth culture in America and the embrace of mind-expansion in the 1960s, and she remains that essential today. It was, after all, her song: Slick didn't join the Airplane until the group's second album, 1967's Surrealistic Pillow, and when she arrived she had two songs in tow: "Somebody to Love" and "White Rabbit"—i.e. the two songs that made them all stars and basically introduced the Bay Area hippie movement to the world. Together with Janis Joplin, Slick upended the perceptions of women in music in the late '60s, becoming Jefferson Airplane's most enduring personality. Seven albums later, the Airplane crashed and Slick set off on a rocky solo career that found a couple more hits in the '80s with Starship. Though she struggled with substances, Slick's voice—unvarnished, sometimes and fragile and vulnerable, other times fierce and slightly unhinged—remaied instantly recognizable, no matter the generation. Now in her late 70s, Slick has been sober for 20 years, but still claims that if Quaaludes were legal, she'd buy a "big dark amber glass bottle and keep it in the refrigerator." That's pretty rock 'n' roll.
---
6. Karen O (Yeah Yeah Yeahs)
Arriving on the heels of Sleater-Kinney in the early 2000s, Karen O was a frontwoman for the new millennium, a grinning, glittering embodiment of the rock revival that shook New York in the days before and after 9/11. Her eccentric style, singular fashion sense and wild stage antics poked the boundaries of modern femininity and what everyone thought rock music looked like at the dawn of the 21st century. Where The Strokes, The Walkmen and Interpol introduced a fresh new wave of black-clad cool to the annals of New York rock, each with a charismatic frontman, Karen blew them all out of the water with her brazen, balls-to-the-wall "Mystery Girl" stage presence, becoming the undisputed leading frontperson of the era. Born Karen Orzolek in Busan, South Korea, Karen always played with various artistic mediums, from music to film to fashion. Her unhinged shrieks and wails on early Yeah Yeah Yeahs tracks like "Art Star" and "Bang" eventually became nuanced, emotive singing on more mature songs like "Soft Shock" and "Little Shadow," both from 2009's It's Blitz!. But she never lost any of her edge, and never wavered from her distinct brand of weirdo chic. Her most recent release, a collaboration with Parquet Courts and Italian composer Daniele Luppi called Milano, came out last October. More important, it appears Yeah Yeah Yeahs may be planning a return from another long hiatus.
---
5. Carrie Brownstein / Corin Tucker (Sleater-Kinney)
Could there be a Corin Tucker without a Carrie Brownstein, or vice versa? Yes, but there wouldn't be a Sleater-Kinney. The Olympia, Wash., riot grrrl torch bearers roared onto the scene in the mid-'90s with four great punk-infused albums in a row, quickly becoming "America's best band." Despite the heavy guitars and the Northwest pedigree, Sleater-Kinney was not a grunge band, keeping a safe distance from the egotism and image-making hysterics of Courtney Love and the other West Coast women of rock. They were always more insightful and more nuanced despite the volume, with sharp lyrics and pinpoint precision divvied up between these two powerful frontwomen. Whether on early punkish favorites like "Call the Doctor" and "Dig Me Out," or on later, more classic-rock fare like "Sympathy" and "What's Mine Is Yours," Brownstein and Tucker couldn't sound more different, yet their balance always worked seamlessly. Where Tucker's voice and guitar are heavier and more rhythmic, Brownstein's punk yelp and dirty lead-guitar lines lend the group its wild spirit. They're the perfect dual-lead combination, both vocally and instrumentally, and their songs have only gotten stronger as the years have passed (thanks also to the world-class drumming of Janet Weiss). After pausing for a decade-long hiatus in 2005, Sleater-Kinney returned with one of their best albums, No Cities to Love, in 2015, showing that their unique musical and personal chemistry had never diverged, even if Brownstein and Tucker had for a few years. In the past decade, Tucker has released a couple of solo albums, while Brownstein has become an unlikely TV star.
---
4. Kathleen Hanna (Bikini Kill, Le Tigre, The Julie Ruin)
If Sleater-Kinney had a single muse as they began to explore the intersection of punk rock and politics in the Pacific Northwest, it was Kathleen Hanna, the writer, activist, and riot grrrl pioneer who did more to inject activist feminism into rock music that just about any woman before or since. Her seminal band, Bikini Kill, was a leader on the rock scene in Olympia, Wash., during the early 1990s, when the city was known for its scrappy rock zines and commitment to progressive causes. On 1993's Pussy Whipped, Bikini Kill laid out a feminist treatise with punishing songs like "Rebel Girl," which became a call to action, and "Lil Red," with its famous opening line, "These are my tits, yeah / And this is my ass / These are my legs / Watch them walk fucking away / these are long nails to scratch out your eyes." Hanna howled and grunted through the shrieking guitar feedback, making her statement in the most uncompromising fashion imaginable. After Bikini Kill disbanded, Hanna's activism continued as she experimented with new projects like the pop-inflected Le Tigre and the more personal The Julie Ruin. The 2013 documentary The Punk Singer chronicled Hanna's trail-blazing life and career, but her penchant for kicking down doors for women everywhere is far from done.
---
3. Debbie Harry (Blondie)
No, Debbie Harry is not actually called "Blondie," but there wouldn't a Blondie without her. From their modest beginnings in New York's punk underground to their peak of radio and MTV popularity in the early '80s, Blondie owed much to their stunning, stellar frontwoman. Just as New York was embracing the stripped-down, spit-in-your-face ethos of punk music and the oh-so-serious rise of post-punk, Harry somehow made it acceptable for club kids to embrace a wider range of modern music, transforming the sounds of disco ("Heart of Glass"), reggae ("The Tide Is High") and hip-hop ("Rapture") into radio gold. Critics didn't always like it, but Harry's drive to adapt Blondie's sound to changing trends and technologies led to historic experiments and collaborations, like her work with German disco genius Giorgio Moroder on "Call Me," the theme from American Gigolo. Though she was softening the edges of punk, her bulletproof veneer of cool detachment onstage and in the band's pioneering videos solidified her reputation as a confident, versatile frontwoman. And about that hair: Thanks to Harry's bleach-blonde locks, the color became a popular choice for punk women everywhere, but her natural charisma, sex appeal and freedom haven't been replicated since. She'll always be Blondie.
---
2. Diana Ross (The Supremes)
A Motown group with pop appeal and rock 'n' roll attitude, The Supremes were the most successful and influential girl group of the 1960s, and lead singer Diana Ross was the primary reason. A Detroit native with a honeyed voice and big TV-ready eyes, Ross cooed lyrics of love, loss and hope on an unprecedented string of No. 1 hits between 1964 and 1967, beginning with the immortal "Where Did Our Love Go." The songs, including "Baby Love," and "Come See About Me" and "Stop! In the Name of Love," were a consistent salve for a country reeling from assassinations, war and political strife, becoming staples on radio dials for decades to come and putting Ross's voice in millions of living rooms the world over. She wound up influencing not just generations of African-American singers with her grace, elegance and flair, but also rock musicians of the punk, garage and new-wave eras as well. The Supremes were so huge by 1967 that Motown chief Berry Gordy changed their name to Diana Ross and the Supremes. She would go on to find more success as an actress (scoring an Oscar nomination for her portrayal of Billie Holiday in 1972's Lady Sings the Blues) and solo artist, but it's her central role in The Supremes, singing between Mary Wilson and Florence Ballard, that endures as Diana Ross's greatest legacy.
---
1. Stevie Nicks (Fleetwood Mac)
Stevie Nicks is a true original. From a young age, she established her own identity. When she couldn't pronounce her given name of "Stephanie," she adopted the nickname that would stick with her for life. By 16, she was writing her own songs. She met Lindsey Buckingham in high school, and their romantic and musical partnership soon became the stuff of rock legend. Among her great compositions for Fleetwood Mac were "Rhiannon," "Landslide" and "Dreams," the band's biggest hit, for their 1977 landmark album Rumours, a release fueled by heartbreak, drama and a whole lot of cocaine. They were songs that felt both personal and universal, and that's part of what makes Nicks the quintessential frontwoman: She was an unmistakably singular presence, with her long blond locks, feline voice, and flowing fabrics nearly transcending her band. And yet, she was also just one part of the magic that made Fleetwood Mac what it was—a tumultuous family of lovers, friends, fighters and artists. While Nicks has enjoyed a long and successful solo career, Fleetwood Mac is where she captivated the world, dancing and twirling onstage like the magnetic, witchy force of nature she was born to be. We've been under her spell ever since.