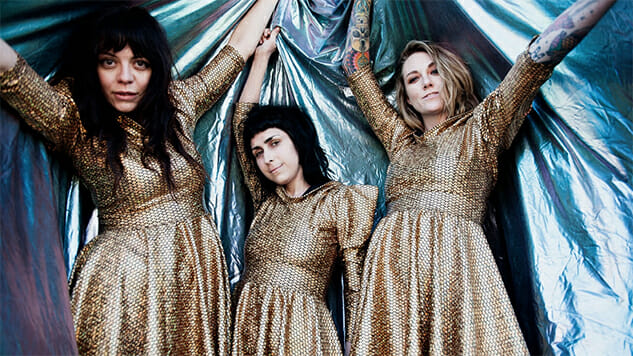 The Coathangers have released an ominous new video for their song "Stranger Danger" from their latest album The Devil You Know.
Vocalist and drummer Stephanie Luke said of the cautionary track and its visual accompaniment:
"Stranger Danger" is a song about avoiding the negative people in one's life, like when your mother used to tell you "stranger danger!" so you wouldn't go off with the bad guys. The video is dark with flashes of light (actual flashlights) to invoke that feeling of the unknown. Then we have our ever so good sport of a friend [and album artwork artist/frequent collaborator] Scott Montoya, whom we've kidnapped and continue to "terrorize" throughout the video, so we in fact have become the dangerous strangers.
Keep close watch on the new video for "Stranger Danger" (dir. Matt Odom) below and through the video embedded below that, stay alert for The Coathangers' performance live in the Paste Studio beginning at 12:30 ET.
The Coathangers Tour Dates:
April
17 – Asbury Park, N.J. @ Asbury Lanes
18 – New York, N.Y. @ Music Hall of Williamsburg
19 – Washington, D.C. @ DC9
20 – Philadelphia, Pa. @ Underground Arts
24 – Brighton, England @ The Latest Music Bar
25 – London, England @ Studio 9294
27 – Leicester, England @ The Cookie
28 – Glasgow, Scotland @ SWG Poetry Club
29 – Manchester, England @ Soup Kitchen
30 – Liverpool, England @ Arts Club (Loft)
May
01 – Leeds, England @ The Key Club
03 – Vlieland, Netherlands @ Here Comes the Summer Festival
04 – Paris, France @ La Boule Noire
05 – Arlon, Belgium @ Les Aralunaires 2019
07 – Wiesbaden, Germany @ Kesselhaus
08 – Cologne, Germany @ Stereo Wonderland
09 – Berlin, Germany @ Maze Club
18 – Everett, Wash. @ Fisherman's Village Music Fest
26 – Las Vegas, Nev. @ Punk Rock Bowling
June
06 – Harrisonburg, Va. @ The Golden Pony
07 – Nelsonville, Ohio @ Nelsonville Fest
08 – Louisville, Ky. @ Zanzabar
09 – Lexington, Ky. @ The Burl
10 – Indianapolis, Ind. @ White Rabbit
12 – Milwaukee, Wis. @ Cactus Club