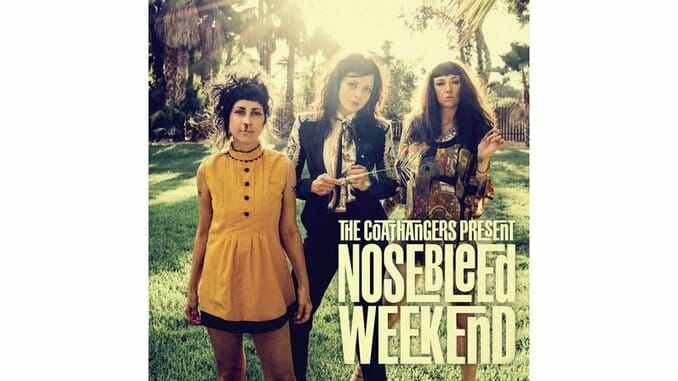 The Coathangers' transition from raw to razor-sharp was essentially complete by 2014's Suck My Shirt, but Nosebleed Weekend displays an even greater capacity for churning out maniacally captivating tunes.
On this fifth album, The Coathangers haven't compromised a bit of the defiant edge that made the band such subversively charming rookies. Only now, 10 years in, The Coathangers have everything nailed down tight enough to withstand a hurricane.
The Coathangers have never been a band to peddle subtlety in their music. But after 10 years, the band wields an expertise—instrumentally but especially in terms of songwriting acumen—that lets them play in a broader spectrum than simply going from wild to wilder. Nosebleed Weekend is a record that knows exactly when to unleash a cacophony and when to rein things in.
The lyrics as always are barbed with stay-out-of-my-way put-downs, but they also open up thematically. The self-reliant streak shows up stronger than ever, aided by experience and The Coathangers' continued dedication to making music their own way.
Musically the record is more complex as well. The Coathangers know how to employ these more dynamic song structures to maximum effect. And though they're just as snarling as ever, The Coathangers find balance by ceding a bit more emphasis to the melodic side. Guitarist Julia Kugel, bassist Meredith Franco and drummer Stephanie Luke all handle vocal duties, drawing together for harmonies more naturally than ever.
"Make It Right" is a pressure-cooker of a lead single, its insistent drumbeat and tightly wound guitar cradling a punk-rock energy on the verge of explosion. The title song drops the tempo a bit, letting the sneer in the "I just don't give a shit" lyrics stand fuller on its own. "Watch Your Back," first released late last year on a split single with the Black Lips, completes that killer trio of mid-album tunes, leaning in the art-punk direction with its loud-quiet splits and group chanted chorus.
The record closes on a bit of a down note with "Copycat," a slinky, coy detour away from The Coathangers' generally aggressive sound. It's an intriguing song, but placed at the end of the record, it functions as a momentum killer, out of place compared to the sustained energy of the other dozen.
But on the whole, Nosebleed Weekend is a triumph, The Coathangers' strongest top-to-bottom album and one that proves the band can maintain its essence as it evolves.