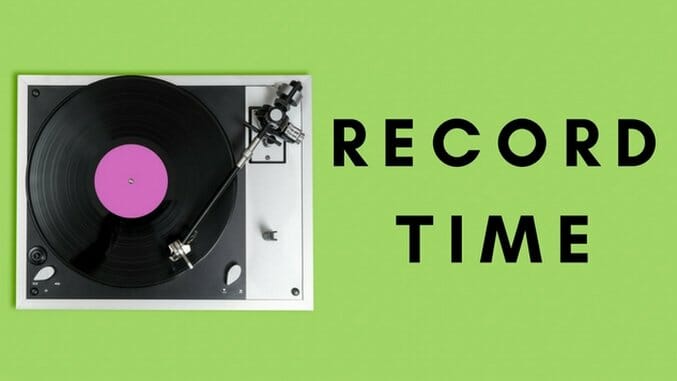 Record Time is Paste's monthly column that takes a glimpse into the wide array of new vinyl releases currently flooding record stores around the world, and all the gear that is part of the ongoing surge in vinyl culture. Rather than run down every fresh bit of wax in the marketplace, we'll home in on special editions, reissues and unusual titles that come across our desk with an interest in discussing both the music and how it is pressed and presented. This month, that a hi-fi edition of a '70s rock favorite, reissues of jazz albums from Detroit legends and live recordings from one of music's great power trios.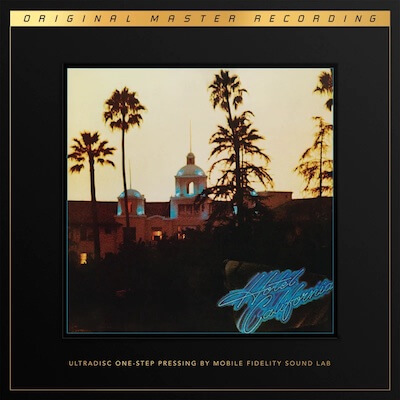 Eagles: Hotel California: Ultradisc One-Step Pressing (Mobile Fidelity Sound Labs)
The good folks at MoFi continue their quest to get listeners as close to the source of a studio album as possible with their Ultradisc One-Step series, which takes some unnecessary steps out of the vinyl pressing process that usually results in a degradation of sound quality. One recent stop on the audio company's journey finds them revisiting this 1976 blockbuster from L.A. rockers Eagles. It's a record that is ubiquitous in the collections and used bins of the world, having sold over 30 millions copies in its time. But, damn if MoFi hasn't delivered on their promise to shine fresh light on these American pop standards. The phased out edges of Don Henley's vocals on "Life In The Fast Lane" shimmer like a richly detailed mirage, "Victim of Love" reveals a vicious sting that has laid dormant all this while and Henley's insistent hi-hat becomes almost a duet partner on Joe Walsh's weeper "Pretty Maids All In A Row." As is the case with all of the One-Step releases to date, this new edition of Hotel California is worth every penny.
---

Beck Bogert & Appice: Live In Japan 1973 / Live In London 1974 (ATCO / Rhino)
Power trios are strangely hard to come by in today's rock world. That reality only makes the achievements of some of the great groups like this one feel that much more momentous. Particularly when listening to these live recordings of guitarist Jeff Beck, bassist Tim Bogert and drummer Carmine Appice. Their dynamic chemistry and virtuosic playing papered over any idea that something might have been missing from their collective sound. These two double-LP sets, packaged in a big box along with bonus goodies like a big poster and recreation of the tour program from the trio's run of Japanese shows, capture the group at the start and finish of their short history. Neither recording has been officially available here in the States, either, which only makes this set more craveable for collectors. Both sets were electrifying with the right amount of looseness that kept both the audiences and the musicians on their collective toes. Bogert sounds especially hopped up on the London recording as he did everything in his power to pull an otherwise taciturn crowd at the Rainbow Theatre out of their shells, using every ounce of his charisma to get them up and dancing. As with the lone studio album the group recorded, this whole set is really a tribute to Beck, who left us earlier this year. His playing throughout this collection scorches as he pushes electric blues to greater peaks of intensity and sensuality. With all respect to the fine work of his playmates, Beck is the star of this show and he shines as bright as ever.
---

Kenny Cox and the Contemporary Jazz Quintet: Multidirection / Elvin Jones: Genesis (Blue Note / Third Man)
In addition to the label's ongoing Tone Poet and Classic Vinyl reissue series, Blue Note has engaged the services of Jack White's Third Man Records to begin a new campaign of re-releases from the jazz imprint's vast back catalog. The 313 Series is a tribute to many jazz artists that came from Detroit, Michigan that recorded for the New York label, starting with a pair of Motor City natives that held their hometown close even as their careers took them far beyond its borders. Drummer Elvin Jones, for example, found fame and acclaim as a member of John Coltrane's classic quartet. In and around his tenure in that group, Jones maintained a healthy recording career as bandleader, including Genesis, a 1971 release that utilized three saxophonists (Joe Farrell, Dave Liebman and Frank Foster) and leaned into the hard bop roots of all the players. Even with that tangle of horns, Jones remains the focus as he lays heavily into his kit with a heavy right hand and a booming kick drum attack. Kenny Cox, meanwhile, stuck close to home when putting together his Contemporary Jazz Quintet. The players are all Detroit natives and their 1970 album Misdirection was recorded locally as well. Whether or not that hometown pride brings any kind of particular flavor to the LP is hard for me to say, but the music is certainly great with trumpeter Charles Moore's compositions like the wonderful patchwork of the title track bringing an angular sharpness to the album.
---

Dengue Fever: Ting Mong (Tuk Tuk)
It's been eight years since we've last heard from Dengue Fever, the L.A.-based band that performs psych rock inspired by the music made in Cambodia before the Khmer Rouge regime and are led by the great vocalist Chhom Nimol. They've been busy enough contributing material to the theater work Cambodian Rock Band and reissuing their past recordings on vinyl but otherwise, the long-standing group has been on a self-imposed hiatus. The time off has clearly been refreshing for the sextet as they've returned with another slow burning beauty of an album. The deep grooves are still as funky as ever and the music still carries that pellucid quality of being performed beneath a few layers of tape hiss. But as the group has continued to rely on original material rather than covers of classic Cambodian tunes, they allow the spell to be broken with the inclusion of English language lyrics and the fine but far-less enticing vocal turns by founding member Zac Holtzman. Nothing is entirely ruined by those moments, but nothing is gained.
---

John Fogerty: John Fogerty / Blue Ridge Rangers (BMG)
The interregnum between John Fogerty's time leading Creedence Clearwater Revival and his chart-topping 1985 album Centerfield found the artist trying to establish a musical personality of his own and dealing with various legal wranglings with his label. What came out of that stretch was a pair of fascinating albums that, this month, have been reissued on vinyl. The first didn't have Fogerty's name anywhere near it. Released as the Blue Ridge Rangers, the album was made up of country and bluegrass covers, with every note of it played by Fogerty himself. It's a fun labor of love that sounds like Fogerty is grinning widely throughout every moment. His first "proper" solo album is equally high-spirited as he dips into covers of favorite R&B songs and applies a bit of New Orleans hoodoo to his hopped up originals. Neither album captures the same swampy feel of his best work with CCR but their joyous energy is undeniably engaging and enough to keep these two in heavy rotation.
---

Nanci Griffith: Working In Corners (Craft Recordings)
Folk / country singer / songwriter Nanci Griffith is likely best known for the success she helped other artists achieve. Bette Midler took "From a Distance," a song Griffith recorded for a 1987 album, to #2 on the Billboard Hot 100. Other country artists like Suzy Bogguss and Kathy Mattea would score major hits with Griffith's compositions. And during her early recording career, she provided a platform for future legends Lyle Lovett and Bela Fleck. For all that she did for others, Griffith's own work has oft been overlooked even after years of recording many great albums for major labels. This new boxed set is a welcome step in correcting this oversight. It brings together four early albums by Griffith, which took her from a more straightforward folk sound into a grittier country mode. As much as I love the first two albums she made, I find myself constantly returning to 1984's Once In a Very Blue Moon and 1986's The Last of the True Believers, her country turn that makes much better use of the crystalline directness of her voice and lyrics. The plainspoken qualities of both are a subtle feint that allows the sharper point to find their target and has left a deep impression on listeners for some 40 years. This collection helps drive that message home with a wonderful booklet that features memories of Griffith's collaborators and copious amounts of archival material, and pitch perfect remasters of the albums.
---

Islet: Soft Fascination (Fire)
On their latest album, Welsh psych-pop quartet Islet aimed to get listeners as close to the experience of being in the room with the band. They recorded the bulk of the music live in the studio with minimal overdubs and a touch of post-production effects to add the half-awake haze that makes their songs so, so good. I don't know that it was quite so successful at trying to capture the raw experience of, say, seeing the band live, but there's little doubt that the band playing together in the same space rather than piecing things together in a studio definitely had an effect on the music. On the spirited first side of the LP especially, Islet sound fully engaged and energized, lifted up by John Thomas' subtly propulsive drumming and main vocalist Emma Daman Thomas' nicely dubby bass work. On the second side, the band get further out into space, adding a feeling of weightlessness to tracks like "An Open Door" and, appropriately enough, "Sleepwalker in a Fog," while managing to keeping everything tethered to a sturdy foundation.
---

Darius Jones: fLuXkit Vancouver (i̶t̶s̶ suite but sacred) (Northern Spy / We Jazz)
Commissioned by the Canadian art center Western Front, this composition from Darius Jones brings the alto saxophonist together with drummer Gerald Cleaver and four string players from Vancouver to perform a multi-part suite that moves with the dramatic sweep of a dangerous weather pattern or the creaking heave of a wooden cargo ship fighting through a turbulent ocean. The roots of this work reach down into other jazz meets chamber works like Ornette Coleman's Skies of America or Kronos Quartet's collaborations with John Zorn but there's something that feels so much more tightly controlled and compact about this work — a ticking time bomb of screeches and drum assaults and sax screams that threaten to cause widespread damage to the world's infrastructure. Do as I did and keep your listens to this amazing LP relegated to headphones and ensuring that the only harm it does is to your eardrums.
---

K.K.'s Priest: Return of the Sinner (Napalm)
Are metal fans better off with K.K. Downing no longer a part of Judas Priest? It's a question worth asking as, with all respect to Rob Halford and co., nothing they've produced in recent years feels as dynamic and as heavy as the material that their former guitarist has been forging with his project K.K.'s Priest. It doesn't hurt that Downing has some great raw material to work with in the form of vocalist Tim "Ripper" Owens and a killer rhythm section anchored by the searing work of drummer Sean Elg. The themes of this project are appropriately fantastical — the soundtrack of a great clash between mythological creatures and demons from the underworld, or maybe armies of humans battling bloodthirsty sea serpents. You know, the kind of stuff that should be airbrushed lovingly on the side of a van or the gas tank of a motorcycle.
---

Love Tractor: Around The Bend (Propeller Sound Recordings)
In the liner notes for this 40th anniversary re-release of Love Tractor's second full-length, bassist / guitarist Armistead Wellford refers to the work that he and his bandmates were creating at the time as a kind of "chamber music." That seems a far more appropriate descriptor for this Athens, GA group's sound than the usual descriptors of post-punk, new wave or alt-pop. Those genre tags certainly apply, but the way these four musicians intertwine their parts together feels closer to a string concerto or a jazz ensemble. Everyone is working in consort while marking their own sonic territory and defining their individual sound. And, as Pylon's Vanessa Briscoe Hay reminds us in those same liner notes, it's great music to dance to. The rhythm section has grooves for days, even through slow burn tracks like "Timberland" and the minimalist "Fat Birds." This new pressing of Bend arrives as part of an ongoing campaign to reissue the back catalog of Love Tractor in advance of a new album by the group. It includes never before heard mixes of a few songs and a shapely remaster overseen by Athens mainstay Jason Nesmith.
---

Morphine: Like Swimming / The Night (Modern Classic Recordings)
What might Mark Sandman have wrought if he wasn't so unceremoniously ripped from this mortal coil in 1999? The question hovered over the release of The Night, the final album from his noir-rock band Morphine. And it lingers on some two decades later with the first ever vinyl pressings of that LP and the group's penultimate statement Like Swimming. The latter was seen at the time as the trio spinning its collective wheels after a series of brilliant releases that brought their unusual and intoxicating sound to the masses, but time has been kind to the record. It now sounds like the product of players who have memorized the playbook and now feel comfortable stretching out and getting playful. The Night continued in that relaxed vein, bringing in new players like keyboardist John Medeski and percussionists Billy Beard and Brahim Frigbane to flesh out the material even further. Even when playing as their standard trio, Morphine introduced further production elements that thicken the atmosphere and the spirit of foreboding that hovered over every note they played. Both albums have never sounded better as they do on these vinyl pressings. The low end spills out of each LP in thick waves and the smoky midrange hovering in the air like fog.
---

Nervosa: Jailbreak (Napalm)
Metal bands tend to exist in a constant state of flux with folks jumping aboard and abandoning ship with alarming regularity. Brazilian thrash quartet Nervosa, for example, has churned through a half dozen or more rhythm sections and vocalists with only guitarist and songwriter Prika Amaral as the mainstay. In fact, the lineup that recorded the group's fifth album is a new one, with a fresh guitarist and drummer, and Amaral deciding to take on the lead vocal role for the first time. The move was evidently an inspiring one as it has resulted in some of Nervosa's most brutal and effective work to date. Amaral speaks some hard, necessary truths in these songs, exposing those self-serving folks who claim to help but are really only making the subjugation worse, and urging her fans to continue carving out their own paths in an otherwise uncaring world.
---

Psygnosis: Mercury (Season of Mist)
The credits for Mercury, the sixth full-length from French prog-metal ensemble Psygnosis, offer a quick glimpse into the granular work that went into creating this epic album. While the music was, overall, composed by guitarist Rémi Vanhove, the performances by cellist Raphaël Verguin and drummer Thomas Crémier are given their own individual writing credits with the latter getting a nod for re-arranging his parts. And the recording of each instrument is broken down individually in the liner notes as well. It's details like that that suggests music that is cold and overly technical. Yet this tightly controlled collection sounds as open and enveloping as being in the group's practice space as they fill the room with IMAX scale visions of colliding planets and volcanic eruptions.
---

Buddy Rich: Trios (Virgin / Lightyear)
The notoriously temperamental Buddy Rich didn't know these recordings were being made by his then-saxophonist Alan Gauvin. The alto player was only able to capture these performances because his bandleader was giving he and the rest of the horn section a rest during their gigs and putting a spotlight on the group's rhythm section for a song or two. So while the quality of these tapes isn't perfect, the playing on these '70s era recordings certainly is. Joined by the late pianist Barry Kiener and either Jon Burr or Tom Warrington on bass, Rich switched to brushes and set about swinging and shuffling his way through a series of standards. Somehow, even after four decades of steady gigging and recording, the drummer was still able to apply a lot of power and dynamism into his playing throughout. And he knows right when to let up on the accelerator to let the other musicians pop out for their charged solos. Thoughtfully, Gauvin wraps up this double LP with a piano-only track as a way to pay tribute to Kiener, a long-overlooked player who passed away far too soon in 1986.
---

Rooney: Rooney (Geffen / Real Gone Music)
Released in the thick of peak CD era, the debut album by L.A. power pop group Rooney never did find its way to vinyl way back in 2003. Once again, Real Gone Music comes to the rescue, giving the LP its first proper wax pressing in time for its 20th anniversary. Listening to it divested from its initial release when it was swept up in the rock revival fomented by groups like the Strokes and the White Stripes, Rooney is now given a chance to be heard as a continuation of the work of Todd Rundgren and Raspberries up to the pop revivalists like Jellyfish and Matthew Sweet. True, the music has been polished to an occasionally unhealthy sheen thanks to the major label maw that the group willingly placed themselves in, but the devilishly catchy pop hooks and the raw heart of frontman Robert Schwartzmann cuts through the market-tested, David Geffen-approved slickness.
---

V/A: A Mighty Wind: The Album (Columbia / Real Gone Music)
Color me surprised that the original vinyl issue of this soundtrack has sold for as much as $400 on Discogs. I was always under the impression that this was one of Christopher Guest's least-beloved mockumentaries as it poked gentle fun at the folk revival of the '60s that brought international attention to artists like The Weavers and Ian & Sylvia and didn't have the potent sting of previous work like Waiting For Guffman or Spinal Tap. All that is to say, I may not be the audience for this reissue of A Mighty Wind: The Album, but I can certainly appreciate the care and spirit that went into the writing of this material and the ebullience that Guest, his regular cohorts Michael McKean and Harry Shearer (performing as the Folksmen) and SCTV alums Eugene Levy and Catherine O'Hara (playing Mitch and Mickey) brought to their performances. They bring a wealth of real world experience to the proceedings having lived through the explosion of folk performers some six decades ago.
---

Worriers: Trust Your Gut (Ernest Jenning Record Co.)
The new album from Lauren Denitzio's ever-evolving project Worriers is the product of much upheaval — from the open-heart surgery they endured at age 25 to a recent move to Los Angeles where they connected up with Atom Willard of Against Me! and Rocket From The Crypt. The music that came out of all of that experience has a defiant edge; deeply emotional in its lyrical explorations of gender identity, unsteady relationships and psychological turmoil, but somehow rousing and flourishing musically. The mood of the album never does seem to drag either Denitizo or their listeners into a mire of bad vibes or morose sounds. With some key assists from Hold Steady keyboardist Franz Nicolay and bassist Allegra Anka, the album pulses with life and the stomp of punk-glam arrangements.