The Week In Music: Paste's Favorite Songs, Albums, Performances and More
Featuring Father John Misty, Petal, Post Animal, Katie Von Schleicher and more.
Photo by Kevin Winter
Music
Features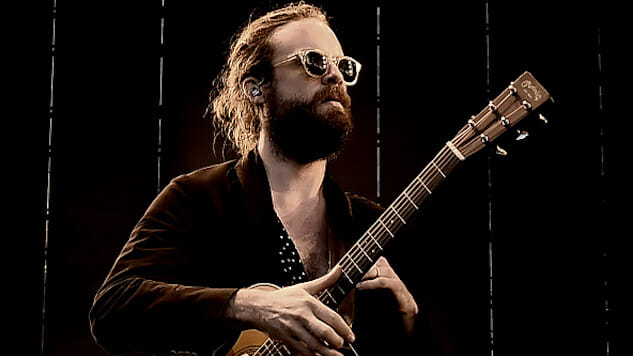 This week we wrapped up May and kicked off June, which is starting on a high note thanks to a brilliant new record from Father John Misty. We also reviewed the latest music from Chvrches, Petal, Bardo Martinez and more. In the studio, we hosted exciting performances from Post Animal, Katie Von Schleicher, and Ainda Duo, all the way from Argentina. It was a busy week here at Paste, so scroll down to catch up on everything you might have missed.
BEST ALBUMS
Father John Misty: God's Favorite Customer
After converting sharply honed cynicism and rampant misanthropy into a collection of witty, often scabrous and somehow deeply soulful songs on Father John Misty's 2017 release Pure Comedy, Josh Tillman more fully targets himself on the follow-up. God's Favorite Customer is a self-lacerating piece of work, mostly written during a six-week stretch in 2016 when he was living alone in a hotel room in the midst of an existential crisis. He's opaque about the cause, but not the effects: The album plays like Tillman is watching himself have an out-of-body experience as he, or his Misty persona, behaves erratically in public, sends alarming texts to his wife in the middle of the night and repeatedly questions whether love is redemptive enough to save him.—Eric R. Danton
Snow Patrol: Wildness
Throughout Wildness, Gary Lightbody plays the role of world-weary enlightener and encourager against his band's sparkling, beat-heavy songs. "Heal Me" is particularly successful, because its verses are a compelling collision of acoustic strum and glitchy electronics, and its chorus is positively heart-swelling. "Empress," too, is a winner thanks to its urgent pace, its incandescent chorus and its hopeful message: "You don't feel like an outcast anymore," Lightbody sings as toms thunder and backing vocals flutter, "and something deep inside of you has wakened."—Ben Salmon
Chvrches: Love is Dead
There's a lot about letting go on the group's latest, Love Is Dead: of old grudges, of toxic relationships, even of hesitation about honestly expressing oneself. For all the venting of psychic turbulence, Love Is Dead has a joyfully defiant feel, as if singer Lauren Mayberry is busily converting all the negativity in her life into sparkling, irrepressible pop melodies. The catharsis starts on album opener "Graffiti" as Mayberry lifts her voice in a soaring refrain that is at once effervescent and wistful on lyrics about leaving behind the promise, and also the folly, of youthful love.—Eric R. Danton
---
BEST SONGS
Bardo Martinez: 'Love of Mine'
Written for his wife, the single is Martinez's first self-produced release on his own label Yemayá Sol Records. It's a declaration of love that he says also makes a strong personal statement. "With writing this song, it's like saying to the world: 'This is who I am. This is who I love. This is what I sound like,'" he says.—Beverly Bryan
Charli XCX: '5 in the Morning'
XCX released Sucker, her last full album, in 2014. The pop star has indicated that she intends to release new material throughout the summer—"You're gonna be so fucking sick of me," XCX joked on Twitter—though there's no word on whether fans will get a full album anytime soon.—Katie Cameron
Petal: 'Stardust'
As Kiley Lotz told Paste, Magic Gone represents "finally starting to accept who I am… Instead of running away from the hard stuff, I'm starting to now sort of see the joy and pride you can take in owning your own shit in your life." Petal's final Magic Gone single is "Stardust," a sparse and delicate rock ballad that showcases the raw-yet-concise power of Lotz's voice. —Loren DiBlasi
---
PASTE STUDIO
Post Animal
Chicago psych rockers Post Animal visited the studio to play songs from their new album When I Think of You in a Castle, including the nostalgic single, "Ralphie."
Katie Von Schleicher
Brooklyn-based singer-songwriter Katie Von Schleicher, who's hitting the road with Mitski this summer, treated Paste to three of her stirring, emotion-packed songs.
Ainda Duo
All the way from Buenos Aires, Argentina, Ainda Duo brightened the studio with their gentle, folk-inspired music.
---
FEATURES
Read Rich Aucoin's Tour Diary as He Bikes Across America: Volume 5
Halfway. There's a certain mental shift that happens once we get halfway through something. The realization of an ending brings with it a savouring in a way that is difficult to conceive in the first half of an experience; still getting used to it and adapting to it. During my undergrad, most of my papers followed the same process of trying to flush out the word count in the initial paragraphs only to realize halfway that if I continued at that pace, I'd be writing a thesis, and so my writing got much more concise in the second half. —Rich Aucoin
The 10 Best Albums of May 2018
As we approach 2018's halfway point, great new releases keep cropping up here at Paste. Some of our favorite records in May included reissues and returns (Liz Phair, Stephen Malkmus), exciting debuts (Cut Worms) and career-bests (Jess Williamson, La Luz). From psych to country to ambient, check out all our favorite albums of May 2018. —Loren DiBlasi
Lillie Mae: Music in Her Blood
You might know Nashville country folk singer Lillie Mae Rische for her own music, performed as simply "Lillie Mae," or you might know her through her association with Jack White. If the latter, that's okay: There are reasons he produced her first full-length album, Forever and Then Some: immense talent and a lifetime of performing experience. "Since I was three, full time family band," she affirms, speaking to Paste while winding down from her set at this year's edition of the Boston Calling Music Festival. —Andy Crump