The Week In Music: Paste's Favorite Songs, Albums, Performances and More
Photo of Florence + The Machine, courtesy Sacks & Co.
Music
Features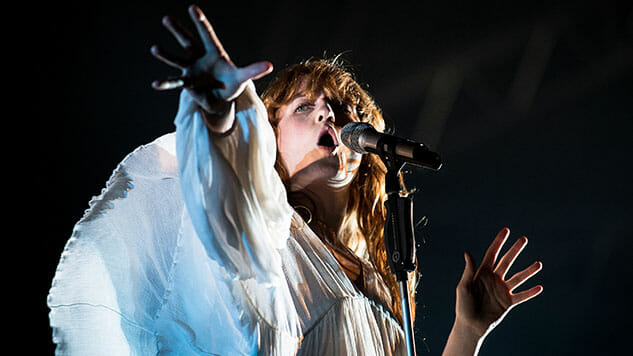 The music world lost an under-appreciated talent this week when Richard Swift died from an undisclosed medical condition on Tuesday morning. But we look back on some of the bright spots among the sadness of this holiday week, including the best new music and highlights from the Paste Studio.
BEST ALBUMS
Florence + The Machine: High As Hope
A mix of raw-nerved personal reckoning and outward-looking, life-affirming anthems, Florence + The Machine's follow-up to the chart-topping How Big, How Blue, How Beautiful soars just as high. A new level of vulnerability from Florence Welch and deft, atmospheric production from Emile Haynie (Lana Del Rey) makes High As Hope another album of cathedral-filling, mountain-moving sound, with Welch's vocals the main source of power. —Madison Desler
The Essex Green: Hardly Electronic
We've been without new music from The Essex Green for a dozen years. The new album is called Hardly Electronic, and after the long hiatus, the Brooklyn band doesn't miss a beat. The first track, "Sloane Ranger," makes that clear, with its bouncing bass line, its sprightly keyboard melody, its male/female vocal interplay and the horn part flawlessly threaded through the arrangement. Elsewhere, The Essex Green engage in their typical exploration of other musical avenues, from a blurry, jazz-tinged folk song spiked with a noisy interlude to vaguely vintage-feeling pop 'n' soul to harmony-heavy post-punk-pop and a big-city take on country music. —Ben Salmon
---
BEST SONGS
The Parrots: Girl
Rock 'n' roll foursome Hinds may be the Spanish band on your radar this year, but there's another Madrid-based group making waves across the Mediterranean and beyond. The Parrots, made up of songbirds Diego Garcia, Alex de Lucas and Larry Balboa, have shared an easygoing new rock track, "Girl," and a companion video. The Madrid-based rockers throw expertly produced sounds, further refined by Spanish engineer Paco Loco, to the sun on "Girls." Wielding springy guitar solos and shimmery vocals, they press their already-sunny brand of garage rock into a summer-ready juice. "Girl" is uncomplicated, but it would pair excellently with a beachside respite and something citrusy in a glass. The video, which sees the band members chasing and running away from the "girls" of their dreams, is an aesthetically sound counterpart. —Ellen Johnson
The Night Café: Forget It All
Liverpool's The Night Café dropped their sophomore EP Bunkbed today, following the same path the band has paved before with slow-cruising, guitar-dominated tracks. The final track on the EP, "Forget It All," makes an abrupt entrance after the other previously unheard song, "I'm Fine." Rather than fading in at the end of "I'm Fine," "Forget It All" crashes in with the drum kit at the outset, sounding more like a delayed final cheer for the prior track, rather than a beginning tone. A false start, the instrument levels diminish and are interlaced with indistinguishable words pulled out of a staticky phone call. Then the song takes its real starting leap as the same beginning bang kicks in, joined by a faster guitar. —Anna Haas
---
PASTE STUDIO
Anthony Green
Circa Survive and Saosin frontman Anthony Green released his solo debut 10 years ago, and he stopped by the Paste Studio in New York to play a few tracks from his deep catalog, including "Vera Lynn," "Keep Your Mouth Shut" and "Why Must We Wait."
Joan Armatrading
With more than four decades of recording experience, Grammy nominee Joan Armatrading wowed us with her three-song set, including "No More Pain" off of her brand-new album Not Too Far Away.
---
FEATURES
How Al Stewart Became The Father of Elevator Rock
"Time Passages" by Al Stewart was recorded nearly 40 years ago in 1978 and peaked in December of that year. Originally, it was characterized as "Easy Listening." But by the time its run on the charts was over, "Adult Contemporary" was born. A more accurate name for the format was when it was called "Middle-Road" from 1962-1964. But the best name remains "Soft Rock," which sounds appropriately embarrassing; no one's putting that into a Tinder profile. —Michael Salfino
All of Tyler the Creator's Loosie Tracks Ranked
Tyler the Creator has come a long way since the days of Odd Future. Since the group more or less disbanded in 2015 he's transformed from the violent and often offensive style of his earlier albums to the emotionally open and sincere lyrics and genre-bending sound on his latest solo album, which earned a Grammy nomination for Best Rap Album. Flower Boy, released in 2017, features artists like Rex Orange County, Jaden Smith, long-time collaborator Frank Ocean, Estelle and lighter-flick icon Lil Wayne. Since its release the 27-year-old budding fashion icon with his own brand Golf Wang, has released a series of tracks that are not yet tied to any upcoming album. We've ranked the eight loose tracks he's released to date. —Noemi Griffin
Five Other Australian / New Zealand Bands to Listen to If You Like Rolling Blackouts Coastal Fever
It's official: critics love Rolling Blackouts Coastal Fever's album Hope Downs. And they absolutely should—it's one of the best guitar pop records of the year, strongly evoking both the literate pop of Australia's the Go-Betweens and the intricate but rough-hewn rock that flourished in New Zealand in the 1980s. Rolling Blackouts Coastal Fever are part of a brilliant music scene in Melbourne, Australia, that exhumes those college radio sounds for the streaming times of today. They have a much higher profile in America than their fellow travelers, if only because they've benefited from the promotional support of a large label in the form of Sub Pop, but that doesn't mean the other bands in their scene are any less worthy of notice today. In fact, Rolling Blackouts aren't even the best of the current wave of amazing Australian and New Zealand rock bands. We've highlighted five other bands from down south who have recently released albums every bit as good as—or better than—Hope Downs, and who any Rolling Blackouts fan should be listening to. —Garrett Martin