The Week In Music: The Best Albums, Songs, Performances and More
Moby's new tattoo, Brittany Howard's debut solo LP and all of this week's musical hullabaloo
Photo by Beto Barkmo
Music
Features
The Week in Music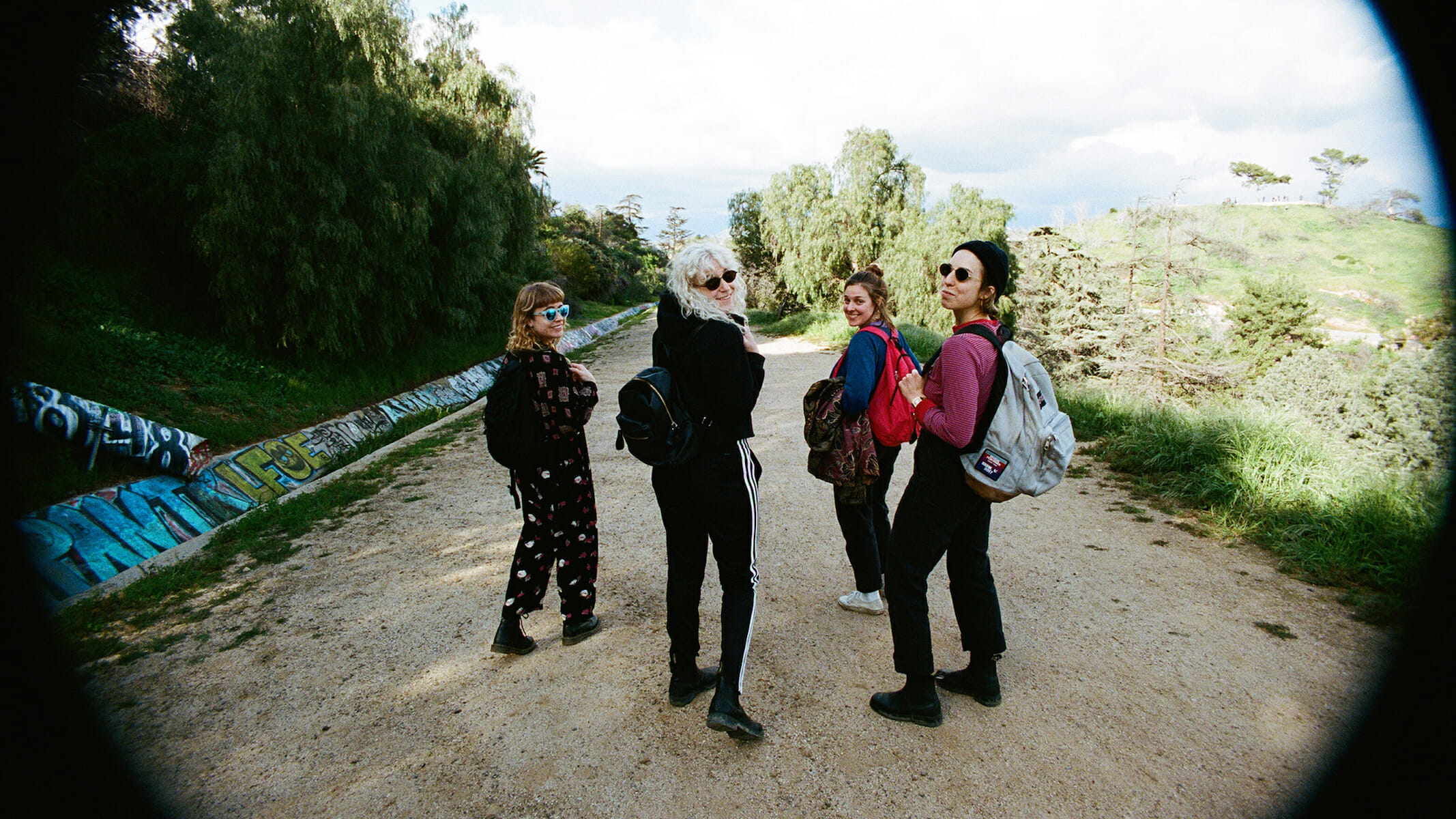 Greetings! Big shouts to you for surviving another hellish week of this late summer/early fall heatwave. This morning it was finally a crisp 61 degrees in Atlanta, and I actually saw a woman walk by the Paste office in a black parka with a fur hood. But crazier things than seasonal confusion have happened this week: Just look to the music world, where right-wing trolls began circulating a photo of (Sandy) Alex G, claiming it to be a young Beto O'Rourke, and Moby (who also appeared in our recently published list of the best albums of 1999) debuted a vegan-friendly new neck tat. We can't make this stuff up! In other news of the sonic variety, Wilco released the second single from their forthcoming new album and played hide-and-go-seek in the music video, Alabama Shakes frontwoman Brittany Howard released her terrific solo debut, Grace Potter brought the house down in our NYC studio and we kicked it with two of the best garage rock bands in the game: Chastity Belt and Twin Peaks. Hungry for more? Skim the entire week in music below.
BEST ALBUMS
Brittany Howard: Jaime
On spoken-word breakdown "13th Century Metal," Alabama Shakes frontwoman Brittany Howard repeats, over and over, "We are all brothers and sisters." This sentiment of union is a thread that runs throughout Jaime's 35 minutes, but Howard's debut solo effort is also deeply personal. "I wrote this record as a process of healing," Howard wrote in a personal essay upon the album's announcement. "Every song, I confront something within me or beyond me. Things that are hard or impossible to change, words and music to describe what I'm not good at conveying to those I love, or a name that hurts to be said: Jaime." She's referring there to her sister Jaime, who passed away as a teenager. But as Howard also wrote, "The record is not about her. It's about me." These are love songs (perhaps written for her wife Jesse Lafser, with whom she recently moved to small-town New Mexico), spiritual songs, songs about the past, songs about the future and songs that react to and make sense of our present moment. On Jaime, Howard beautifully reckons with her personal past and shatters soul, rock and blues norms in an album that should go down as one of the most daring and inventive of the year, maybe even the decade. —Ellen Johnson
Chastity Belt: Chastity Belt
Chastity Belt's self-titled record is what happens when someone spends too much time sifting through their own shoebox—each song a forgotten vignette of past joys seen through the sobered eyes of the present. Chastity Belt's career has spanned almost a decade—one of enduring friendship, unabashed sexuality and punk sensibility—but the irreverent tongue-in-cheek style the band founded themselves on has been left behind. Now in its place is a sincere attempt at building a sense of self when helplessly lodged between past and present. While Chastity Belt's unruly post-punk sound, laid out in 2013's No Regerts, often centered around a riot grrrl ethos of female empowerment and rebellion, their fourth record, Chastity Belt, leans heavily into introspection. Throughout the record, lead singer Julia Shapiro delivers her musings with a restrained air of wistfulness that, when placed over strums of muddied guitar, leaves songs carrying a somber demeanor. While the album has its moments of musical limitation and monotony, Shapiro's central voice on Chastity Belt is teeming with insight, even when that insight is born from an identity of dissonance. —Hayden Goodridge
BEST TRACKS
Vagabon: "Water Me Down"
"Water Me Down" is another percussion-heavy, largely electronic track, in which Vagabon, aka Laetitia Tamko, merges the dense and the airy in service of a song about the weight of other people's expectations. "Never meant for all of this / Never meant for you to love / Never meant for you to trust," Tamko intones, pairing her rich vocals with feathery keyboards. "Water Me Down" is about freeing yourself from someone who wants too much and waters you down in the process, and in the new visual Tamko fittingly shows us a totally unforeseen side of herself. "I wanted to flex a muscle I haven't shared yet," she says in a statement: "dancing." —Amanda Gersten
Danny Brown: "Best Life"
After several live performances this summer, Danny Brown takes a more reflective stance on his turbulent past on "Best Life." Atop crackly strings, another eccentric beat courtesy of Q-Tip and what sound like nostalgic Motown samples, Brown shares how it feels to be on the other side of the relentless grime and crime of "Dirty Laundry." Remembering a time when he was headed for "death or jailhouse," he vows to live his best life: After all, it's the only one he's got. —Amanda Gersten
Corridor: "Domino"
"Domino" opens with chipper, call-and-response guitars bookending the mix, which are soon joined by propulsive percussion and the band's subtle, inviting harmonies. But eventually, those irresistible melodies fall away, subsumed by a hard-charging, Krautrock-like instrumental break that wrests the song away as in a demonic possession—like an artist seized by inspiration, the self consumed by the act of creation. When Corridor snap effortlessly back into the groove at song's end, it's almost a relief—we're faced once more with a hyper-melodic Dr. Jekyll, singing, "The morning was after me / And the day was taking its toll on you / It's lined up just like dominoes / You open the door and you walk back in." — Scott Russell
THE PASTE PODCAST
The Paste Podcast #24: The Best Albums of 1999 + Two Door Cinema Club
On this week's episode of The Paste Podcast, host Josh Jackson talks to Ellen Johnson about the best albums of 1999. And Irish rock band Two Door Cinema Club play us a classic at the Paste Studio in New York.
Listen below, or better yet, download on iTunes, Google Play, Stitcher, Spotify or the new app from our podcast partner Himalaya, and subscribe!
BEST PERFORMANCES
Roots rocker Grace Potter has returned to music after a four-year hiatus, and it's like she never left. The singer/songwriter announced last month that her new album Daylight, a follow-up to 2014's Midnight, will arrive in October. Potter stopped by our NYC studio on Wednesday to play solo acoustic versions of three songs from Daylight, including a stunning take on lead single "Love Is Love," which even involves a capo-change finesse halfway through. —Ellen Johnson
House of Waters
Jazz fusion act House of Waters stopped by our studio in Atlanta this week to play three songs from their new album Rising: "Kites," "When I Play" and "Wedding Song." They brought their signature hammered dulcimer along, which always brings an experimental flair to their arrangements.
FEATURES
Twin Peaks Take Loose to a New Level on Lookout Low
"Oh shit, that's where that guy got shot!" Twin Peaks singer and guitarist Clay Frankel screams, grabbing his phone to take a picture to send to his friends. We're in Bushwick, Brooklyn at Tina's, an old-fashioned trucker diner where a few scenes in HBO's The Deuce were filmed, including one where a pimp is shot at the counter. Frankel is practically starstruck. But it's the only time he or any of his four bandmates lose their cool, even when talking about their quick rise to major touring band status. They mention their biggest moments offhandedly: performing for more than 10,000 people alongside Wilco at Millennium Park, hitting the stage at Red Rocks last August and even performing at the Cubs' World Series trophy presentation in 2016. Ever since their 2014 breakthrough, Wild Onion, the Chicago band has become one of the best classic rock-minded bands around (and local legends in their hometown). Known for their raucous, beer-drenched shows, Twin Peaks have made a name for themselves on the live circuit—few acts put on an act as fun as theirs. And they've become central to the Chicago music scene in the process. —Steven Edelstone
10 Essential Folk Albums from 2019 (So Far)
Folk music is as old as the wind. For as long as people have gathered, they've made noise, told stories and passed those tales down through the generations. We have certain ideas about what traditional folk music should sound like now, but it's so much more than what Bob Dylan and Joan Baez played at Newport in the '60s. Folk music didn't stop after Dylan plugged in that electric guitar—folk artists have adapted to the times throughout the decades. That doesn't make it any easier to categorize—many artists on this list could easily fit into a bluegrass box, or maybe Americana, country or roots, or maybe even rock or indie-folk. But they all carry the spirit of folksy storytelling, and they all bring acoustic instruments to life in new and exciting ways. Each of these albums arrived in 2019, making it a glorious year for folk and folk adjacent sounds. Read on for 10 essential folk albums out this year. —Ellen Johnson
As the 1990s came to a close, the music industry was in a strange place. Portable MP3 players were just hitting the market, but major labels had no idea how to respond. A decade of trying to find the next grunge hit or nu-metal clone left rock radio with bands like Creed, Godsmack and Korn dominating the airwaves. Pop radio was an endless barrage of the Backstreet Boys, Christina Aguilera and Britney Spears. There were plenty of bright spots both above and below the surface—in hip hop, college rock, alt-country and punk, but they were often overshadowed by forgettable music you couldn't escape. Just a month before the year started, frustrated with the state of the music industry, some friends and I started a music company called Paste to highlight some of our favorite overlooked bands. Looking back, it was an amazing time to jump into the industry as everything was about to change. And as this list illustrates, there were a whole lot of musical acts to be excited about. These 30 albums, voted on by Paste music editors and writers, are the albums we remember best, those that would help shape the music of the new millennium. —Josh Jackson and Paste Staff
Joseph Mount is an In-Demand Songwriter and Producer, But It's Still Metronomy Forever
Joseph Mount, lead singer and mastermind behind long-running English indie-pop outfit Metronomy, has done his fair share of interviews over the years, and they don't always turn out great. But he also has a great sense of humor, one that reveals the hilarity in even the dumbest questions. "Sometimes I do interviews and people are like, 'How did you think of your name?' and I'm like, 'That's such a bad question that it's kind of brilliant!'" he laughs when we meet up on the Lower East Side earlier this summer. "For an example: Bon Iver, someone who makes pretty intense, emotional music. Could you imagine sitting next to him going, 'So, how did you come up with your name?'" While our conversation never devolves into something resembling The Chris Farley Show, it's clear Mount can see the humor in the mundane, a trait that shines throughout Metronomy's new record, Metronomy Forever, out now via Because Music. —Steven Edelstone
Chastity Belt Are Each Other's Biggest Fans
Spend half an hour with every member of Chastity Belt, the four-piece garage rock band from Seattle, and you just may walk away with a new appreciation for friendship—or at least theirs. It's a bond that has fueled four albums across nine years. The Seattle squadron known for their dry humor and melodic punk, who retain a modest fanbase but have opened for huge indie acts like Kurt Vile and Death Cab For Cutie, know each other like family. Pay close enough attention to their rapport, and you may even glean some tips for being a better buddy yourself. Vocalist/guitarist Julia Shapiro discloses, "We don't have any more secrets." Everyone laughs, a frequent occurrence throughout this interview. "We always make new ones, though," quips bassist Annie Truscott. The secrets kept flowing, but last summer the band took a short hiatus to recharge, just over a year after the arrival of their 2017 LP I Used to Spend So Much Time Alone. Grimm and Truscott booked babysitting gigs and toured with other bands, Shapiro went on a silent meditation retreat and finished up her solo effort (Perfect Vision, out now on Hardly Art) and Lund relaxed with other friends and avoided emails. They rendezvoused in fall 2018 to record their fourth, self-titled album. It was the longest recording process of their career, stretched across several weeks, giving them lots of time to experiment and try on some new sonic hats. —Ellen Johnson