The Week In Music: The Best Albums, Songs, Performances and More
Soccer Mommy's tremendous new album, Car Seat Headrest's return, a new country favorite and more
Photo by Harper Smith
Music
Features
The Week in Music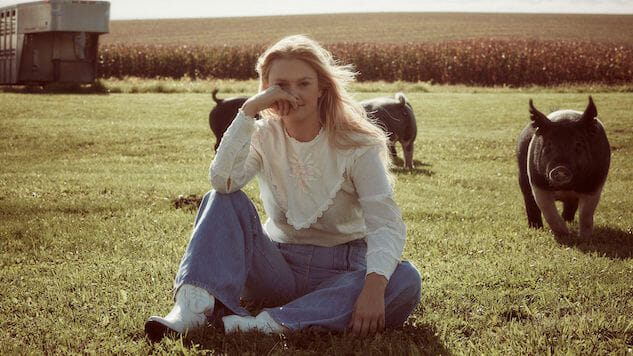 We thought about it, and we've decided the first truly great albums of the year arrived this month, including some from this very week. We're talking, of course, about Soccer Mommy's sophomore LP, the endlessly sad yet thoroughly riveting color theory. We went ahead and named it the best album of the week, as well as the best album of February. Joining those ranks is also country starlet Hailey Whitters, who today shares her own second album The Dream, a heartfelt trail through the Iowa native's upbringing and rise to modest Nashville stardom. Oh, but that's not all: Indie-folk royalty Phoebe Bridgers also returned this week, as did Car Seat Headrest. If those musical events are not enough to pique your interest, I really don't know what to tell you. Maybe go watch some movies (i.e. this one) instead? When it comes to this month's content, you really can't go wrong. Ciao for now!
BEST ALBUMS
Soccer Mommy: color theory
Although Soccer Mommy's 2018 debut studio album Clean transformed her into a critical favorite, indie-rock leader and tour opener for Paramore, Kacey Musgraves and Vampire Weekend, anyone who's grappled with mental illness knows that success isn't a salve. Following Clean, Soccer Mommy (real name Sophie Allison) became especially vocal about her struggles with body dysmorphia, depression and anxiety. These challenges lied solely at the periphery of Clean's tales about youthful, regretful romantic breakdowns and insecurities, but on her eagerly anticipated Clean follow-up color theory, Allison bravely pulls her mental illness from the sidelines to the forefront, and she also tackles a grave subject she's spoken about far less frequently: her mother's terminal cancer. Success neither curing mental illness nor reversing a parent's medical death sentence is a lot for a 22-year-old to face, but Allison is more than up to the task. color theory is an astounding feat of lyricism as clever as it is devastating, and Allison's songwriting, production and voice are likewise orders of magnitude stronger than they were on Clean, recalling '90s alt radio while pushing Soccer Mommy in galvanizing new directions. To call it an early contender for the year's best indie rock album wouldn't be an exaggeration. —Max Freedman
Hailey Whitters: The Dream
Last year, the Iowa-raised, Nashville-based singer/songwriter Hailey Whitters released "Ten Year Town," a feeling number about something country artists have been moaning about for the entirety of the genre's existence: small towns, how they trap us and how they're always there waiting, even if you're lucky enough to make it out. But "Ten Year Town," now the opener on Whitters' new album The Dream—which she fully funded herself with money she earned waiting tables and plucked from her savings—doesn't feel sorry for itself, or bemoan a geographical situation. Her outlook remains overwhelmingly positive. "Dreams come true and I think mine will," Whitters sings. With this album, she graduates from Dream-er to doer. But the real "dream," for most people, that is, is "a paycheck at the end of the week," an indulgent cigarette, the miracle of the earth's rotation and some people to accompany you on the long ride. "We're all just livin' the dream," Whitters sings on the record's final song. The Dream cherishes working-class triumphs and even failures, as country music always has. You won't find a radical change where that content is concerned. But Hailey Whitters' heartfelt manner of describing those ups and downs is what makes her dream so damn charming to behold. —Ellen Johnson
BEST TRACKS
Phoebe Bridgers: "Garden Song"
"Garden Song" opens with contemplative strings, which lead into a gentle, tumbling guitar riff, sprouting from a bed of soft static as Bridgers delivers surreal vocals: "Someday I'm gonna live in your house up on the hill / and when your skinhead neighbor goes missing / I'll plant a garden in the yard, then / they're gluing roses on a flatbed / You should see it / I mean thousands." The imagery is serene, yet ominous, like a dream that may actually be a nightmare. The video captures that same tension: Bridgers asked her younger brother to film her hitting a bong, then "surprise" her with what happened next. Bridgers, who doesn't smoke, stares into the camera through the haze, keeping her composure as best she can while various figures in odd costumes (one of whom is comedian Tig Notaro, dressed as a monk) wander in and out of frame, their intentions never quite clear. At the video's end, Bridgers collapses into bed, spent, perhaps bound for more strange dreams. —Scott Russell
Car Seat Headrest: "Can't Cool Me Down"
This week, Car Seat Headrest, the Seattle indie-rock band fronted by Will Toledo, announced their forthcoming record Making A Door Less Open, is out May 1 through Matador Records. They also shared the electro-rock single "Can't Cool Me Down," accompanied by a flashing lyric music video. "You just can't make music without first creating your own environment around it … sound's always gotta travel through something," Toledo said of the album in a statement. "This time it was a mask." —Natalia Keogan
Katie Von Schleicher: "Caged Sleep"
A press release announcing Katie Von Schleicher's new album Consummation also mentions the album as "inspired by an alternate interpretation of" Alfred Hitchcock's 1958 film Vertigo. The "Caged Sleep" video (directed by Matt Strickland) is certainly noir itself, a reel of multicolored indoor scenes that find Von Schleicher in various stages of movement. It's a real frenzy of a track. All the sounds seem to be competing with one another, but the resolution actually comes when the drums, whirring synths and skipping saxophones are all in play at once. —Ellen Johnson
BEST PERFORMANCES
Phoebe Ryan
Pop singer and hook expert Phoebe Ryan stopped by our studio outpost in New York City this week to perform some stripped-down versions of songs from her glossy discography. Ryan doesn't have a full-length album out yet, but she has singles for days, including "In Case I Miss You" (stylized "ICIMY"), "Talk To Me" and "Ring," all of which she performed in our studio.
Theo Katzman
Fans of the shapeshifting funk group Vulfpeck will recognize Theo Katzman, a regular member among the band's rotating cast of talented characters. He has three solo albums, including Modern Johnny Sings: Songs in the Age of Vibe, which arrived this year. Katzman dropped by the NYC studio this week to perform a few songs from that record—and jam the hell out.
FEATURES
The 15 Best Joanna Newsom Songs
On Feb. 23, 2010, Joanna Newsom outdid herself. She released a triple album follow-up to 2006's formalist Ys that was somehow more digestible. Moving from neoclassical poetry and flawless orchestral arrangements to pastoral imagery and jazz-folk Appalachian leanings inspired by the '60s Greenwich Village scene, Have One On Me symbolized the apex of the Joanna Newsom conversation—decried by some as a cad, and displayed by others as a hipster dinner party oddity, Newsom's artistry was in a unique place. Most critics recognized her ambition, but audiences weren't convinced. And even if they were, interactions with Newsom's art were, at best, confused and, at worst, unfortunately misogynistic. In these 15 songs, you will find romance, heartache, and power, each track a surprising narrative of its own with an infinite potential of comments, observations, and annotations. But we aren't interested in presenting them like an English 101 class—we're more concerned with the feelings these songs elicit. In that way, an exhaustive ranking of Newsom's catalogue is nearly impossible. So here, dear readers: Have some on us. Here are our favorite songs from Newsom's 16-year long career. —Austin Jones & Paste Staff
And It Was All Yellow (and Blue, and Gray): Soccer Mommy Dishes on color theory
When Sophie Allison began writing her sophomore release under the moniker Soccer Mommy, she remembered reading The Yellow Wallpaper years before and connected with the material. The short story influenced some of the resulting songs, but the album itself took the form of three distinct colors, or "pillars," as she describes them: blue (for sadness), yellow (paranoia and sickness) and gray (darkness and aging). Maybe there are small signs of pre-feminist late-19th century literary works in color theory, but Soccer Mommy's newest album isn't some heady batch of songs written in a fabled ivory tower. color theory is a very human look at relationships, dealing with the sickness of loved ones and the unbridled happiness we feel as children and slowly lose as we age. Allison's early-2000s vibes recall the best of adult contemporary radio staples like Michelle Branch or Mandy Moore, resulting in an emotionally heavy and consistently gorgeous record that even has an interesting Easter egg: "Trying all the time to stay clean" is a verse from album opener "bloodstream" as well as a nod to her debut LP. —Steven Edelstone
High Fidelity and the Never-Ending Age of the Music Know-It-All
Rob, the record store owner and certified music snob at the center of Nick Hornby's novel (and, now, two screen adaptations) High Fidelity, is especially obnoxious when it comes to his deep knowledge of classic pop and rock music (not to mention his desperate, at-times creepy romantic endeavors). Both the original character in the source material and John Cusack's interpretation in the 2000 film are your classic case of my-way-or-the-highway, know-it-all "music guy": They relentlessly rank their favorite albums, their desert island discs and the best of classic pop, and anything that's not already primed for their specific demographic's enjoyment is not worth the time. And they're never hesitant to let you know. In the 2020 version of High Fidelity, a Hulu series starring Zoë Kravitz as a female version of Rob, the Championship Vinyl employees are no less annoying about their internal musical databases. There's some delight to be found in this new interpretation, just for the sheer reality of seeing the stylish Kravitz in such a offbeat role, but there's also a lot to dislike—starting with the fact that we probably didn't need this reboot in the first place, as Jillian Mapes pointed out over at Pitchfork. —Ellen Johnson
Real Estate's Martin Courtney Settles Down—But Never Settles
"I wanted to do things differently this time," Martin Courtney says while an orchestra soundchecks behind us. His band Real Estate is getting ready to play an episode of Chris Thile's Live From Here alongside Indigo Girls and Ken Burns at the historic Town Hall on Broadway in New York City. Things have certainly changed for the group over the years, and Courtney's definitely still not the aimless 19-year-old he writes about on "November" or the 25-year-old holding onto youth in 2010 on "Shallow Sun," both tracks from the band's newest album The Main Thing. Courtney now has three children and talks about "small-town life" in Beacon, N.Y. The Main Thing sees the indie vets trying new things, and a lot of that is a result of intense life changes that occurred a few years ago. Around the time Courtney became a father for the first time, founding lead guitarist Matt Mondanile was ousted from the band, a move that was later linked to horrific sexual misconduct allegations. They brought in Julian Lynch, who like Courtney and bassist Alex Bleeker, didn't live in New York City (Lynch is in Madison, Wis., while Bleeker resides in a small town north of San Francisco). That all led to 2017's In Mind, another excellent release in Real Estate's glowing discography that reflected those life and career-altering events. —Steven Edelstone
Chubby and the Gang Rule, OK? How Hardcore Veterans Made the Best Punk-Pop LP in Recent Memory
Chubby and the Gang's debut LP, Speed Kills, was released via independent British hardcore label Static Shock back in January, and despite having no team to pitch the record, publications like Rolling Stone, Pitchfork and Stereogum all raved about it, coming to a similar consensus that its hopped-up punk-pop is impossibly punchy and ridiculously fun. "Chubby and the Gang Rule OK?" is both a statement of fact and their unruly lead album track that takes about 30 seconds to convince you that their breakneck rhythms and pop chops are the real deal. Like their colorful, cartoonish album cover, the album celebrates the vast characters of working-class London: the dubious, fun-loving rascals, the crass authority figures, the squares and the reckless brutes. But more than anything, Speed Kills is an ode to the "gang," the fiercely loyal one that finds you when you're young and makes grim circumstances much more bearable. Paste caught up with frontman Charlie Manning-Walker to talk through their wild first U.S. tour, the making of Speed Kills, their critical acclaim and the future of Chubby and the Gang. —Lizzie Manno