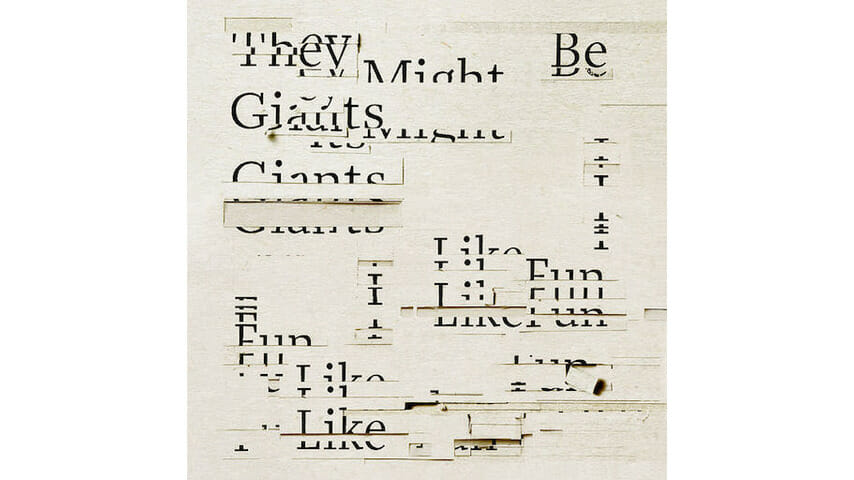 More than 30 years ago, John Linnell and John Flansburgh started a band called They Might Be Giants, and they crafted quirky pop songs using a guitar, an accordion, horns, a drum machine and an absurdist sense of humor. They were unusual and they were great, and the combination of the two made them pretty darn popular. More than 20 years ago, Linnell and Flansburgh, having tasted success in their original format, decided to expand They Might Be Giants into a full rock 'n' roll band, sacrificing some of their uniqueness in favor of bass and live drums. Their new album, I Like Fun, might be the finest realization yet of that fuller sound they pursued all those years ago. It's also their best album since 1994's John Henry (although 2013's Nanobots and 2015's Glean are worth your time).
At 15 tracks long, I Like Fun finds Linnell and Flansburgh grappling with death and dread and other dark topics; these songs are littered with references to plastic hips and smiling skulls and lake monsters and murdered remains. "We die afraid. We live in terror. We're naked alone," the Johns sing in "Last Wave," the album's thrilling closing track. "And the grave is the loneliest place."
Elsewhere, "By the Time You Get This" paints a bleak picture of the present, but offers hope for the future:
By the time you get this note
A millennium from now
We'll have all gone up in smoke
There'll be no way to reply
And we confidently know
You'll enjoy a better time
When the evils that we faced
Will at last be laid to rest
All of these sentiments, of course, are delivered as part of driving pop-rock songs slathered with soaring melodies, as is the TMBG way. In fact, I Like Fun might be the band's most purely rock album ever, with only a quarter or so of the tracklist set aside for ballads or flashes of old-school TMBG eccentricity. On that front, the title track and "McCafferty's Bib" —each made up mostly of voice, horns and a spare beat—both sound like they could've been imported in from the band's embryonic, eponymous 1986 debut.
But otherwise, I Like Fun rocks unabashedly. Guitar-heavy tunes like "All Time What," "An Insult to the Fact Checkers" and "The Bright Side" are among the best late-period Flansburgh songs in TMBG's catalog. And when you flip through the album's peaks, a common thread emerges. "Let's Get This Over With" opens the album with a barrage of handclaps and piano. "I Left My Body" is a gentle collision of cascading verses and honeyed aaaaahs. "Push Back the Hands of Time" is a jittery dance-rock jam, and the vividly creepy "When the Lights Come On" is about as close to punk as these Johns get.
Their common thread? Linnell's warm, reedy voice and his distinctive elongated melodies. After 30 years, they are well-established as They Might Be Giants' single greatest, most enduring strength. Well…make that second greatest, most enduring strength, right behind the ultra-creative and hyper-productive songwriting partnership that has powered one of the great oddball bands of the post-punk era. May these Johns be strange together forever.