Exclusive: Versing Embrace the Otherworldly on Latest Single "Offering"
Photo by Gordon De Los Santos
Music
News
Versing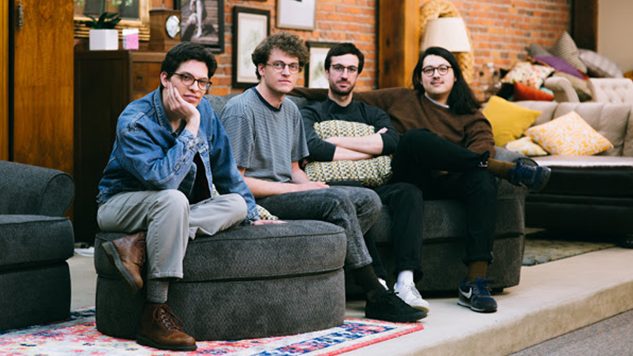 Seattle's own Versing are sending us head-first into a whirlpool of feedback on their latest single "Offering," premiering here at Paste today (March 7). The track is the second off their full-length Hardly Art debut, 10000, out on May 3.
The group, formed through their college radio station, previously shared their lead single "Tethered." While that track dipped its toes into the shallows of shoegaze, "Offering" does a full-on cannonball into a pool of buzzy, oscillating guitars.
"I just really enjoy that droning line of guitar feedback," frontman Daniel Salas explains. He continues:
We use a lot of feedback on our songs, but I think that's one of the more deliberately musical uses we've found for it. It's a fantastical song about traveling through a mystical portal to stop an encroaching force of evil, and the feedback is like the whirring sound the portal makes. Really it's about making the ultimate sacrifice for the benefit of others, and thinking about what you'd want to be remembered for after you die.
With "Offering," Salas and bandmates Graham Baker (guitars), Max Keyes (drums) and Kirby Lochner (bass) prove they can craft a song both cerebral and head-banging.
Listen to "Offering" and explore Versing's West Coast tour dates, kicking off at beloved Seattle venue Chop Suey, below. You can preorder 10000 here.
Versing Tour Dates:
May
02 — Seattle, Wash. @ Chop Suey
03 — Vancouver, B.C. @ Static Jupiter
06 — Reno, Nev. @ Holland Project
08 — San Diego, Calif. @ Whistle Stop
09 — Los Angeles, Calif. @ The Echo
11 — Oakland, Calif. @ Octopus Literary Salon