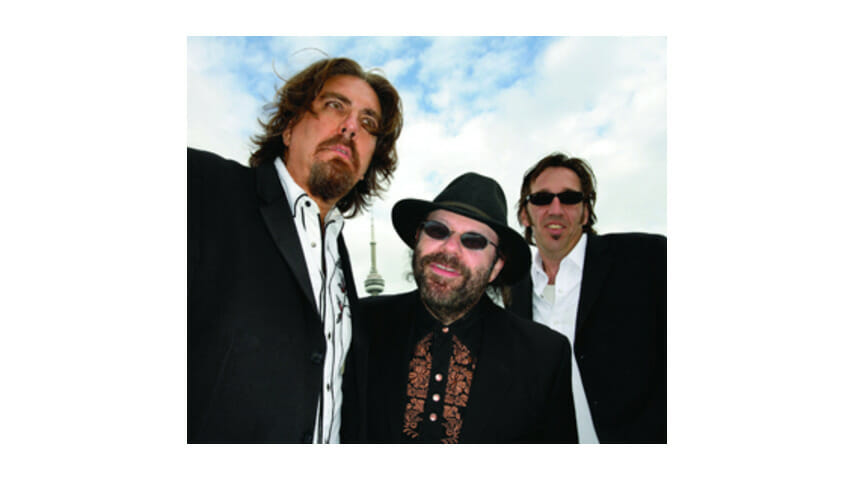 There was no turkey, but there was Garth Hudson. There were no mirror balls, but there was plenty of passion. And while the Glenn Gould Studio lacked the ambiance of San Francisco's Winterland, it compensated for this shortcoming with some inspired playing.
Canadian roots-rockers Blackie and the Rodeo Kings – the super group led by Stephen Fearing, Colin Linden and Tom Wilson – supplied all the musical fixings for this American Thanksgiving Day "tribute." Joined by a host of honored guests that included Luke Doucet, Kathleen Edwards, Oh Susanna, Tony Dekker, Jason Collett, Paul Reddick and Dione Taylor, this trio successfully served up a heartfelt homage to The Last Waltz on its 30th anniversary.
It was apropos BARK led this show since they count The Band as one of their touchstones and their most recent disc (2006's Let's Frolic) was recorded at Bearsville Studios in Woodstock, N.Y. Hudson sat in on these studio sessions and he made an appearance on this night as well.
After a spirited opening of "Life is a Carnival," Linden ensured there was no confusion as to why we were there. "We are not trying to recreate anything," he said. "We are here to play the music we love with all our hearts."
No performance was more heartfelt than Fearing's take on Neil Young's "Helpless," while Reddick's rendition of Paul Butterfield's "Mystery Train" induced the feeling of riding the rails. Taylor's gospel interpretation of "The Weight" was another magical moment.
Wilson, however, stole the show early on with his cover of Van Morrison's "Caravan." He joked before launching into the song about his nerves, but the apparent shakiness certainly didn't throw off his performance. Wilson's trademark baritone captured the character of the Irishman and this passionate performance drew the first of several standing ovations on the night.
Following a 20-minute intermission, BARK delivered a few songs in front of the first row of seats. This coffeehouse-style set was highlighted by Edwards showing her aptitude for playing fiddle and delivering a soulful version of Emmylou Harris' "Evangeline."
Almost two hours in, Hudson showed up and wasted no time showing that he hasn't lost a lick as his fingers flew gracefully across the keys like a stone skipping across the water. He then sent the crowd home with the classic "Chest Fever." As he played this haunting keyboard-driven song on the organ, the crowd shared a collective smile, realizing a gathering like this would come again none too soon.