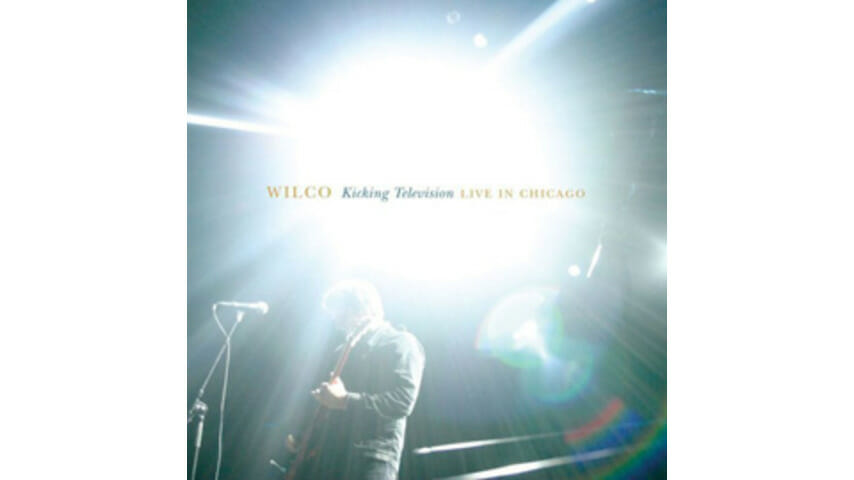 Live And Kicking: Surprisingly terrific live CD from predictably terrific live band
Wilco's set a way-high bar with its live performances, of which there are roughly 10 million bootlegs, many quite good. So is its first official live CD a proper initiation for newcomers, and do longtime Wilco fans really need another show on their hard drives? Aside from being a fine introduction for perverse coworkers who haven't even heard of Wilco, Kicking Television is a particularly awesome recording, from the grace notes and righteous rage of 1996's "Misunderstood" to the bigger, gladder swagger of "Late Greats" from 2004's A Ghost is Born.
Despite Wilco's colorful evolution and diverse catalog, there's a definite through-line holding everything together, causing "Misunderstood" to sound, in retrospect, like an obvious grandfather to the band's more adventurous later material. This collection is a vivid document not only of how far Wilco has come, but also of how distinct its vision has been all along. If you didn't know the band, you'd have a tough time guessing the chronology of the songs, due largely to the current lineup's onstage cohesiveness.
Wilco is Jeff Tweedy's band, and he's hung a lot of constellations around that warped, gorgeous heart of his. When seminal member Jay Bennett left the band (forget the documentary—Bennett was a major boon during his tenure), I worried Wilco would never recover that simultaneously drum-tight, lefty-loosey dynamic that made its shows so 'Holy smokeballs, are you hearing this, too?' (to the guy standing next to you at the club who did, in fact, hear it, too). But the current lineup's got it in spades. If there are 50 more incarnations of Wilco, and there probably will be, this is the one fans will look back on and get all wistful about.
The climax of "Radio Cure" produces new chills, "Via Chicago" is lovely and carefully deranged, and "Airline to Heaven" sounds like something you'd hear during a pleasant daydream of your own funeral. "Spiders (Kidsmoke)" has a truer velocity live, sounding more like a rock song than an art-rock song. A lot of the picks from Ghost improve here, sounding crisp and immediate compared to their cottony studio versions ("Hell is Chrome" being a prime example). And the Foxtrot tunes sound vivid as ever, from the jubilant "Heavy Metal Drummer" to the dark fever-dream of "Poor Places." Plus you can never have too many versions of "Jesus, Etc.," and this one's loaded with subtle ghosts and flourishes.
I could've done with fewer of Tweedy's burning-magnesium guitar solos. Their abrasiveness is theoretically interesting, especially in contrast to some of his more delicate melodies, but they're a little too "white-hot rawk" for their own good. I'd also have picked a slightly different tracklist. The selection, culled from a four-night run at the Vic Theatre, draws heavily on the band's more recent LPs, so it can't really be considered a best-of. Not that it needs to be. While favorites like "California Stars," "She's a Jar," and the recent and wonderful "Theologians" didn't make the cut, you're still left with two full discs of terrific music, lots of it essential.