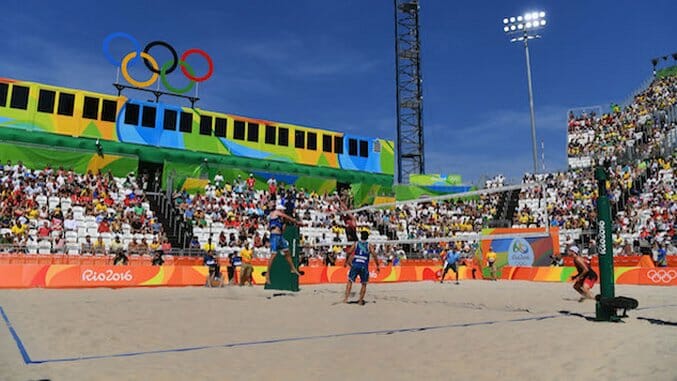 While T.V. cameras swooned over the Carnaval-laced opening ceremonies inside Maracana last Friday, the beginning of Brazil's Olympic campaign unofficially began a day later in the sands of Copacabana Beach. Set in the postcard-perfect epicenter of the country's most picturesque city, beach volleyball hit the court Saturday to a packed crowd at the temporary 12,000-seat Copacabana Stadium.
Twenty four two-person teams began their march for gold in both the men's and women's tournaments, fields that were cut to 16 Thursday night.
Soccer aside, beach volleyball is the lifeblood of Rio de Janeiro's rich sporting culture, and few Brazilians would argue that it is their most anticipated event in this year's Rio Games. Since beach volleyball made its Olympic debut in 1996, Brazil has been the sport's most consistent nation, securing more medals—11 overall (including the inaugural women's gold)—than any other country.
And the event has added importance for a host nation still looking for its Olympic success story. Before the Games even started, the venue made headlines after human body parts washed up on its shoreline. But Copacabana is one of the most storied stretches of sand in beach volleyball, and after hosting handfuls of International Volleyball Federation (FIVB) tournaments, the Brazilians will have an opportunity to defend home turf against the world's best on its highest stage.
Four Brazilian pairs have been vying to do just that, with two women's squads atop the Olympic rankings, and a men's duo featuring 2012 silver medalist Alison Cerutti and up-and-comer Bruno Oscar Schmidt (nephew of Brazilian basketball great, Oscar Schmidt), leading the charge.
Cerutti and Schmidt swept their opening round matchup against Canadians Josh Binstock and Samuel Schacter thanks to a late-game net error, but stumbled against Austria before winning out against Italy to clinch a berth in the round of 16. But to etch their names into the history books, they'll have to get through American Phil Dalhausser, who won a gold in this event in 2008, and currently ranks second in FIVB World Tour standings with partner Nick Lucena. The Americans won all three preliminary matches, only dropping one set. The Netherlands also comes in hot, taking all three matches thanks to the towering duo of 6-foot 9-inch Robert Meeuwsen and 6-foot 6-inch Alexander Brouwer.
But the storyline dominating everyone's Twitter feed is the women's competition, where Brazil's two dominant squads will have to find their way through the sport's all-time great in her last competitive go around. Kerry Walsh-Jennings already has three Olympic golds in beach volleyball (more than half of the gold medals ever awarded in the discipline) and, despite undergoing shoulder surgery just months before qualification, returns heavy favorite to earn her fourth consecutive gold in Rio. She partners with April Ross, a player Walsh-Jennings and Misty May-Trainor beat in the 2012 Olympic final. The two have showed their mettle throughout the preliminaries, crushing Australia in straight sets before topping China and Switzerland.
Still, Brazilians Larissa and Talita have had the American pair's number, taking four of five matchups leading into the Games. So far the pair has yet to drop a set at the Rio Games, beating Russia, Poland, and the second American pairing of Brooke Sweat and Lauren Fendrick.
In addition to the favorites, this year's Olympic class saw a cast of nations making their Olympic debuts, a cast that included Chile, Qatar, and Tunisia on the men's side, and Costa Rica, Poland, Venezuela, and the tournament's youngest team, Egypt, on the women's side.
With preliminary action wrapping up Thursday, knockout stages begin today, followed by quarterfinals August 14 and 15, semifinals on the 16th, and medal rounds on August 18 and 19.
Let the (knockout) Games begin.