Lindsey Graham Threatens Trump: "Any Effort to Go After Mueller Could Be the Beginning of the End of the Trump Presidency"
Photo by Win McNamee/Getty
Politics
Features
Donald Trump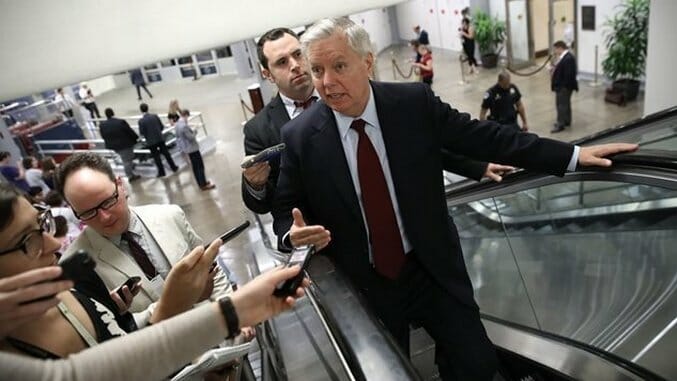 A day after saying that Donald Trump's attacks on Attorney General Jeff Sessions displayed "weakness," the Republican Senator from South Carolina was back at it again.
Video: "Holy hell to pay" if Trump fires Sessions—> pic.twitter.com/DwZ3tmIIwm

— Vaughn Hillyard (@VaughnHillyard) July 27, 2017
Graham's headline grabbing quote wasn't the only veiled threat issued this morning.
Sen. Graham on Trump: "This is not draining the swamp. What he's interjecting is turning democracy upside down." https://t.co/MtuPBnv70k

— CNN (@CNN) July 27, 2017
Graham is planning to introduce legislation to effectively try to take this option to interfere with the investigation out of Trump's hands.
GRAHAM plans to introduce legislation to protect special counsel Mueller. If POTUS fires him, "then we become Russia" (h/t @VaughnHillyard) pic.twitter.com/R4aaIDkTQX

— Marianna Sotomayor (@MariannaNBCNews) July 27, 2017
This comes on the heels of Chuck Grassley telling Trump that he has no shot at appointing a new Attorney General this year.
Everybody in D.C. Shld b warned that the agenda for the judiciary Comm is set for rest of 2017. Judges first subcabinet 2nd / AG no way

— ChuckGrassley (@ChuckGrassley) July 27, 2017
I know that it's easy to get distracted with all the crazy stuff coming out of this White House, but the fact that Senators are going out of their way to forcefully state the obvious is truly extraordinary. Congress is clearly concerned about Trump trying to shut down the special investigation into his potential Russian connections, and this was evident before The Washington Post and New York Times dropped stories last night with a window into Trump's thinking. Per WaPo:
Replacing Sessions could be a precursor to firing Mueller as special counsel. But several of Trump's White House advisers — including Chief of Staff Reince Priebus and chief strategist Stephen K. Bannon — have strongly counseled him against ordering the dismissal of Mueller, which they have warned would be a political, if not legal, catastrophe, according to people familiar with the discussions.
Many White House advisers' reports range from Trump outright plotting to shut this investigation down, to merely venting about his circumstances. Sessions will go on Tucker Carlson's Fox News show tonight to discuss "the current situation with Trump."
There is a litany of requirements that one must meet to qualify to be a permanent replacement for Sessions as Attorney General—all of which curtail Trump's ability to find a lackey to shut down the Russia investigation. However, Trump could make a recess appointment that goes around Congress' authority, and this is where the danger lies. Trump's anger at Sessions is due to his recusal from overseeing the Russian investigation, but this is required by federal statute—Sessions had no choice in the matter. 28 CFR 45.2 states that DOJ employees cannot participate in a "criminal investigation or prosecution if he has a personal or political relationship with … an elected official, a candidate (whether or not successful) for elective, public office, a political party, or a campaign organization."
Whatever his actual intentions, it is clear that Trump wants this special investigation gone, and many Republicans in Congress have drawn a line in the sand in front of it. The Republican Party's moral and intellectual bankruptcy is on display for all to see as it pertains to this monstrous and wildly unpopular health care bill that they are trying to shove down America's throats, but their pushback against Trump's executive overreach on this topic proves that there is still something resembling a principled soul inside the GOP. We can only hope that they stick to their guns as Trump inevitably escalates his attacks on the laws and norms that this country holds so dear.
Jacob Weindling is a staff writer for Paste politics. Follow him on Twitter at @Jakeweindling.