President Trump Announces U.S. Withdrawal from Iran Nuclear Deal
Photo by Chip Somodevilla/Getty
Politics
News
Donald Trump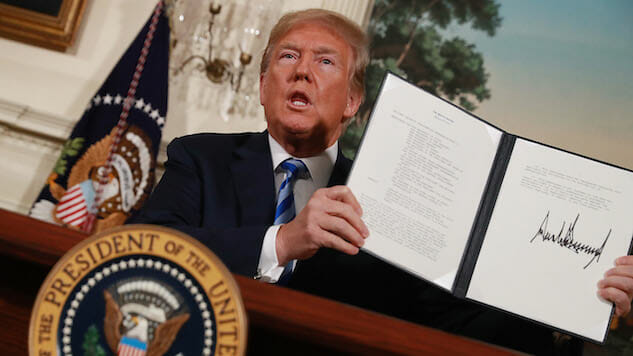 On Tuesday afternoon, President Trump announced the United States' withdrawal from the Iran Nuclear Deal.
The Iran Nuclear Deal was the result of two and a half years of negotiations, and it consisted of Iran's agreement to end its nuclear program in exchange for the U.S. and several allies lifting decades of economic sanctions. Trump has repeatedly suggested that Iran has been allowed to escalate their nuclear weapons program after the deal was made in 2015, despite the fact that international inspectors have found not any violations of the terms by Iran.
Trump reinstated said sanctions on Iran after announcing the withdrawal from the 2015 Obama-era Iran Nuclear Deal. The administration said it will re-impose nuclear sanctions on Iran immediately but allow a grace period for businesses to wind down activity. In a televised speech from the White House, Trump said that the withdrawal will make the U.S. safer, claiming that the agreement was a "horrible one-sided deal that should never ever have been made." Trump also quipped, "The United States does not make empty threats."
Trump's decision means Iran's government must now decide whether to follow the U.S. and withdraw. Iranian President Hassan Rouhani warned there was only a short time to renegotiate with other countries and Iran could soon "start enriching uranium more than before." Hours before the announcement, European countries met to reaffirm their support for the agreement. France, Britain and Germany all said that they regretted Trump's decision.
Read Paste's recent in-depth feature on what it would mean for Trump to decertify the Iran Nuclear Deal right here, and watch a clip of Trump's speech below, in which he says "America will not be held hostage to nuclear blackmail."
"A decaying and rotten deal" – Trump says he will withdraw the US from Obama-era nuclear agreement with Iran https://t.co/acEpk0F16g#IranDealpic.twitter.com/6ATHvD1Ukg

— BBC Breaking News (@BBCBreaking) May 8, 2018