Trump Admin: It's Now Okay to Import the Heads of Endangered African Elephants
And it totally has nothing to do with the fact that his sons are big-game hunters.
Photo by Richard Heathcote/Getty
Politics
Features
Donald Trump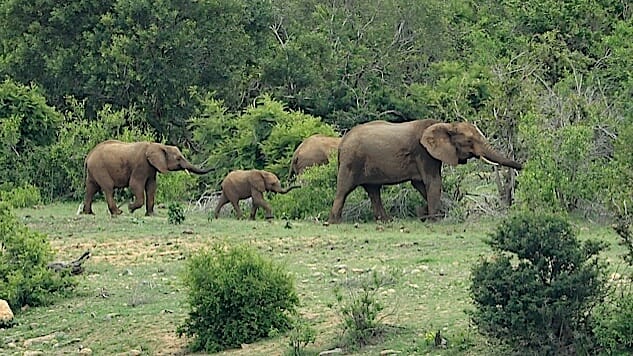 In "we live under a comically cruel regime" news, Trump's Fish and Wildlife service has lifted a 2014 on importing elephant trophies from Zimbabwe and Zambia, home of the endangered African bush element. Per MSNBC:
The reversal will apply to elephants hunted in Zimbabwe from Jan. 21, 2016 to Dec. 31, 2018 and to elephants hunted in Zambia in 2016, 2017 and 2018 "for applications that meet all other applicable permitting requirements," the agency spokesperson said.
What's their rationale for this move? Glad you asked:
A spokesperson for the U.S. Fish and Wildlife Service told NBC News that the agency had "determined that the hunting and management programs for African elephants in Zimbabwe and Zambia will enhance the survival of the species in the wild."
"Legal, well-regulated sport hunting as part of a sound management program can benefit certain species by providing incentives to local communities to conserve those species and by putting much-needed revenue back into conservation," the spokesperson said.
God, that is stupid. It's like trickle-down economics for hunting: give people money for killing elephants, and they'll probably decide to filter it back to the community via conservation…rather than a killing a boatload of elephants. But at least they probably have some good evidence to back it all up, right?
The statement from the U.S. Fish and Wildlife Service cited conservation "enhancement findings" in reaching its decision but did not elaborate on what those findings were.
Right.
The real reason behind this, it seems, is to throw a bone to rich American hunters. Shocker. Here's what Wayne Pacelle, CEO of the Humane Society, had to say:
"Let's be clear: elephants are on the list of threatened species; the global community has rallied to stem the ivory trade; and now, the U.S. government is giving American trophy hunters the green light to kill them…What kind of message does it send to say to the world that poor Africans who are struggling to survive cannot kill elephants in order to use or sell their parts to make a living, but that it's just fine for rich Americans to slay the beasts for their tusks to keep as trophies?"
Nor will this come as a surprise: Among those American big game hunters are Donald Trump Jr. and Eric Trump, our president's sons.