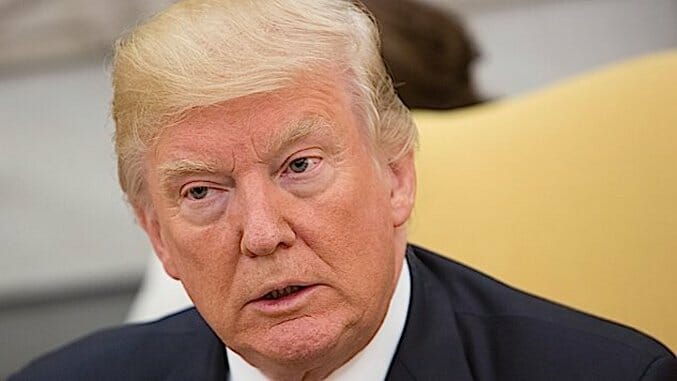 A new poll from AP-NORC of 1,058 adults finds that President Trump's approval rating has dropped to 36%, and more importantly, his disapproval rating has rocketed to 62%—the highest it's been since mid-January. Five Thirty Eight keeps a list of every major approval ratings poll, and of the hundreds we've seen in 2019, only one, taken by the same firm in mid-January, had Trump's disapproval marks higher. Per the AP:
Trump's poor grades in the AP-NORC poll extend to his handling of several key issues: immigration, health care, foreign policy and guns. Views of the Republican president's handling of the economy remain a relative bright spot despite fears of a potential recession, but at least 60% of Americans disapprove of his performance on other issues. The consistency suggests the president's weak standing with the American people is calcified after two years of near-constant political crises and divisive rhetoric at the White House.
Trump's approval rating for his handling of the economy remains…not terrible…at 46%, but every other issue sees him lagging below 40%. Only 70% of Republicans approve of how he's handling guns, for instance, and while that may seem high, it's his lowest mark among his own party.
Still, almost 80% of Republicans approve of the job he's done, while 94% of Democrats disapprove. That fundamental truth—that we live in an extremely polarized nation—hasn't changed a bit, and it leaves open the possibility of another close election.