Juli Briskman, Woman Fired for Flipping off Trump in Viral Photo, Just Flipped a Seat in Her County
Photo by Eduardo Munoz Alvarez/VIEWpress/Corbis via Getty
Politics
News
Donald Trump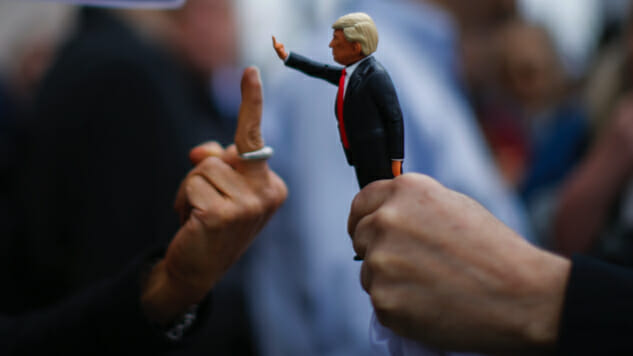 Back in 2017, Juli Briskman was biking in her county of Loudoun, Va., when Donald Trump's motorcade drove past her as it departed the Trump National Golf Course. At the time, Trump's barbarism du jour was ending the immigration policy Deferred Action for Childhood Arrivals, aka DACA, and that was very much on Briskman's mind as the fleet of black SUVs paraded past. The aftermath of Hurricane Maria also coincided with Trump's golf getaway, which the president seemed to ignore, but Briskman didn't, and her anger led her to flip Trump off.
Briskman told BuzzFeed News, "I don't employ that gesture very often but I wanted to express my opinion, and I was faced with tinted, bullet-proof glass, and I was assuming the person in the car was who I thought it was."
A news photographer snapped a photo of Briskman, who was later identified as the cyclist. The photo went viral and got back to her employers. At the time, Briskman worked at federal contractor Akima as a marketing analyst and was told she had to resign from her position. Briskman responded by filing a lawsuit against the company alleging that Akima was afraid the Trump administration would end its contracts with them in response to the photo. Briskman argued this violated her freedom of speech and thus won severance (per The Washington Post). 2018 was a big year for Briskman in other ways; she got off her bike and decided to run for office (pun intended).
Today, I am filing my organizational papers in a bid for local office in Loudoun County, Va. Loudoun deserves transparency in government, fully funded schools & smarter solutions to growth. It's time for a change. https://t.co/OutRrIf40K

— Juli Briskman (@julibriskman) September 12, 2018
A little more than a year later, Briskman, a Democrat, won a seat on the Loudoun County Board of Supervisors, beating out the incumbent Republican, Suzanne Volpe, with 52.4% of the vote.
Briskman put funding local schools and expanding green space in the community at the forefront of her campaign, while Volpe, a Trump supporter, missed marks with a lack of identity with the local community, Briskman said in campaign tweets. Briskman's county, of which she has been a longtime resident, borders Washington, D.C., so the momentous geography must add to the fervor of her win. "It's not like I can run against him," Briskman said of Trump to The Post in July. "But I can run." And that's what the self-proclaimed ultra-marathoner did.