Missouri House Candidate's Kids Say Their 'Homophobic' Dad Doesn't Deserve Your Vote
Images via Steve West/YouTube
Politics
News
Steve West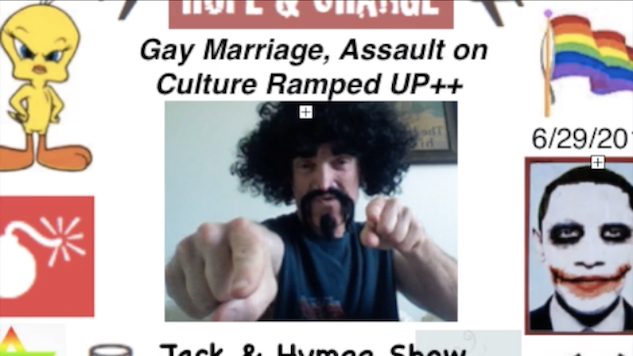 Missouri's Republican representative candidate Steve West has found that some of his most vocal opponents are his own kids. They recently reached out to a local paper, per NBC, to urge voters not to vote for him. His daughter Emily West told the Kansas City Star that she can't imagine him being in government, due to his "racist," "homophobic" comments, as well as expressing dislike for Jews. His son, Andy, used even stronger words, telling voters that West "must be stopped," and that he bases his ideas in "pure hatred."
NBC reached out to West for a response, who said that his children were "poisoned" by his ex-wife during a divorce.
We're inclined to believe his kids, though. Apparently, West has frequently gone online to express how he believes that homosexuality and pedophilia are explicitly linked, how women's athletics lead to homosexuality (not men's, though) and even that St. Jude's Children's Hospital is a front for Jews. West says that patients there are abused rather than treated, "tortured," even by vaccines that make them sicker than they were before. He calls it a "Jewish Cabal."
That's not to mention the section on his site titled, "Islam is a Problem in America."
The West family isn't the only one being separated by politics: Apparently, many more have denounced their family members over bids for political candidacy. The Republican candidate for governor of Nevada, Adam Laxalt, was denounced by 12 family members in a local paper, while six siblings of Arizona Rep. Paul Gosar endorsed their brother's Democratic opponent in a political ad, as well.
See how Paste staffers' family ties have been tested by such political divides here and submit your own story via email at Stories@pastemagazine.com.