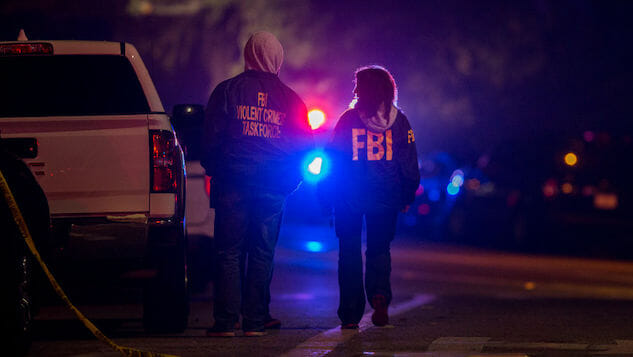 Late Wednesday night, at a bar in Thousand Oaks, CA, David Ian Long opened fire on patrons. The bar, Borderline, hosts a college night every Wednesday for the schools in the area and consistently brings in hundreds of students. Twelve were killed.
We've rounded up the most important information about the gunman, David Ian Long, below.
He was a veteran
Long, 28, was a veteran of the Marine corps, and he used his training at Borderline. When he entered the bar, covered by a trenchcoat, ski mask and glasses, he immediately began shooting, killing the woman at the front desk without saying a word. Witnesses say he threw smoke bombs and one, who had experience with firearms, said he had "perfect form," per Heavy. Long used a legally purchased Glock .45 with an extended magazine to carry out the attack.
He had some mental health issues
Though the purchase was legal, the question of whether or not it should be legal remains in this case. Long was suspected to suffer from mental health issues stemming from his time in the military. Specifics are unconfirmed, but his neighbors have said Long suffered from Post-Traumatic Stress Disorder.
He's had run-ins with the police before
Over the years, Long came to become somewhat familiar with the local police department. Heavy reports that in April, Long was found beating the walls of his house and screaming. A crisis team had to intervene in order to prevent Long from hurting himself. He was also the victim of a battery, and found in violation of two traffic incidents, per USA Today. Long was evaluated by mental health professionals, but, in spite of this, it was determined that taking him into custody would not be necessary.
It's uncertain if he committed suicide or not
After discovering Long's body at the Borderline shooting, authorities are unsure whether the bullet that killed him was from the local police or from his own weapon. Witnesses say they think they saw Long turn the weapon on himself and, though they're confident, police want to investigate further. Long was found dead in an office near the entrance of the bar.
His motive is thus far unknown
No one is quite sure what drove Long to pick up his weapon and attack the patrons of this bar specifically. According to witnesses, he never said anything over the course of the incident. He had an objective, but it didn't seem to matter who knew what he was doing or why. Authorities are reaching out to neighbors of Long to try and come up with a motive, but haven't turned up anything specific as of yet.