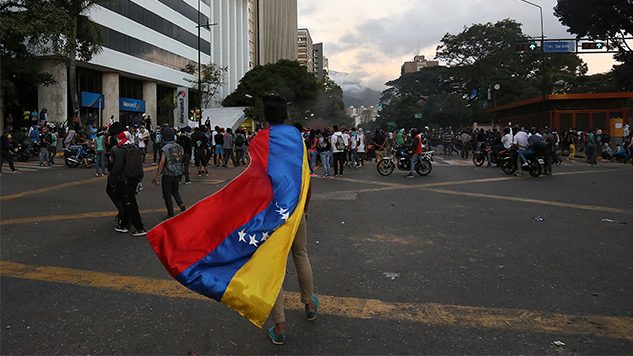 If you're wondering what exactly is going on in Venezuela and why the U.S. is getting involved, you're not alone.
On Wednesday, Venezuelan opposition leader Juan Guaidó declared himself the country's interim president, claiming that Nicolas Maduro (the former or current president, depending on who you're talking to) had been deposed, CNN reports.
Not long after, President Donald Trump recognized Guaidó as Venezuela's interim president, calling the former regime "illegitimate." However, analysts are "not clear the former bodyguard's [Maduro's] fall is anywhere near imminent or that Trump's power play will pay off," as per CNN.
The citizens of Venezuela have suffered for too long at the hands of the illegitimate Maduro regime. Today, I have officially recognized the President of the Venezuelan National Assembly, Juan Guaido, as the Interim President of Venezuela. https://t.co/WItWPiG9jK

— Donald J. Trump (@realDonaldTrump) January 23, 2019
Maduro responded to Trump's decision by declaring that American diplomats must leave the country within 72 hours. However, the U.S. personnel have remained as, in White House national security adviser John Bolton's words, they were "invited to stay by the legitimate government and consistent with their safety that's our intention."
This precarious situation could lead to confrontation, as earlier today (Jan. 24), Venezuela's Armed Forces swore their allegiance to Maduro. Trump also emphasized to reporters that "all options, always, all options are on the table," as per CNN, when asked if he would deploy military force to ensure the outcome he wants in Venezuela.
Secretary of State Mike Pompeo urged the members of the Organization of American States to fall in line with the U.S.' stance supporting Guaidó.
"We call on the OAS and all its member states to act on basic, decent democratic principles and the incontrovertible facts on the ground," Pompeo told CNN.
He said of Maduro, "His regime is morally bankrupt, it's economically incompetent and it is profoundly corrupt. It is undemocratic to the core."
Several Latin American countries also support Guaidó, while China, Russia and Turkey are backing Maduro. The European Union did not put their full weight behind Guaidó, but issued a statement saying they support "the restoration of democracy and rule of law in Venezuela through a credible peaceful political process in line with the Venezuelan constitution."
Maduro's government has become increasingly authoritarian in recent years, partly as a reaction to the mass exodus of citizens from Venezuela. The country has suffered through an economic crisis since 2013. According to The Guardian, an estimated three million people have emigrated in recent years due to hyperinflation and shortages of medicine, foods and other necessities.
In spite of this humanitarian crisis, U.S. invasion is the last thing Venezuela needs. Gabriel Hetland, assistant professor of Latin American, Caribbean and Latino Studies and Sociology at University at Albany, SUNY, argued in a Guardian opinion piece:
This course of action must be firmly rejected. This is not because Maduro deserves anyone's support or sympathy. It is because of the untold suffering and damage US military intervention would bring to Venezuela and the region, and the vanishingly small likelihood such action could bring the change Venezuela needs.
Hetland warns that the U.S. and Guaidó's actions are "dramatically increasing the risk of catastrophe and civil war," and instead calls for "broad-based, peaceful opposition that effectively welds together legitimate political demands … and pressing social and economic demands."