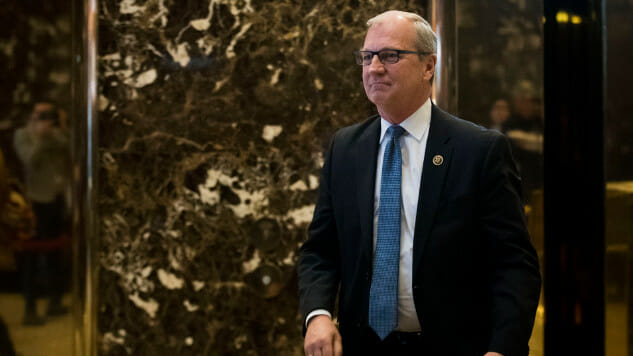 A federal judge has rejected a North Dakota tribe's motion to block the state's strict new voter ID law requiring voters to list their current residential address, a thinly veiled attempt to disenfranchise the state's Native Americans, many of whom live on rural reservations with no residential street addresses. The order comes in response to a lawsuit filed by the Spirit Lake Tribe, which sued North Dakota Secretary of State Alvin Jaeger in a last-minute bid to block the voter ID measure. That lawsuit cites several cases in which Native Americans who had obtained the necessary documentation still found themselves unable to vote.
"Voters whose state-issued or tribal IDs list what they know to be their current residential address have had their absentee ballots rejected as having 'invalid' addresses. This problem threatens hundreds if not thousands more on Election Day," states the lawsuit, which was filed on Oct. 30.
The lawsuit continues to point out the ways in which the state's government has failed its Native American population.
"Moreover, many Native Americans simply have no residential address because the government has not assigned them one. Others have been assigned an address, but it was never communicated to them," the Spirit Lake Tribe's lawsuit points out. "Many such roads in North Dakota have been assigned multiple, conflicting names, and many homes have been assigned multiple, conflicting numbers. Some homes have been identified as occupying two cities, with different zip codes, depending upon the occupant to whom the government spoke in assigning an address."
It adds, "the State had six years to fix this—a problem of its own making."
North Dakota Republicans passed the law in 2012, after Democratic Sen. Heidi Heitkamp's upset victory, which many attributed to the candidate's support from the state's Native American voters.
Despite this recent blow to Native American voting rights, some young voters are now only more fired up. Today, students in Turtle Mountain, a reservation in northern North Dakota, are set to walk out of class and march to the polls with signs encouraging community members to vote.
Democratic candidates in North Dakota still face an uphill battle in the state's midterm elections. The latest polls on FiveThirtyEight predict both Democratic congressional candidates will lose, including incumbent Rep. Heidi Heitkamp, who, with the aforementioned support of Native American voters, became the first North Dakota woman elected to the U.S. Senate in 2012.
Incumbent North Secretary of State Alvin Jaeger, whose implementation of the state's voter ID laws spurred the Spirit Lake Tribe's lawsuit, is also running in today's elections as an independent. Jaeger lost the GOP's endorsement in favor of Will Gardner, who has since withdrawn from the race after news broke of his 2006 conviction on "peeping Tom" charges. He's up against Democratic challenger Josh Boschee, as well as Mike Coachman, another Republican running as an independent.
Every election matters, but the sort of disenfranchisement measures we've seen in North Dakota should make it more urgent for all, if they are able, to cast their votes for candidates who fight for fair elections.