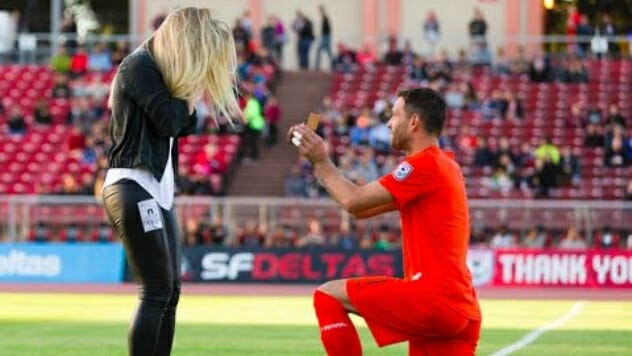 In the interests of transparency and accountability in journalism, I should probably cop to some bias here: I'm not a huge fan of public proposals. Sporting events, in particular.
Partly I just can't understand why anyone would want to take one of the most important and intensely private moments of their lives and invite an audience of tens of thousands. Partly because I don't think it's fair to the person being asked, who has to make maybe the biggest decision of their life with a mass audience waiting with bated breath (and potentially ready to heckle if the answer is No). And partly because it seems like too many people who do this haven't talked to their partner that much about marriage plans, and you really shouldn't make the proposal if there's a non-zero chance the other person would say no. ESPECIALLY at sporting events, because that can blow up in your face.
But hey, people do them all the time and the world keeps on spinning.
And so, today we bring you this story from the weekend's NASL action. During warm-ups ahead of their clash with the New York Cosmos, San Francisco Deltas goalkeeper Romuald Peiser paused his usual routine and quickly indicated something was up. Peiser brought his girlfriend Taylor Lincoln out onto the pitch and, in front of a crowd of over 3,000 people at the Kezar Stadium, got down on one knee and asked for her hand in marriage.
She said yes. The crowd cheered. The couple kissed. Happily ever after.
I mean, the Deltas lost 1-0, so that wasn't great. But I get the feeling the match result will end up being a funny aside when he and Taylor tell that story in years to come.