Apple May Be Embracing Touchscreen Laptops After Swearing Them Off For Over a Decade
Image via Apple
Tech
News
Apple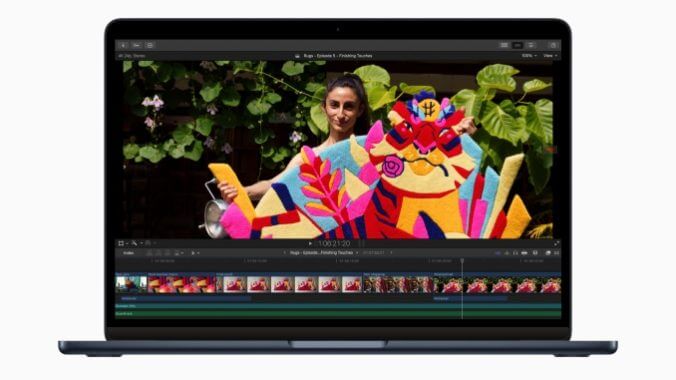 Apple is known as an innovator when it comes to integrating touchscreens into our daily-use devices since the launch of the first iPhone. With various iPhones and iPads, we've gotten used to swiping and clicking with our fingers and app design has increasingly adapted to this use case.
Despite that success, Apple hasn't brought touchscreens to its various laptop lines as its Windows-based competitors popularized the 2-in-1 notebook over the last decade. But that may be changing in the near future. According to a Bloomberg report, engineers at Apple are developing touchscreen functionality for its MacBook Pro laptop line expected to be released in 2025.
Of course, one report about the company finally joining the touchscreen laptop trend doesn't necessarily mean that it is 100% confirmed to happen. Many things under development by major tech developers never see the light of day, and Apple's historic stance against touchscreen laptops could always outweigh any desire to follow trends, even when 2-in-1 devices have superseded that designation.
Apple co-founder Steve Jobs famously described touchscreens on laptops as "ergonomically terrible" in 2010 (coincidentally the same year the iPad launched), a sentiment that Apple CEO Tim Cook reiterated after taking the reins of the company. Those statements made more sense at the time as touchscreen notebooks were just emerging and Apple dominated the tablet market.
But the iPad isn't hitting the same as it did in the 2010s. Apple's iPad sales dipped by nearly $3 billion in 2022. The company's minimal refresh of the iPad line last year and Cook pointing to supply constraints surely factored into that decline.
A drop in iPad sales doesn't fully explain Apple's reasoning for potentially changing its stance on touchscreen laptops, though. The company has introduced multiple accessories and tools that either fit into touchscreen use (Apple Pencil) or felt like a half-step toward that type of functionality on a laptop (the much-maligned touchbar).
As with any rumor, we'll have to wait and see if this comes to fruition, but the move would make sense as Apple continues to move toward more internal development of device components and likely seeks to build on its incredibly successful notebooks lines.