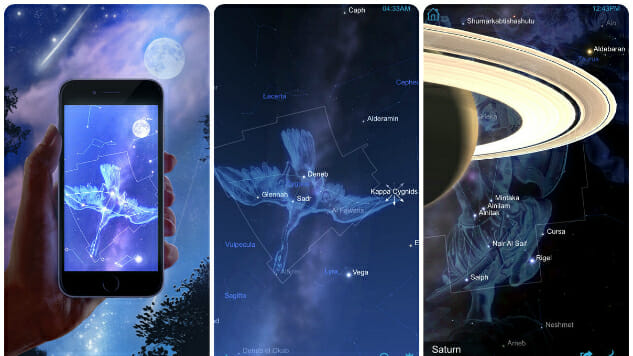 Space, the final…yep, we all know the rest of that sentence, but it is fun to learn about space, right? While we can't yet take a vacation in space, there are still some opportunities to learn more about our solar system and other worlds. One great way of doing this is through using one of the many apps available to teach you more.
We've rounded up 10 of the best space exploration apps out there.
1. NASA (Free)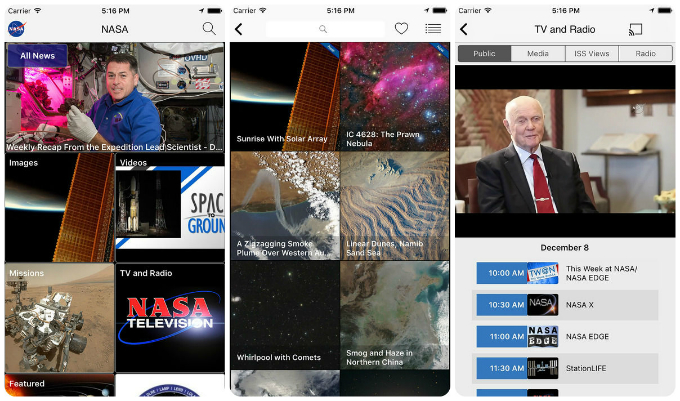 It makes sense that NASA would have a great app, and this app does a wonderful job of teaching you about space. Providing you with over 15,000 images, and all the latest news within astronomy, there's a lot to take in. You can also view over 13,000 NASA videos, check out upcoming sighting opportunities and watch live NASA TV.
2. ISS Spotter (Free)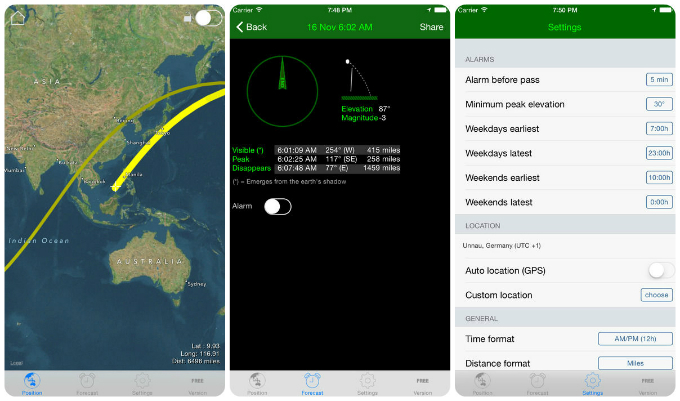 Spotting the International Space Station is a fun activity to partake in, but knowing when to look is the tricky part. ISS Spotter offers a forecast of visible passes, enabling you to set alarms so you'll always be on time to check it out. Its built in compass and other tools make it easy for you to gaze at the ISS as it passes over us.
3. Solar Walk Ads+ (Free)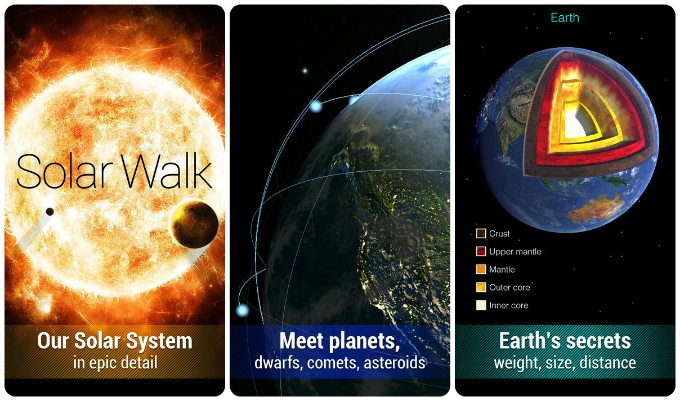 Solar Walk Ads+ is a free interactive space encyclopedia. You can use it to view a detailed and attractive 3D model of our solar system, allowing you to navigate easily through the universe. You can explore all the planets in real time, check out their current positions, and learn interesting facts about each of them.
4. Star Chart (Free)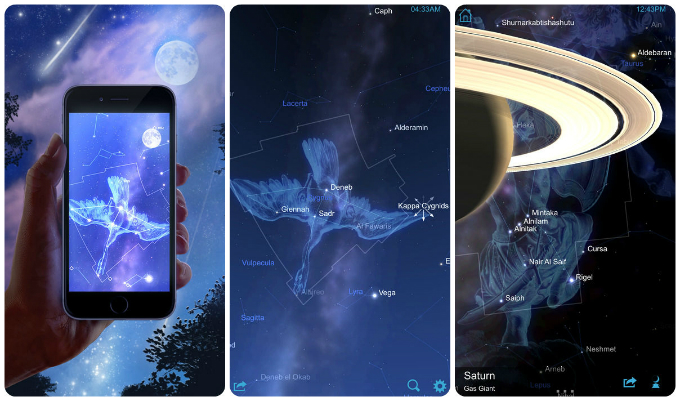 Star Chart hasn't been updated in a while, but it's still a great augmented reality astronomy app. Simply point your iPhone at the sky, and Star Chart will tell you exactly what you're looking at. It'll provide insight into planets, stars and moons, even in broad daylight. It's a fun way of making everything seem a little closer.
5. SkyView ($1.99)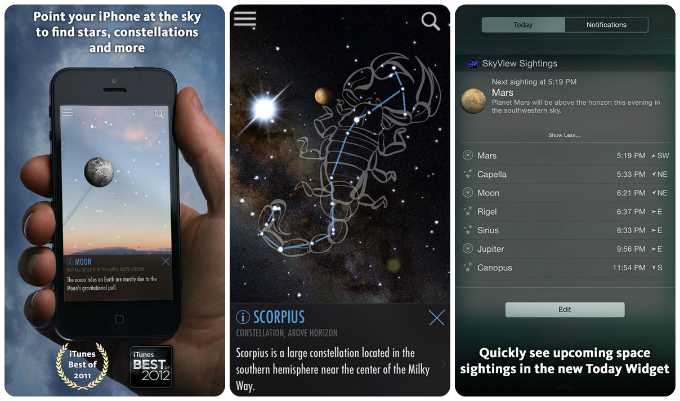 SkyView works in a similar way to Star Chart, with the benefit of providing information on 88 different constellations. You can scan the sky with the app, taking in some beautiful sights. Apple Watch connectivity provides you with information on what will be visible tonight, with a Today Widget allowing you to see when celestial events will occur.
6. Night Sky (Free)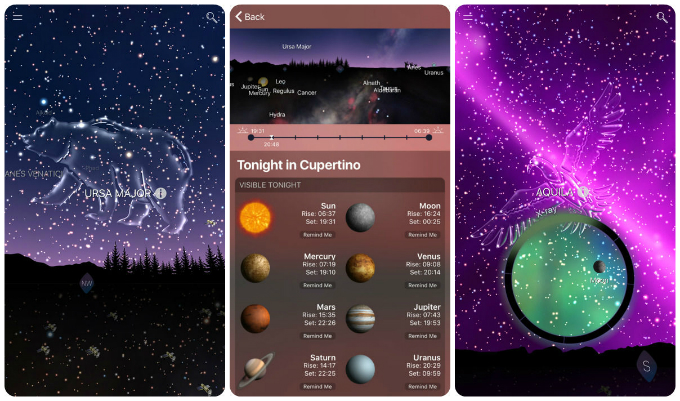 Want to view things via augmented reality but with the benefit of even more celestial objects? Night Sky is the solution. Utilizing iOS 10's Metal, you can check out 115,000 new celestial objects, as well as accurate recreations of lunar landing sites. Tied into your Apple Watch, you can use your wrist as a celestial compass, moving backwards and forwards in time to see how things would look.
7. Space Images (Free)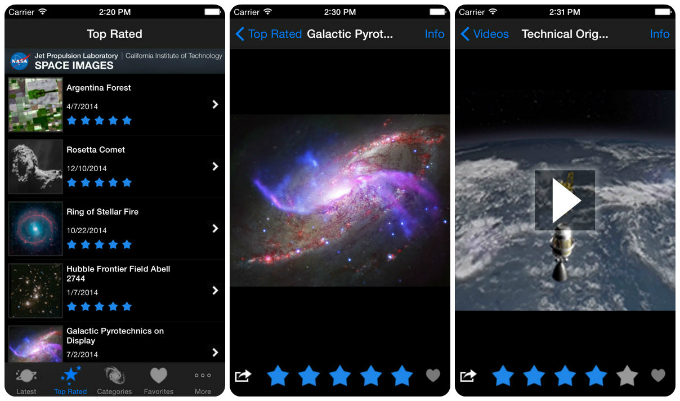 Thanks to NASA, you can view thousands of stunning hi-res photos of space via this app. It's possible to check out stars, planets, the sun and more. Sharing is a breeze, along with checking out new facts via the app's captioning system. It's not as feature rich as some apps, but it does provide plenty of beautiful pictures.
8. Exoplanet (Free)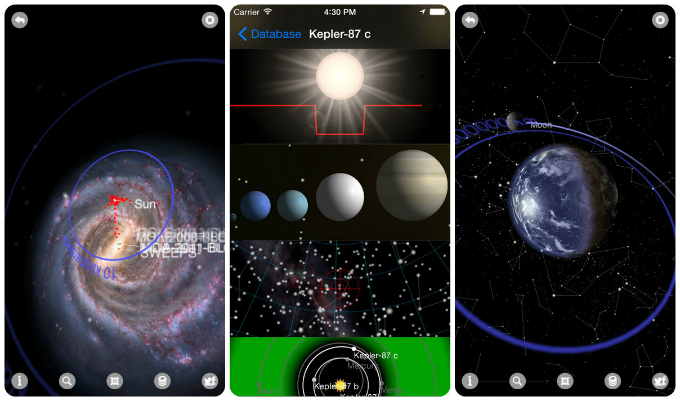 Exoplanet is a visual and interactive catalogue of all known exoplanets, or planets orbiting stars beyond our own Solar System. The app is regularly updated whenever new discoveries are made, allowing you to view a model of the Milky Way and see how things are changing. An augmented reality sky map means you can always look up to the sky to find an exoplanet.
9. GoSatWatch ($9.99)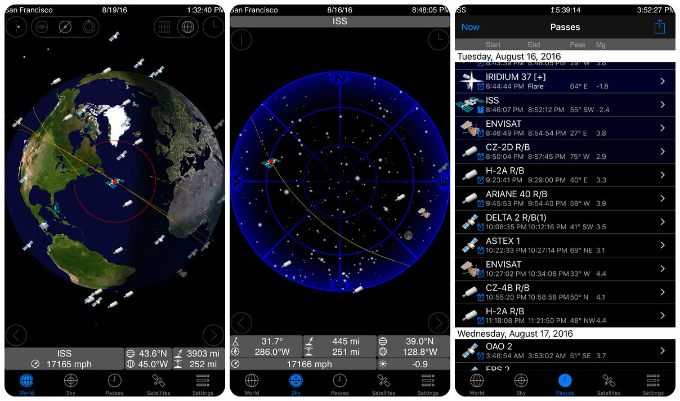 GoSatWatch makes it easy to track satellites in real time. By using the app you can check out what satellites are above you at all times, with an overhead sky track view. Visible and 24 hour pass predictions are available, along with data on determining dish orientation for geostationary satellites. It might be a little niche for some but it's interesting stuff.
10. Pocket Universe ($2.99)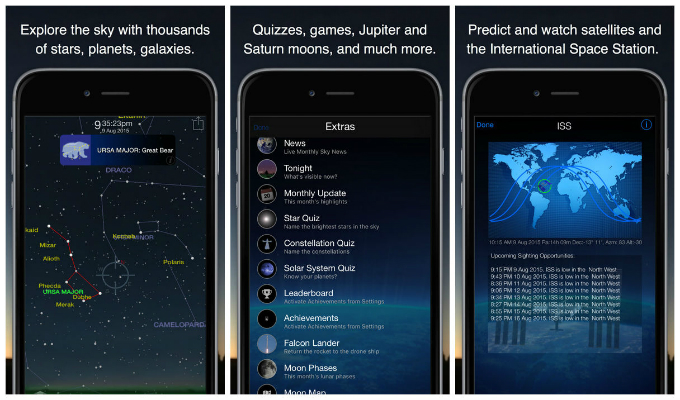 Pocket Universe will guide you around the night sky, like the best kind of astronomy. You can use it to explore the Solar System, taking virtual walks on the surface of the Moon and Mars. Pop-up information is provided each step of the way, along with a list of suggestions, and updated news.