Charging Doesn't Have To Be Boring: 6 Cool, Weird And Funky Battery Banks
Image via Sharge
Tech
Lists
Gadgets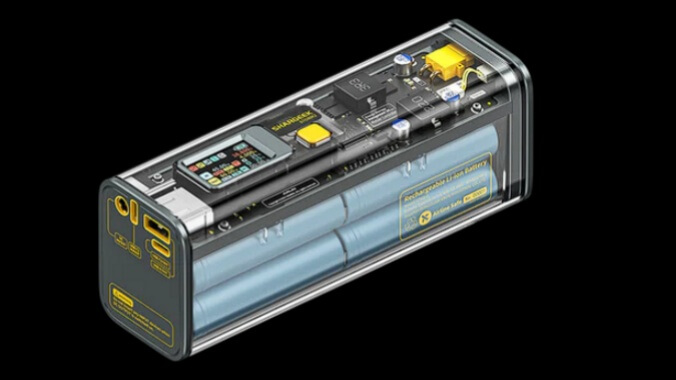 Look, we all have the absolute staple necessities when it comes to our gadget load out. The smartphone case is typically designed for function over form, to make sure that errant drop doesn't take us out for good. The laptop bag? Gotta make sure it has comfy straps and plenty of pockets. The headphones? It's hard to beat a basic pair of AirPods or Beats.
That basic approach typically carries on down to your battery charging banks, with companies like Anker cranking out plenty of incredibly functional, if not a little bit bland, battery packs to keep our gadgets charged and going strong when we're away from wall plugs. But the battery pack doesn't have to be boring, and if you're looking to go with something that at least looks cool, you can get away with still having some flash while only losing a little bit of substance in some cases.
Paste Tech scoured the internet to track down stylish, cool, funky and (in a few cases) just plain silly charging banks — in case you're looking to go with something to add a bit more fun to your next commute or weekend trip.
For the transparent, steampunk look: Shargeek 100 (MSRP $209)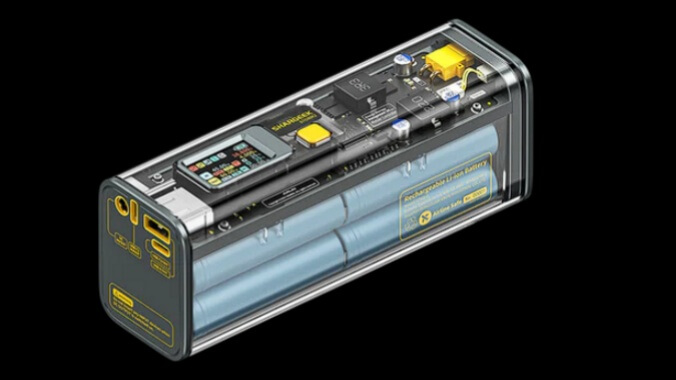 This one is among the priciest options, and for good reason — it gives you plenty of eye-popping coolness without actually sacrificing much of anything in the way of features. It's literally transparent, showing all the cool tech inside, plus it features a Star Trek-style color screen so you can track your usage and capacity live.
This 25,600mAh capacity battery bank features 100W fast charging to recharge fully in just an hour and a half and includes plenty of ports to keep everything from your MacBook (almost two full charges), or smartphone (around seven full charges) going for a weekend (or week) depending on your usage. It's also airline safe, so you're all set to stow it in your carry-on bag if you're traveling.
For the retro cassette-style music nerd: Remax (MSRP $22.99)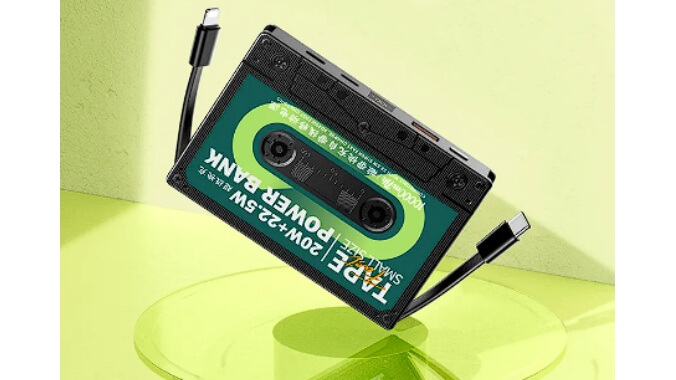 If you want something that has that analog flair but all the modern-day charging tech, this is a fun one. Available from AliExpress (so prepare for some fairly long ship times), this charger is around the size of an audio cassette tape (it's actually a bit bigger, and understandably a good bit heavier), and even comes with its own plastic cassette case for storage when it's not in use. The newest model has fold-in lightning and USB-C mini-cables built in, and it even features a small screen to show your charge level.
At 10,000mAh, it's not going to keep your devices running forever, but for the low price and size it'll give you a couple of smartphone charges or keep an iPad more than humming during a long flight. Plus, if it's not too intensive of a need for a lengthy trip, it's just plain cool and eye-catching. You can use it to charge up your iPhone and AirPods to stream Spotify, which works — but still just seems wrong with all these analog vibes.
For sci-fi style solar power: Solar Charger Solar Power Bank (MSRP: $39.99)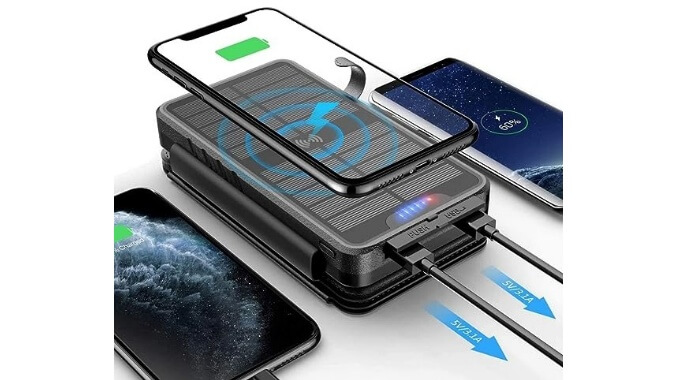 If you're the outdoorsy type, or like to just be very prepared in general, the Solar Charger Solar Power Bank has proven one of the most popular and versatile chargers for users looking to add some old-fashioned daylight power to their charging options. Since this piece is designed for outdoors use, it's waterproof and drop proof, so it should be safe enough to bang around in a hiking backpack. And it has a sleek black and gray design, which is always a timeless look.
The block design features four large-ish fold-out solar panels, and even has wireless charging capabilities in case you forgot to bring any cords along. It's a bit of a unique option, but if you spend enough time in the wilderness, it could be just the thing to find a high point and catch some rays — and some charging power.
This is just adorable: Moji-Power Power Bank Lazy Sloth (MSRP: $24.99)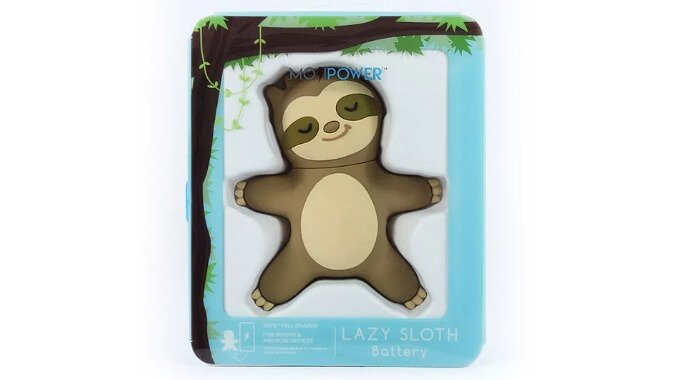 Is it all that practical? Well, not really. But it's cute — and in this case specifically — that's really all that matters. This small power bank styled out like a sleeping sloth with his head cocked sideways, only packs a relatively tiny 2,600mAh in charing power (which means at full capacity, it could charge a dead iPhone to around 80 percent), but, in a pinch, it'd still give you more than enough juice to order up an Uber or make your way home after a long night out. Plus, it's pocket (or purse) sized, and easy enough to keep on hand in a pinch.
Something you can (almost) fit in your wallet: Clutch V3 (MSRP: $39.99)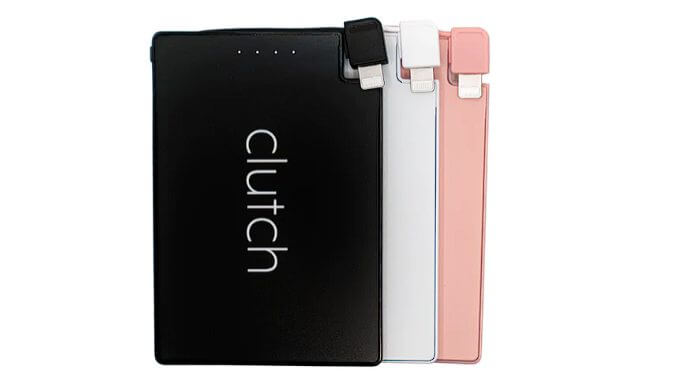 They don't get much smaller, or thinner, than the Clutch V3. This ultra-thin charger is just a mere 0.2 inches thick, and measures 2.5 inches x 3.5 inches in size. To put that in perspective, it's about the size of a credit card, and about as thick as two quarters stacked on top of one another. So small enough to conceivably fit in your wallet if you wanted to do that, and it even features a fold-out charging cable, so no need to haul around an extra cord.
Capacity is also surprisingly solid for something this small, with the Clutch V3 packing an ample 3,300mAh, meaning it could typically recharge your average iPhone from dead to around full charge, which is pretty handy for something you could slip between your debit card and a few stray dollars in your wallet.
For something you can cuddle: MKDMiD Dog Power Bank (MSRP: $38.99)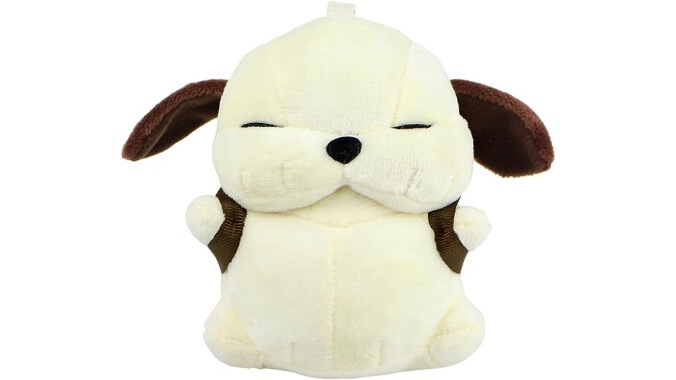 If you're looking for something generally kid-friendly, it's hard to beat the MKDMiD Dog Power Bank, which is literally a super cute stuffed animal dog with a beefy 6,000mAh battery tossed in its backside. The stuffed animal is big enough to be cute, but not so large it'd look out of place clipped to a backpack or a diaper bag.
It even comes with a little doggie backpack to keep your cords from getting tangled. What's not to love? It's a more discrete way to haul a battery pack around in case you don't want to just lug a basic battery pack in your bag, because who doesn't love a stuffed animal every now and then?
Trent Moore is a recovering print journalist, and freelance editor and writer with bylines at lots of places. He likes to find the sweet spot where pop culture crosses over with everything else. Follow him at @trentlmoore on Twitter.