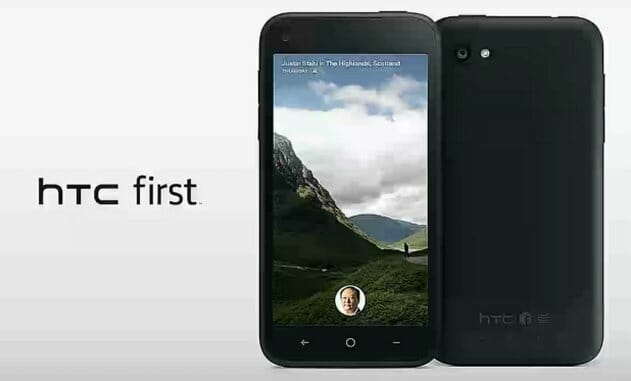 It has been billed as "the Facebook Phone," but the HTC First represents much more than just a platform for Facebook's mobile market aspirations. First off, the phone fills the sole mid-range spot in HTC's lineup for this year—a year where the company's CEO has promised to settle for nothing less than success or else step down from his position at the company. With claims like that, the Taiwanese manufacturer can not afford to ship sub-par hardware in such an incredibly competitive landscape.
Secondly, the HTC First is one of the few ways to get a stock Android device, especially at this price. Overall, there is more to the First than meets the eye here—so let's dig in.
Software: More than just a haven for Facebook addicts
Talking about the HTC First means first talking about Facebook Home. Home is a series of apps that replace your phone's launcher, messenger, notification center and lock screen with widgets designed to keep you up to date with all of your pals on Facebook. If you wish, you can turn off any individual portion of Facebook's offering with relatively little effort. But before you run off and do that, we'd recommend diving into the full package here because it's fairly impressive considering this is Facebook's first attempt at something like this.
The apps of Facebook Home put everything you need to upload pictures and status updates right in front of you, painting over stock Android's usual offerings. After syncing home with your Facebook profile, your phone is populated with information about you and all of your friends in order to set the focus on, "people, not apps" as Zuckerberg said at the platform's launch event.
A globe containing your profile picture becomes the home button and center of your new Android experience, from which you can access the app drawer, any Facebook-specific tools or your phone's setting. As different as it all may seem, Facebook Home doesn't lock users out of the Play store—so in reality, your phone is no different from any other Android device aside from its social focus.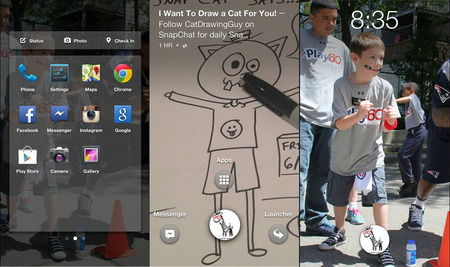 Your lock screen prioritizes keeping you up to date with a scrolling gallery of your friends' uploaded pictures and updated statuses. Meanwhile, notifications for other things are left in the notification shade just under the surface. Texting is perhaps the most pleasurable experience on Home versus stock Android. Chat Heads, Facebook's replacement for Messenger and the stock texting app, frames your conversations in globes with the sender's face framed within that can be moved around to wherever you want it on the screen—no matter what app you have open. Being able to access these messages from any app without doing much multitasking works seamlessly and after a few hours with Chat Heads built into the core of Android, you'll wonder how you ever lived without it.
Regardless of how you may feel about having your entire social life laid out before you at all times of the day, the Home experience is certainly pleasant on the First. All of the options offered by Home are much more visually interesting than any other launcher on Google Play. Facebook spoke about creating an entirely new physics engine to create the "floating" effect of many of its user interface's assets and it all comes together very nicely. The focus on friend updates over notifications was the most annoying thing to have to get used to, and many Android users may not appreciate the added effort required to reach notifications which have always been a main focus of Android. After all, does any really care about Facebook updates that much?
The pictures and updates from your friends look great on Home's lock screen replacement—even though the First may not have the best screen on the market. Photos you take with the phone itself may not look quite as great, however, as the First's four megapixel shooter is nothing short of lousy indoors or out when capturing video or stills.
After testing Facebook Home on the current top Android flagships—the HTC One and Samsung Galaxy S4—it's clear that some under-the-hood optimization has been done on the First. On those two "top tier" devices, Facebook Home tended to slow down and lag far more than on the First, despite its much less powerful Snapdragon 400 processor. The titans of Android became uncomfortably warm after a half hour with Facebook's skin, while the First manages it with no problems at all. With that said, Home is best experienced on the First.
But the truly good news is that if you don't like Facebook Home, you can just turn it off. After doing so, you'll be greeted to the stock Android version 4.1.2. While it's not the most recent version of Android, it can't be overstated how happy we are that HTC is selling a phone with stock Android so easily available in its settings. On recent devices such as the Xperia Z and the HTC One, manufacturers seem to have learned that when it comes to Android skins, lighter is better. However, the Android experience is best as Google truly intended it to be. That's why the HTC First's use of stock Android is such a refreshing change of pace—and with recent announcements regarding "Google Edition" phones coming, it may even be a sign of what's to come.
Hardware: Finally, a decent Android phone that be used with one hand
On the subject of screens, it's difficult to mix words when talking about the First from a design standpoint. The front of the device exudes a "quietly brilliant" design language. Although the panel itself isn't a monstrous 1080p model like current Android flagship devices, the 4.3" inch 720p screen is still impressive. A lamination on the screen protects it from scratches, enhances detail and makes the device's screen seem as if it's slightly pooling over its housing, ready to spill. From a more technical standpoint, the screen tends to wash out some colors a bit, especially at higher brightness settings when outside of Facebook Home.
While the back of the phone may not turn heads quite like its older sister, the One, the First's beauty is just as captivating when one has the chance to hold and admire it for a while. The chassis is coated in a matte, soft-touch finish which is smooth to the touch yet still grippy when holding the phone in any natural position. Its slim chassis makes the One fit as well into the hand as the iPhone 5, but its softer lines and rounded edges make it far more comfortable to hold for any period of time.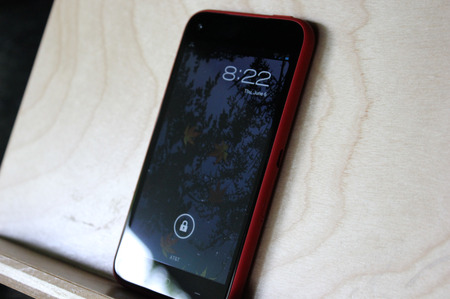 In battery tests, the First holds up quite well against the competition. With its 2,000 mAh battery, the phone managed to last an average of nine hours under moderate use throughout the day, even while web browsing on AT&T's LTE network. While only being used for light texting, tweeting and the occasional call, the phone lasted well into the night before needing to make a stop at the charger. Whether Facebook Home was active did not appear to make much of a difference in battery tests over the course of our twelve days with the phone.
Mid-range device or not, the HTC First is an underappreciated feather in the Taiwanese manufacturer's cap. The device's completely solid build-quality and wonderfully optimized software grant it merits even over the higher spec'd devices on the market. HTC's hardware job on the First makes it worthy of the "One" themed branding the manufacturer is using this year, but Facebook Home's addition seems hit or miss. Basing such a wonderfully designed phone around a platform that bears increasingly less relevance to consumers does a disservice to how well designed a device this is. In other words, to many consumers, Home will feel gimmicky, as would any similar social network focused device. HTC tried the "Facebook Phone" concept with the ChaCha and Salsa in early 2011 when the platform was more successful and even then, it flopped—so it's difficult to see why they would roll the dice again during such a crucial year for them.
Regardless, there are a lot of reasons to buy an HTC First. The First is easily the best Android smartphone in this size bracket, and for $0.99 on a two-year AT&T contract, it's hard to not recommend. The handset itself is comfortable to use with one hand and even ships with stock Android on an LTE network—a white whale to the mobile enthusiast. The First hasn't exactly taken off in sales since it's May release, but this spirited little phone's design is certainly not to blame.
The HTC First is currently available exclusively on AT&T.