Huawei brought its line of budget phones to the US for the first time with the Honor 5X. Like it's premium Huawei brothers, the 5X is a hardware marvel with a build quality that doesn't advertise it's paltry $199 price.
In years past, the Honor 5X might be considered an absolute triumph, but budget phones have been trending up recently, coming with smaller prices and fewer drawbacks each year. Huawei would love to capture the lower end market, but there's a lot of competition in that space, including the phenomenal OnePlus X, considered by many to be the best budget phone on the market.
There are no questions about hardware when it comes to Huawei, the real wonder is if the Chinese manufacturer can deliver a complete experience without the aid of Google and it's latest edition of stock Android. If it can, the Honor 5X could supplant the OPX as the best budget phone money can buy.
Hardware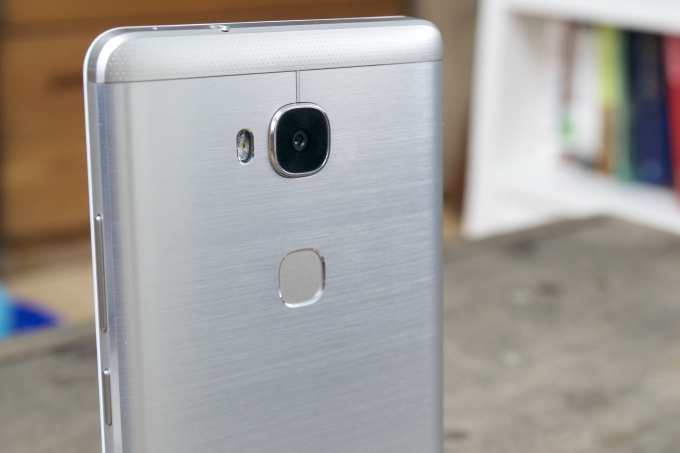 The Honor 5X sports an aluminum back and glass front, banded together by a thin strip of plastic. The construction is solid, and though there are definite seams on the device, Huawei did a nice job making the various materials blend together in a pleasing way. It's not as startling as the OnePlus X, whose design feels vastly grander than its $249 price, but the Honor 5X's hardware does make the phone feel like a substantial bargain at just $199.
When compared to higher priced phones, the aluminum backplate shows its lower quality, and the unfortunate plastic caps on the top and bottom break up the otherwise sightly appearance. As with antenna lines, the plastic here is a necessary evil that allows the phone to operate, but unfortunately Huawei chose to stipple the plastic, giving it an odd Band-Aid look, similar to Samsung's Galaxy S5. Despite that fact, the Honor 5X's design, overall, is handsome if somewhat bland. It certainly doesn't scream budget device, and stands up well when compared to the aesthetics of premium flagships.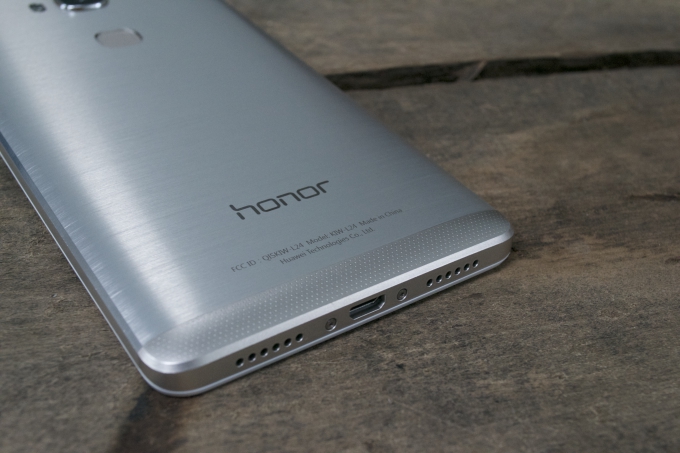 The Honor 5X garners high marks for feel, as well. Despite being a lower quality aluminum, the 5X still feels fantastic in the hand, and the construction is sturdy enough to give users the impression of durability. How durable it actually is I cannot attest to, but it does not feel like a fragile piece of jewelry in the same way that OnePlus' budget device did.
A welcome feature on the Honor 5X is it's rear-mounted fingerprint scanner. It's not nearly as quick as the Nexus 6P, iPhone 6s or Galaxy Note 5, but the 5X's scanner is quick and accurate enough to replace any common locking mechanisms. In practice, it's on par with the HTC One A9, an impressive feat for a phone in this price range and a further testament to Huawei's continued excellence in the arena of fingerprint scanners. It's placement is also ideal, right where your index finger naturally rests when you pick up the phone. The only issue, as it was on the 6P, is that the scanner is unusable when the device is lying on a desk. But, it's a hurdle that is briskly overcome.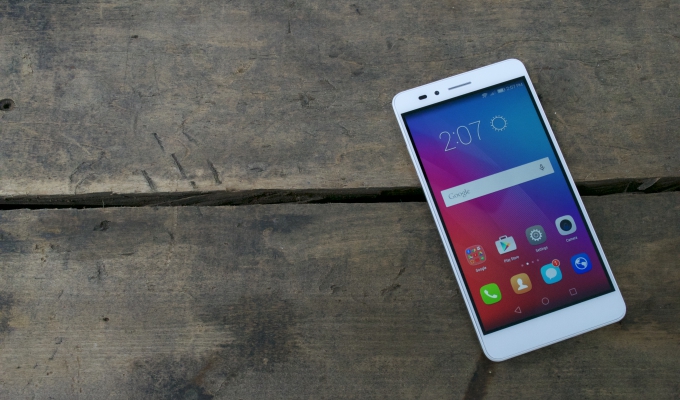 Huawei's budget handset comes with a 5.5-inch, 1920×1080 IPS LCD display that's crisp and has good color reproduction. Blacks aren't as inky, and colors aren't as rich as the AMOLED panels on the market, but the 5X holds up well to other phones in its league. The best thing I can say about the display here is that it's unnoticeable. It may not be stunning like the QHD devices, but it is definitely not a sore thumb. Most everything you'll do on a smartphone displays well on the Honor 5X.
Like any large phone, the 5X suffers in the usability department at times. It does not feel massive, Huawei did a nice job slimming the profile of the 5X enough to make it a relatively svelte phone. Anyone who has used a 5.5-inch or larger smartphone will have no problem with the 5X, but it does still earn remarks from those used to a more demure device. To combat this, Huawei included a "One-hand UI" option that lets users reduce the applicable screen size by swiping left or right on the home buttons. It's fast and responsive, and an elegant solution to a common problem.
One area in which the Honor 5X woefully underperforms is the speaker. Sadly, it is par for the course for a smartphone (in any price range) to have poor speaker performance, but the 5X is particularly underwhelming. It's one speaker is located on the underside of the bottom chin, easily coverable when using the phone in landscape. In terms of sound, the speaker is not terribly loud and the quality is thin and tinny. It's a disappointment, but one that has become commonplace and thus the 5X cannot be crucified for it.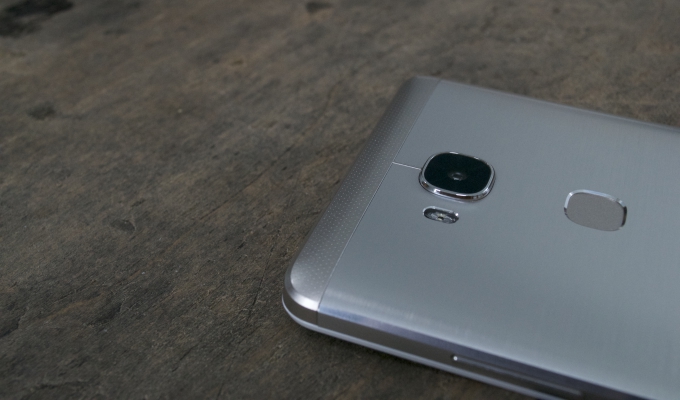 Unlike the speaker, I was pleasantly surprised by the 5X's camera. Though the app itself can be slow to launch at times, and slow to respond once it has opened, in general it is simple and easy to use. Huawei has included a variety of modes, some standard such as the Time Lapse feature, and some more odd like the "Good food" mode which claims to, somehow, make those food Instagrams even more impressive. I did not see a difference. In terms of simply taking a photo, though, the 5X's 13-megapixel rear-facing camera performs admirably. It will not stand up to the best of the best, but for $199 it at least offers users the ability to take a decent photo in decent light. When the sun dips, things get more complicated, but that is to be expected.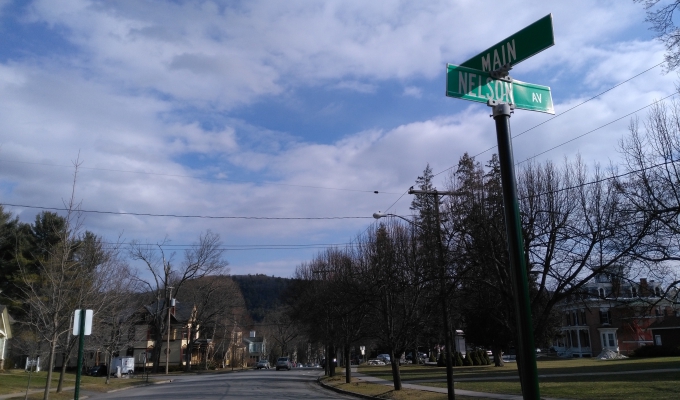 Photos are generally well-detailed with decent color and will make folks, who don't list camera as their top priority when smartphone shopping, happy. If you're more serious about your mobile photography, there are better options out there, but for the price Huawei has given users a camera they shouldn't be embarrassed to use.
The 5-megapixel, front-facing camera is not quite the same experience, offering little detail with washed out colors and blown out highlights. For a quick selfie, it's not the worst I've experienced, but it is also far from the best.
Huawei's Honor 5X also packs a 3000 mAh battery, and while I would have liked to a see a larger battery in a phone this size, I never had an issue getting through a full day with the 5X. On lighter days, the device lasted well over 24 hours and on heavier days it would usually get me through, at least, late evening. Throughout my time with the phone, I saw an average of roughly 3.5 hours of screen-on time. The 5X also has a smart feature built into the software that will alert you when an app is sucking down a significant amount of power. There are numerous third party apps that behave similarly, but it was a delightful surprise the first time it popped up.
For $199, the Honor 5X is well-constructed, featuring several bits of premium flair, making it a phone that does not advertise its price tag in any adverse way. If it were just about build quality, the 5X would stack up as one of, if not the very best budget smartphone money can buy. But a well-built smartphone is nothing if its software is miserable.
Software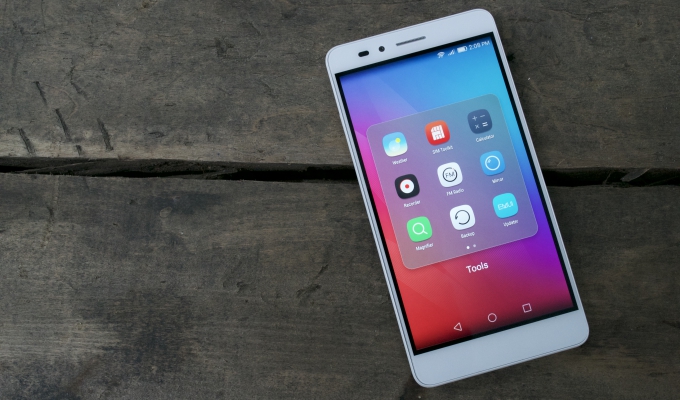 Miserable is perhaps to harsh a word to place on Huawei's Emotion UI, but there is no denying the company has taken a very good operating system (Android 5.1 Lollipop) and masked it so heavily it is nearly unrecognizable. Save for the navigation buttons at the bottom and the familiar Google search bar at the top, EMUI has been tailored to look and feel more like iOS than Android.
There is no app drawer (which Huawei is not alone on), icons have been shaped into rounded squares where possible and the notification bar is a transparent overlay. Widgets and other Android distinctions are still here, but the phone is decidedly going for a non-Android experience. In daily use, EMUI is not bad, but there has been a clear lack of serious thought about how the operating system works. Simple tasks, such as turning on the Do Not Disturb mode or checking notifications from the lock screen, are much more cumbersome in Huawei's custom software.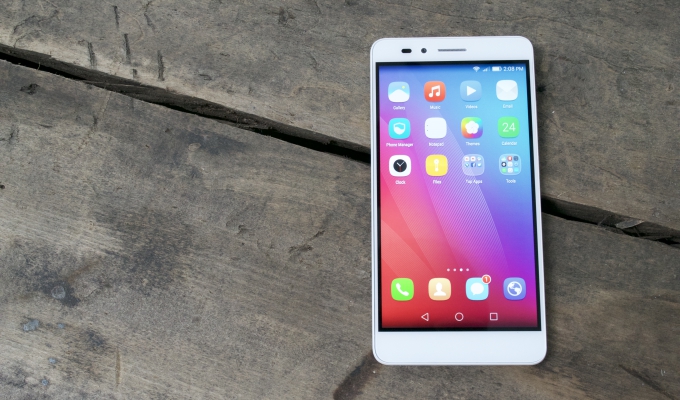 It also appears as though EMUI is not particularly well optimized. Small hiccups were common throughout my time with the phone and on several occasions I experienced crippling slowdowns. The 2GB of RAM inside could be to blame, or the Snapdragon 616 processor, though I've seen other phones with similar specifications perform more fluidly. Heavier tasks often fell victim to stuttering, but most daily tasks were handled well save for the aforementioned issues. In general, the 5X was simply not as snappy as I'd like a phone to be, though for the price it is expected.
The good news is that, because it is still Android, if you can't stand the iOS-esque layout of EMUI, you can always install a custom launcher. You'd still be stuck with Huawei's overtly cartoonish design and the poorly conceived notification bar, but at least the experience would be a little closer to traditional Android.
As good as Huawei has gotten in the hardware department, it's a shame that it's custom software fails to deliver. The company would be smart to invest more time and effort into that sector, perhaps to even start from scratch. I don't deny that it's, in general, a good idea for companies to think outside the box when it comes to software, but most aspects of EMUI feel half baked. If the Honor 5X were something akin to the Moto X, a device that is mostly pure Android with a few tweaks, it would be better for it.
Verdict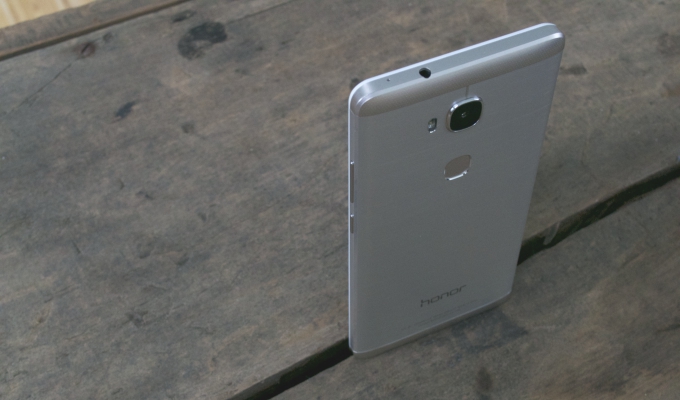 The Honor 5X is the first of Huawei's budget line of smartphones to make it to the US and, for the most part, it makes a good first impression. The phone is well-built, featuring an aluminum back and glass front that disguises its $199 price tag behind a confident design and solid build quality.
For its price, one would expect the 5X to have a slate of drawbacks, but it doesn't. Until you look at the software. Emotion UI is not the worst operating system in the world, but it feels woefully outdated and as though it was not given the proper amount of thought. Things that are simple and easy in stock Android become confusing and laborious in Huawei's custom software.
If you can look past iOS knock off UI, the Honor 5X is a great budget phone. You can't get much better for the price, though for $50 dollars more you can pick up a phone with a better build and far superior software in the OnePlus X. If you're looking to save as much as possible while retaining a phone that can perform at least daily tasks well, the 5X is a great choice.
Just install a custom launcher.