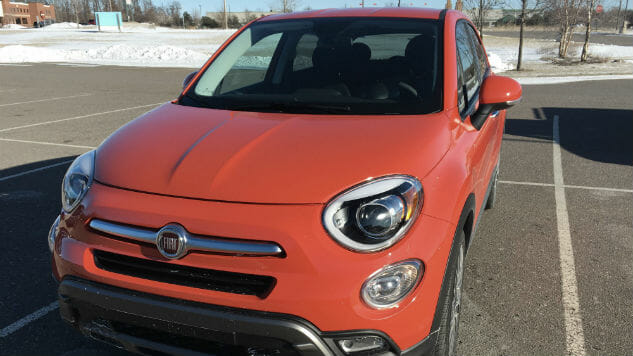 It looks like a ladybug with a fresh coat of orange paint and black accents. It drives like a box-elder bug in fits and starts. It purrs like a wasp, and that's not even in "sport" mode.
While that might be one too many insect references for one car review, it's a good way to describe the 2016 Fiat 500x, a mini crossover that could just as easily drive around a few pylons in a school parking lot as haul your entire family and their gear on a camping trip.
I drove one recently because I wanted to find out if this slightly larger version of the Fiat 500 (and it's sportier cousin the 500 Abarth) could multitask enough to make it worth the extra cash. In case you have not heard, the Italians have invaded. The 500 (a.k.a., the Jennifer Lopez car) is small enough to fit in your back pocket—something like a Mini Cooper without the German branding, higher horsepower engine, or low profile. With the 500, you have to plan where people are going to sit and decide if you can bring your laptop bag along.
The 500x is a different beast. It looks like someone injected a 500 with an HGH. It bulges in all of the right places, though. You get enough trunk space—thanks to a removable compartment lid—to haul your luggage, the rear seats fold forward to add more cargo room, and both the front and back seats are downright roomy even for taller passengers.
Driving the 500x is a blast. It's compact enough to zip around corners quickly, and the 180-horsepower engine in the Trekking version I tested ( which costs $23,310) has some pop, even if you won't be drag-racing anytime soon. And, you won't win the autocross with the pylons against a Mini Cooper or even a Mazda 3, but you will impress everyone else at your high school. That purr I mentioned is not quite as luxurious as the Abarth, but it's still pleasant.
Tech features are a bit minimal—or at least, they have been around a while. There's a back-up camera, a 5-inch touchscreen, and the older version of Uconnect. (The newest version supports Apple Carplay and Android Auto to mirror the features on your phone on the display.)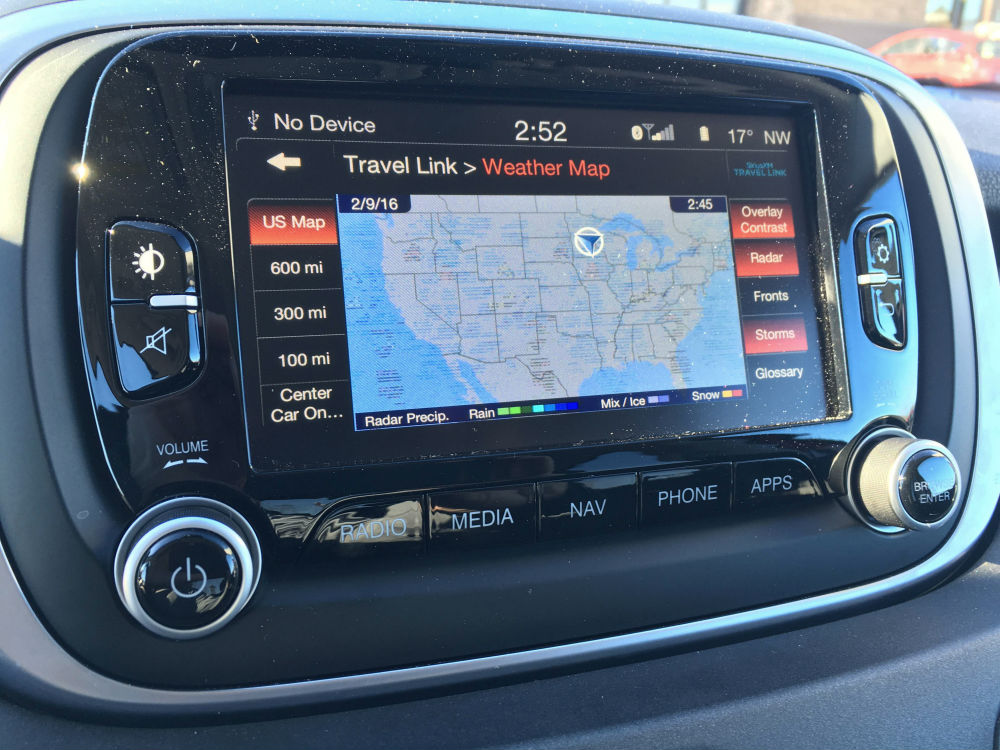 I wish the model I tested had BeatsAudio. On the Trekking model, the stereo is just passable. I tested the voice recognition system and found it was just passable, not quite as useful as Apple Carplay, which understands natural language searches. I said "show me the weather" and up popped a map using the SiriusXM Travel Link app. Again, it's been around a while. I ended up missing the AWD option, too. Thankfully, I never had to drive on slippery roads.
What you get with the 500x is a bit surprising. It's about the size of the new 2016 Honda HRV or maybe the Buick Enclave, but it feels sporty. I really like taking corners with the 500x at high speeds; I was totally bored by the HRV and the Enclave. I loaded up several pieces of luggage, three passengers, and the dog and had no complaints about the size.
The 500 has a base price of around $17,000. The 500x base price is $20,000. Is it worth the extra $3,000? Yes, in every way possible. It's still fun and lets you haul your stuff and family. The one annoying trait about the 500 is that it feels like a clown car. You unfold yourself out of it. The 500x has the same spirit with a peppy engine, but a much more reasonable size.