Former NBCUniversal Ad Exec Linda Yaccarino Is Elon Musk's Choice To Run Twitter
Image via Cindy Ord/Getty Images for The Female Quotient
Tech
Features
Twitter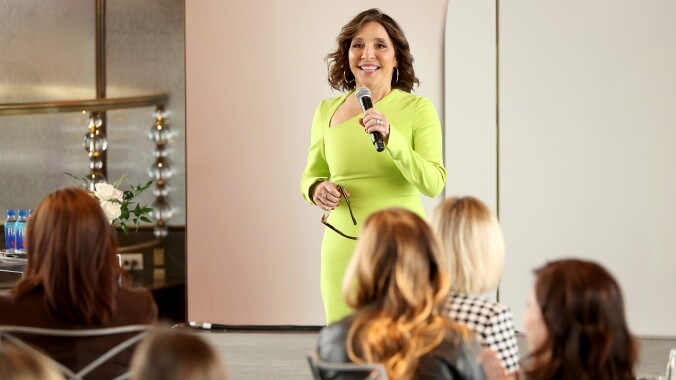 Twitter has a new CEO.
After announcing that he would name a new CEO Thursday, Twitter owner Elon Musk confirmed Friday morning that former NBCUniversal executive Linda Yaccarino would be taking his position with the company. The news confirmed rumors of Yaccarino's hire that spread quickly Thursday, further supported by Yaccarino's resignation from NBCUniversal Friday morning just days before the company's upfront presentation, which she was slated to present.
The hire makes sense in terms of the financial woes Twitter has felt since Musk took ownership of the social media platform last October, most notably the exodus of advertisers unwilling to promote their products following sharp rises in hate speech and the re-platforming of alt-right media figures, neo-nazis and conspiracy theorists post-Musk takeover.
Yaccarino held leadership roles in NBCUniversal's advertising division for more than a decade, becoming one of the more revered ad execs in media. She was directly involved with the launch of the company's streaming platform Peacock and built what she coined "non-traditional relationships" with tech companies and online media hubs, including YouTube, Apple and the company she will now lead.
Yaccarino's reputation within the media and marketing industry could be the catalyst to convince the major brands who didn't want their products popping up next to discriminatory and misleading content posted by Libs of TikTok or Catturd to bring their money back to the platform.
That remains to be seen, but Yaccarino isn't shy about trying to make Musk appear more appetizing. While still in her position at NBCUniversal, she interviewed Musk at last month's Possible digital marketing conference, bathing him in praise over Twitter's announced new approach to content moderation, echoing his stance on free speech on the platform and outright pitched attendees on the ethos of returning to Twitter.
"If freedom of speech, as he says, is the bedrock of this country, I'm not sure there is anyone in this room who could disagree with that. Could I get a round of applause for that," Yaccarino said. "But I want to be clear. The path here today wasn't without a lot of chatter because this guy is here. There's always a lot of chatter. But I believe if this is a marketing conference for marketing executives that influence culture in this country, it is the responsibility of everybody in this room to offer a helping hand and to say 'How can we make it better?'"
In hindsight, the appearance felt like Yaccarino's audition for the role in a way, talking up Musk and Twitter's new moderation measures, which opts for labeling tweets containing hateful and discriminatory content as such, limiting its promotion and excluding it from appearing next to advertiser content rather than the stricter focus on tweet removal and account suspension utilized by the platform before Musk took ownership.
Yaccarino also offered minimal pushback when Musk criticized traditional news and media outlets, framing critiques of his practices and behavior by journalists as the acts of Twitter competitors seeking to win more digital marketing dollars. "It's important to bear in mind, traditional media is a competitor to Twitter. They compete for your advertising dollars," Musk said. "If it is possible for them to diminish Twitter and reduce the probability of advertising dollars going to Twitter … basically you shouldn't take a competitor's word for it."
Musk's comments came less than a week after National Public Radio effectively quit Twitter after Musk labeled the news organization as "state-affiliated media" on the platform.
As Twitter will do, users have already begun scoping out Yaccarino to gauge the effect of her hiring on the platform. Multiple users have highlighted that she follows multiple people known for spreading hate speech and disinformation on the platform, including Catturd, Libs of TikTok creator Chaya Raichik, former presidential candidate Tulsi Gabbard and infamous Qanon-promoting attorney Lin Wood.
At the same time, conspiracy theorist circles on Twitter and fans of Musk have decried Yaccarino's hire due to her leadership position with the World Economic Forum, which they believe is responsible for "The Great Reset" conspiracy theory. That idea refers to the belief that "global elites" associated with the WEF are using the Covid-19 pandemic to dismantle capitalist society and/or abolish private property and install authoritarian rule.
In reality, "The Great Reset" originally referred to an opinion piece by WEF founder Klaus Schwab expressing his belief that nations across the globe should cooperate to preserve economic recovery following the pandemic and address "health and social challenges" to "support the public good."
Additionally, Yaccarino held positions under both the Trump and Biden administrations and publicly supported diversity initiatives in media and tech. Putting the political binary aside, it appears that Yaccarino and Musk see eye-to-eye on political matters, according to The Verge.
Though all of this online digging can inform the endless wave of debates over Yaccarino's hire, only time will tell how Twitter under her leadership will plot its forward course and if she is the answer to Musk's plans to make Twitter profitable and develop X, the "everything app" that he wishes to build with Twitter as its backbone, into a feasible vision.
This could be the start of marked improvements on the platform, we may have another Twitter CEO whose practices resemble someone who likes videos from Newsmax and Larry Elder or somewhere in between.