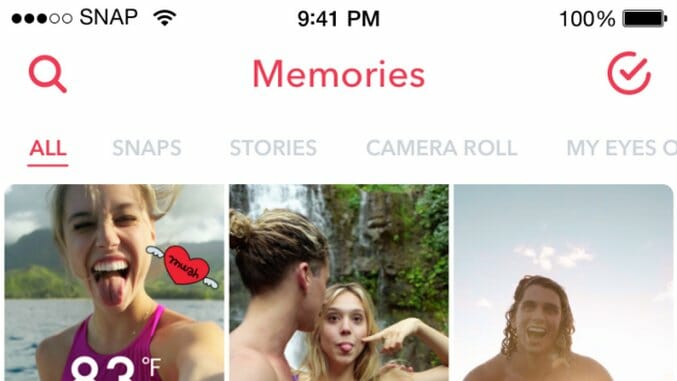 This month, Snapchat launched "Memories", a major change to the social app known for it's quickly disappearing images and videos. With the Memories feature, Snapchat users now possess the ability to save old photos, videos and snap stories within the app. Previously, users could only screenshot snaps (which alerts the other user that you did so) or photos could be uploaded from your camera roll to share via the message section of the app. Part of why people felt safe sharing anything (and I mean, anything) is because the photos would exist for 10 seconds or less before being deleted.
For some users, this change has been much anticipated, as people want the ability to save a funny snap or upload photos to their stories. This will make participating in "throw back Thursday" and "flashback Friday" all the more easier for Snapchat users. Plus, sometimes you just have a bunch of funny photos on your phone that you want to share—I imagine those with a meme account have been waiting for this day so they can upload and save all their memes.
Moreover, it makes the Snapchat archive a place to store your photos instead of the native camera library on your phone. That makes it easier to share and edit right there in the Snapchat app, a huge plus for the company which naturally wants to keep users in its ecosystem as long as possible. It also serves as a historical timeline, essentially like having Timehop in your Snapchat account.
But, for others, this change commences an immense shift away from the original authenticity of the app, which made us fall in love with it to begin with. By remembering your photos and videos through Memories, Snapchat is forgetting its own history.
While there have been times where I've thought "I wish I could add this old photo to my story" and I'm sure to use Memories here and there, this change will make Snapchat less fun. At its core, Snapchat was about being authentic. It was about sharing a moment exactly as it was. It was about silliness and sharing the sort of "behind the scenes" moments of your Instagram and Facebook photos. Even when they started adding filters and sponsored geo-filters, the app created this place where we could all gather and not take ourselves so seriously. People would share the same snap of themselves with the same dog-eared filter every day and it would still be funny because of the fact that they were different moments.

Snapchat has already started including advertisements in stories, it's offering subscriptions to stories from publications, it removed its character limit for text and has heavily invested in helping brands find success—and now that you can save snaps and stories, is it really that different from Twitter? Instagram? Facebook?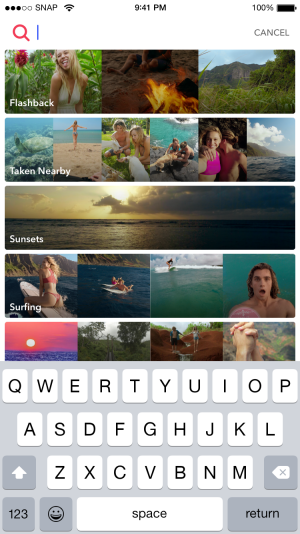 In the beginning, Snapchat was a breath of fresh air. I migrated to Snapchat because I was tired of seeing staged, perfect Instagram photos or hearing too much personal stuff from friends and family on Facebook. Snapchat was a beacon of creativity where we could just be ourselves. That still exists and I still enjoy using Snapchat (for the time being), but I fear Memories is going to lead to people editing photos and videos before they upload, therefore turning Snapchat into a platform for influencers and completely moving away from its original core idea.
I've already seen it happening because when "social media influencers" moved onto the platform, they started taking it seriously, in a way that was counter to Snapchat's inherent, glorious silliness. Then brands were added and though some of them do a great job, others make the platform feel like one big place to watch advertisements.
The change is not totally a bad thing. It's just a huge transition for the company's brand and users will start to notice a shift in the kind of content they see, from both marketers and friends. There are pros and cons to it and though I understand why Snapchat is doing this, the reality is that Memories is a new tool for brands and marketers to share better content. You might think it's not a big deal right now, but, slowly, it's going to feel less fun, less instantaneous and more like a publication. Don't you just wish one social media company would just stick with its roots?
It's weird to think about first using Snapchat and how we all loved it because it was exciting to know our content was ephemeral. It may not be instantaneous, but over time I can see people who are less inspired to post on Snapchat because it will become a place for brands and influencers to share high quality content, much like Instagram.
Meanwhile, I'll playing Pokémon Go before it turns into a marketplace for brands.