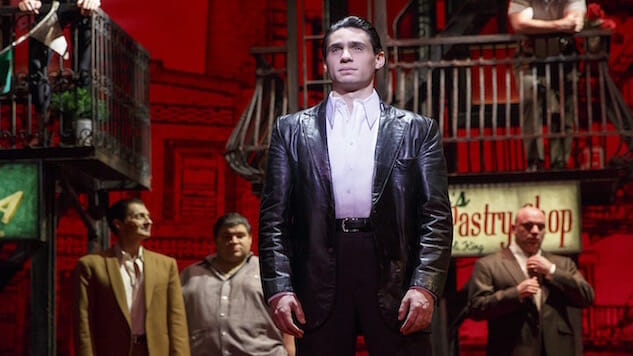 Bobby Conte Thornton is nothing if not grateful. After graduating with a BFA in Musical Theatre from the University of Michigan in 2015, he immediately started working in regional theatre and in New York (occasionally with some of his idols), before landing the lead role in A Bronx Tale on Broadway. Thornton plays Calogero, an Italian-American boy torn between allegiance to the working stiff father he idolizes, and the local mob boss who takes him under his wing in this adaptation of Chazz Palminteri's one-man show and film of the same name. It's the kind of debut every young performer dreams of, but Thornton stays grounded, exuding positivity and sense of gratitude even when taking the final bow eight shows a week.
We caught Bobby in between performances of A Bronx Tale to discuss the show, Robert De Niro's direction, auditioning, and what he does in the five minutes he has offstage.
Paste: You're about a year and a half out of school. Can you walk me through that time?
Thornton: I graduated and the first job I booked out of school was a sequel to Ken Ludwig's Lend Me A Tenor called A Comedy of Tenors that Ken was a part of that we did at the Cleveland Playhouse and at the McCarter Theatre Center in Princeton, New Jersey. It was incredible that my first job out of school was original material with the playwright in the room giving you handwritten notes and changes every day.
After that, I did an all-male production of A Funny Thing Happened on the Way to the Forum at Two River Theatre in Red Bank, New Jersey, with Chris Fitzgerald and Michael Urie, these extraordinary comedic actors. So the first two big things I did out of school were these giant farces. I never in a million years thought that would be my track out of school, but it was the best time. Then I did this Off-Broadway show called Starting Here, Starting Now, which was the first song cycle Richard Maltby Jr. and David Shire ever wrote. Richard Maltby directed the show, which was surreal, and great to have that sort of mentorship with him. And then a production of My Fair Lady out in the Hamptons. Then I began this process.
Paste: That's a killer year-and-a-half.
Thornton: It's crazy.
Paste: Did you have a relationship with the movie prior to working on the musical?
Thornton: I mean, I saw it when I was ten years old. I think it's kind of ingrained in American society—especially because it was Bob De Niro's first movie he ever directed — and it's what launched Chazz's career because it was just him telling his own story. So I only knew it because it was a part of the Italian culture that I was raised in. But I hadn't really re-explored it until I got the audition.
Paste: Speaking of that audition—I hope this isn't a sore subject. Probably isn't at this point.
Thornton: It's all good.
Paste: You initially missed out on the role of Calogero for the out-of-town tryout at the Paper Mill Playhouse, but bounced back to land the role on Broadway. Auditions can be kind of a tease in that way — hard to keep your head on straight. How do you navigate that?
Thornton: You know, my mindset—which I try to retain every time I audition—is that the point of the audition isn't to actually get the job. The point of the audition is that you're given material and you present it, and you're open to notes that the creative team gives you and you're open to spontaneity and inspiration, and you connect for ten minutes with those people, and then you leave. And your job is done. The rest of it is so out of your control. When I auditioned for [A Bronx Tale] at Paper Mill, which was literally a two month audition process, I just got so hooked into the material and felt so invested in it—I fell in love with it in way that made it hard to have that removal you're supposed to have once you leave the audition room.
So when I didn't get it, it was heartbreaking. It was hard to put that aside and move on to other auditions. I had a roommate I was living with at the time who gave me amazing advice, he said: "why don't you just work on the material for yourself?" As a way to process it. So you're not just having this un-dealt-with frustration. So from November 2015 to June 2016, a couple times a month, if it ever popped into my mind, I'd just go back to the text and work on it for myself. With no intention of it ever coming back into my life.
Then, when I get a call from my agent saying, "they're re-opening the role and they want to see you," my first response was, "well, the role hasn't left me." If anything I was that much more comfortable with where the character lives in my body, physically, where it lives emotionally…If I go into a room now I feel I can be a lot more malleable to whatever direction the creative team needs me to go, stylistically. And that took an openness on their part to see if six months had changed anything. They could have easily said "oh, we don't want Bobby because we saw Bobby for Paper Mill and it didn't work out." I am so damn grateful that I was given an opportunity for a second chance, and my mindset going into it a second time was "I can feel confident in the work I'm doing, and once I leave? It's all done." There are so many things that are not up to me, and not in my control that to fixate on them is insane. I went in, did my thing and hoped for the best. But then I went out to dinner with my sister and went home and watched Wimbledon, and then I get a call from my agent saying, "you're going to be on Broadway."
Paste: So now you're working with some amazing people. The creative team behind this show is kind of astounding; Jerry Zaks, Chazz Palminteri, Robert De Niro—Jerry has directed literally everything on stage, how does De Niro direct? How does that partnership work?
Thornton: Well, it's exactly to your point; Jerry Zaks is a part of musical comedy lore. He directed the revival of Forum with Nathan Lane, and then the revival of Guys and Dolls with Nathan Lane, and the original Lend Me A Tenor back in the 70s. He understands those stage pictures—the musicality and rhythm—and how that translates to a theatre audience when you have to fill a house that's 1,100 seats big.
[De Niro], on the other hand, is a master of detail—his background is in film, tight close-ups, subtlety. So, especially because this is material that doesn't ring "musical theatre" for a lot of people, Jerry was able to find that tone that gave these tough guys the heightened stakes within them to be able to break out into song, and Bob is there to remind you that, you know, "this is the world you're creating." He and Chazz made the movie so great because you really believed you were back in 1960s Bronx.
Paste: It's incredibly detail-oriented.
Thornton: I'll give you a prime example. It's a very big and devout Catholic community that existed in 1960s Italian Bronx. A lot of people in the show wear crosses. And [De Niro] gave me a necklace of the archangel St. Michael, and talked to me about what that represents in Catholicism and why Calogero—which, if you translate that back into Latin literally means "elder"—why he would wear that instead of a normal cross. If you're not in the first frickin' five rows of the theater, you're not even going to see that I have a necklace on. It's more of a tool for me as an actor. Chazz's dad, on top of being a bus driver, was also a boxer. So I started boxing for this process; that informs my physicality, my spatial awareness, and how I relate to people on stage. Because you better believe this kid has gotten into his fair amount of skirmishes. When Bob De Niro and Chazz are giving you boxing lessons? That's a level of detail and one-on-one interaction that I feel very blessed and honored to have had at my disposal.
Paste: There's an interview Chazz did on the radio back when he was remounting the one-man show in 2007, where the host says A Bronx Tale is the one play where every guy past forty who sees it claims it's their life story. Chazz says that's true even in Japan. You're twenty-four. How does this story resonate with you now and how do you predict that will change?
Thornton: Chazz talks about how when he was originally doing the one-man show in '89, he related more to Young Calogero, when was playing Sonny [the gangster] in the film, that was a little more of a leap for him. Then when he was doing the one-man show again he felt like he was the father relating to the boy. Of course, time is always going to be a factor; where you are in life is going to inform how you relate to a character at the time. But, where I draw inspiration from is—I feel like I'm essentially impersonating my grandfather in the show. My grandfather was raised in the slums of Brooklyn, worked three jobs to put himself through college, to the point where he was able to have his own pharmacy in the Lincoln Center area and has now been able to put his children through college and his grandchildren through college. From having nothing.
You look at Chazz's life; Chazz grew up in the lower-middle-class Bronx where his father was a bus driver and his mother was a housewife. He had no back-up plan but still said, "No, I want to be a writer and an actor." And then he went out and he manifested it. I'm in awe of that. Dude, I'm from well-to-do liberal San Francisco, where I had the support of my family but also the fiscal support of my family if I ever got into a tricky situation. My grandfather and Chazz did not have that back-up plan. When you can find that adversity in any way, I think—going back to your original question—that's going to be relatable whether you're forty years old or in Japan or Idaho or in the Bronx. It's relatable because it's this guy telling his story, about how talent is already within you, and you don't have to go foster and find it. All you have to do is just not screw it up. That's a powerful worldview to put out into the world, and I think that's what makes it relatable regardless of your class or creed.
Paste: The main dramatic thrust of the musical is that this boy is being pulled between two father figures, his biological father, an honest bus driver, and this mob boss. But the show finds ways to complicate this beyond just an angel/devil dichotomy. Could you talk a bit about about this paternal triangle, and how you, Nick Cordero [who plays Sonny], and Richard Blake [who plays Calogero's father] worked that out?
Thornton: I think our goal was to draw out the conflict as much as possible. Nick is brilliant in the role, and Sonny is such as charismatic, attractive character that it's hard for an audience not to fall in love with someone like that even when the first thing you see him do is kill a man in the first five minutes of the show. It's a testament to how alluring that lifestyle is. The father may not have that flashiness, but he's the one telling Calogero not to waste his talent, and trust that you have the answers within you to go lead the life you want. That may seem bland in comparison to Sonny, but it's what saves [Calogero].
I had a conversation with someone at the stage door where they said, "the show is romanticizing organized crime." Well, it's not; Sonny and the father want the same thing for Calogero, which is not to be a part of that life, but simply by being around [Sonny], you're going to get in trouble. If you're in organized crime, you're either going to end up in jail or end up dead. There's no way out. You'll have that flashiness while you're in it.
Paste: But it's not going to last. The show makes that pretty explicit.
Thornton: Yeah, man. Our job—Nick, Richard, and I—was to hold on to these moments I have with Richard, and see Richard through the eyes of the nine-year-old [Calogero], who simply idolizes his father. Even when I'm yelling at him or acting like a stuck up kid because I want the life Sonny's offering me…just by bringing Calogero into that world he's putting him at risk. No good father would ever put their son at risk. Finding that balance was a real treat with these two extraordinary men, Richard and Nick.
Paste: It's an unusual structure for a musical, the way I see it, in that it's all about Calogero losing his innocence and simultaneously gaining it back at the same time. How do you chart that as an actor?
Thornton: That's interesting. No one's ever asked me about that. Again, going back to seeing the father through the eyes of the nine-year-old, when I'm narrating, that's my way into the show. A nine-year-old is going to have a very heightened sense of the world, just because he's trying to soak everything in like a sponge. You're going to lose that the older you get, and the more quote-unquote "wiser" you get. If I'm narrating the show with the soul of sixty-five-year-old Chazz, that's how I look back and see the show through a nine-year-olds eyes. When you're seventeen you have this grandiose aspect to you because you think you know what's best. When that nine-year-old gets slapped in the face, I sing about how now that I've seen the flaws in this person I admired, I can't listen to him anymore, I need to figure it out for myself. That's a loss of innocence. As the show progresses, I slowly start to see people more clearly. Whether it's my love interest Jane [Ariana DeBose], whether it's Sonny, whether it's my father. I don't think it's a regaining of innocence, it's an added clarity with which you see the world. When you have a clear lens versus a fogged-up lens, you can make your own choices. You can try to take the best [aspects] of all the people around you. I don't think that's a regaining of innocence, I think it's a declaration of the kind of life I want to lead, with clarity and open-mindedness. An open-heart.
Paste: Personally, I rarely go to the Bronx, and the last time I did, it was to return some film equipment that led to me waiting in this old reverend's house watching a particularly disturbing Dr. Phil for, like, a while. That's my "Bronx Tale." What's yours?
Thornton: [Laughs] Well, the stores you see on the set in our show are actually still there. Jerome's Pastry Shop. Mike's Deli. These extraordinary family places that have been there since the early 1900s are still there. I had a very idealized look at the Bronx because Chazz Palminteri was my tour guide. [Laughs] Depending on who you run into with Chazz, they'll either call him "Calogero [Palminteri's original name]," "C," or "Chazz." Just goes to show how long they've known him throughout his life. Hearing from him firsthand the stories that didn't make it into the show? You could write a whole second musical about that stuff. It's really surreal. He got in a brawl once with a kid in his building, and was walking back upstairs, and the kid popped out of his apartment and stabbed him in the head with a pencil. Two weeks later Chazz is like, "I'm having headaches. I don't know why." They go to the emergency room, and they literally had to shave off part of his head and pull lead out; he could have had lead poisoning. That was my experience in the Bronx.
Paste: You barely get a moment offstage or to yourself during the show. You have maybe five minutes during the dice number. What do you do?
Thornton: I'm chugging water as much of I can. I'm trying to stay in the world of the show. The most time I have offstage is in Act One when the nine-year-old [Hudson Loverro or Athan Sporek, alternatively] is on stage absolutely killing it. So I'm trying to feed off what he's doing and infuse it into my own version of the show that night.
But there was one show where I had gotten food poisoning. And any time I was offstage I had a bucket I was upchucking into. Trying to get anything out. Because I couldn't leave stage to put something back out. Anytime I was offstage I was trying to get anything out of my stomach and into this bucket. [Laughs] But I have an amazing dresser who was there to give me water and support and love, and a great cast to give me that onstage and off. So I feel very, very lucky.
A Bronx Tale is currently running on Broadway at the Longacre Theater.