Hamilton Actor Brandon Victor Dixon Responds to Trump: "Nothing to Apologize For"
Images via CBS/YouTube
Theatre
Video
Hamilton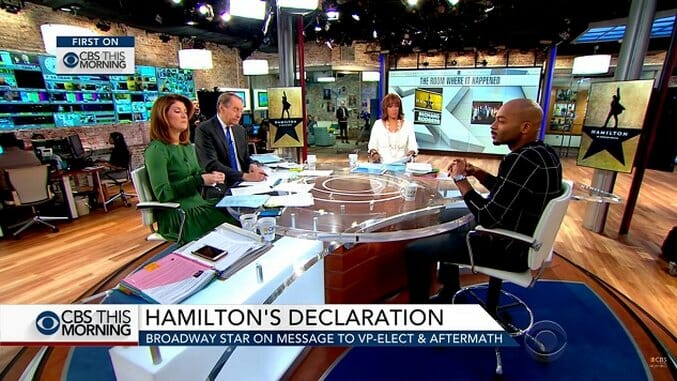 In case you'd somehow forgotten that Hamilton existed, this weekend put the show back in the news after vice president-elect Mike Pence went to see it. Pence was greeted with a mix of cheers and boos, and was addressed by the cast after the show.
Brandon Victor Dixon, who plays Aaron Burr, read a note to Pence written by the show's creative talent, one that attempted to open a conversation and explain why many minority groups were afraid of a Trump administration.
Of course, president-elect Trump was none too happy about what Dixon said, and repeatedly demanded an apology from the cast via Twitter. Dixon stopped by CBS This Morning on Monday to discuss Trump's remarks, and whether he would apologize.
Dixon said:
The producers, the creatives and the cast, we recognize that Hamilton is inherently an American story told by the definition of the American community — we are men and women of different colors, creeds, and orientations — and the resonate nature of the show throughout the world, throughout the global community, demands that we make statements when there are important issues facing us as a community. So we wanted to stand up and spread a message of love, and of unity.
He went on to claim that Trump's claim that Pence had been harassed was untrue. "Conversation is not harassment," Dixon said, explaining that he was heartened that the vice president-elect had chosen to stay and hear what he had to say. For his part, Pence was respectful of the cast's right to speak, and (correctly) described the boos he received as "what freedom sounds like."
Dixon went on to explain that he had nothing to apologize for, and said that he would welcome Donald Trump to Hamilton. He concluded by explaining that that theater is all about conversation, and he hopes to have one with whomever attends the show. Check out Dixon's full interview above.