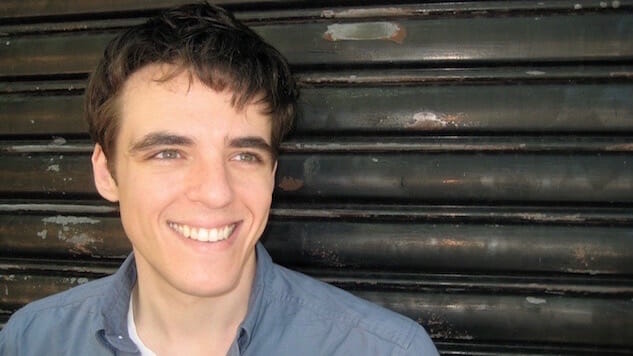 At 32, Steven Levenson is having a pinch-me-I-must-be-dreaming moment. Levenson, whose first taste of theater was playing Ed Sullivan in Bye Bye Birdie while a sixth grader in Bethesda, Maryland, is in the midst of a storied career. Seven Minutes in Heaven, the piece he began while a student at Brown University went on to receive a full production. Subsequently, he's written acclaimed plays including The Language of Trees and the Outer Critics Circle Award winner The Unavoidable Disappearance of Tom Durnin. His mega-hit Dear Evan Hansen, which first premiered at Second Stage where it won Outer Critics Circle Awards and an Obie, is now a hot ticket in an open run at the Music Box Theatre. As is If I Forget, a controversial family drama that opened last month in a limited run at The Laura Pels Theatre. In the latter work, Michael Fischer, an atheist Jewish Studies professor played by Jeremy Shamos writes a book presenting an inflammatory take on the Holocaust that pits him against his two sisters and ailing father. Paste chats with the playwright about his theatrical 'double header.'
Paste: I'm a child of Holocaust survivors who has issues with some of Israel's policies, which I would never voice to certain family members, so If I Forget had a special resonance for me. What inspired you to write it?
Steven Levenson: It's partly inspired by conversations I had with my family. None of them are Holocaust survivors but politics was always coming up—not just about Israel but what it means to be Jewish and what traditions are we keeping alive and why? I'd never seen these conversations on stage because these issues are explosive and scary to talk about. It was scary for me to even broach the subject. People my age weren't talking about this. The dividing lines were already drawn. Everyone knew where he or she stood.
Paste: So you set out to shake things up! Unfortunately the play was more prescient than you imagined in this new era of hate crimes against Jews. How is that impacting the reaction to your play?
Levenson: I was doing a lot of rewrites this summer and fall. My major concern was how the play would resonate with Hillary Clinton in the White House after anti-Semitism reared its head during a bruising campaign. I thought people might be saturated with this subject and ready to move on. With Trump, If I Forget has meaning I didn't intend. In the play, initially Michael's opinion about what he saw as the paranoia of the Jews around him fearing the Holocaust could happen again seemed blithe. In rehearsals I saw he couldn't be that dismissive because suddenly the fear didn't seem paranoid. I wish this were a period piece. But people are now ready to have conversations about what it means to be Jewish today.
Paste: Your plays typically feature bruising family drama on some level. What was your childhood like?
Levenson: It was pretty uneventful but I have a family drawn to drama. The first time my wife, who is not Jewish and from Nashville, came for a family dinner it was Passover and she left feeling she'd witnessed the dissolution of my family because we'd been fighting so intensely. I was like, 'What are you talking about? We're already onto coffee and dessert.' Since I grew up right outside DC, we were always exposed to politics and current events and that's just the way we communicate…
Families are complicated and messy…So rich. There is nothing more tangled than family dynamics. I love the rivalries and passive aggressions—there is an endless source of material when you're writing a play. You can dive in and spend time.
Paste: How did the overwhelming success of Dear Evan Hansen change your life?
Levenson: It was incredibly unexpected. The composers Benj Pasek, Justin Paul and I were commissioned to write a musical about teenagers where the main character would lie the entire time to a grieving family. We thought we were writing a chamber musical that interested us; it didn't seem like there was commercial potential. The Evan Hansen website gets 20 to 25 emails a week from kids dealing with their own issues of mental health and social anxiety. To touch people on that level is phenomenal.
Paste: The actors in both Dear Evan Hansen and If I Forget are perfection. An early ambition of yours was acting. Were you at all involved in the casting?
Levenson: Part of what makes theater special is seeing incredible performances. Without the right people you have nothing. I didn't know Kate Walsh's work very well. But she comes from an Italian family and got the cadence of the Fischer family immediately. I knew I wanted Jeremy Shamos immediately as well. Ben Platt has been doing the role of Evan Hansen so long he inhabits it in a way a playwright can't get onto the page. It's inspiring. I wrote the opening monologue where Evan is writing a letter to himself 100 percent for Ben's voice. I understand the way he speaks and what he does with words so I can hone in.
Paste: Walk us a little through the differences of creating a straight play versus collaborating on a musical.
Levenson: Going into rehearsals for If I Forget after several years of exclusively doing Dear Evan Hansen was disorienting: It's just me. I got so used to sharing the burden with the composers. In the first rehearsal it was hard to get used to the rhythm of scenes going on and on and not having to hurry up and get to a song.
Paste: You have not one, but two critically lauded plays on the boards this season. Are you fantasizing about the Tony Awards?
Levenson: I'm nervous about fantasizing. I'm such a suspicious Jew always thinking about the worst-case scenario. I grew up with my grandmother spitting on my neck if someone would say something nice about me. The evil eye would come at me if I expected good things. We had red ribbons tied under our beds for some weird reason. No one in the family can explain the origin of what this means. You just do it.
Paste: In my family we had the red ribbon tied onto the rear view mirror in the car.
Levenson: Ha. We were never allowed to have hats on the bed. Whenever I see one I remove it. But I don't have a red ribbon under my bed.
It is a strange but magical feeling to be at home at 8 p.m. and know that both plays are happening independently of me. I'll allow myself to say it's exciting.