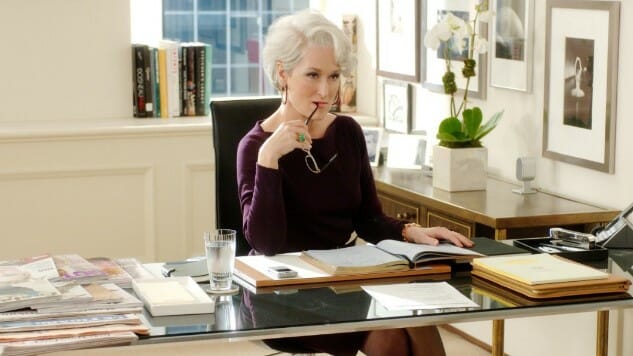 In an announcement that should delight theatre fans and fashionistas alike, Elton John and Paul Rudnick are developing a Broadway musical version of the 2006 hit film The Devil Wears Prada. John will compose the music, while Rudnick will write the book and lyrics, per EW.
"Re-imagining The Devil Wears Prada for the musical theatre is super exciting," John said in a statement. "I'm a huge fan of both the book and the feature film, and a huge aficionado of the fashion world. I can't wait to sink my musical teeth into this hunk of popular culture."
Producer Kevin McCollum and Fox Stage Productions' Bob Cohen, who have been working on bringing this show to the stage since last summer, said in a joint statement:
To bring The Devil Wears Prada to the stage, we knew we needed to find artists as inimitable as the characters in the story. We needed artists whose work has run the gamut from music and publishing to drama and fashion. We could only think of two names: Elton John and Paul Rudnick.
The Devil Wears Prada tells the story of an aspiring journalist accepting a job as an assistant to the editor-in-chief of Runway Magazine, Miranda Priestly (Meryl Streep). The film starred Anne Hathaway, Stanley Tucci and Streep as the titular devil. It's a pretty great film, and really lends itself to a lavish Broadway production. So yeah, it'll basically be fabulous.
John's adaptation of The Devil Wears Prada is currently without a production timeline, so while you're waiting, enjoy Paste Cloud audio from a 1984 John show below.