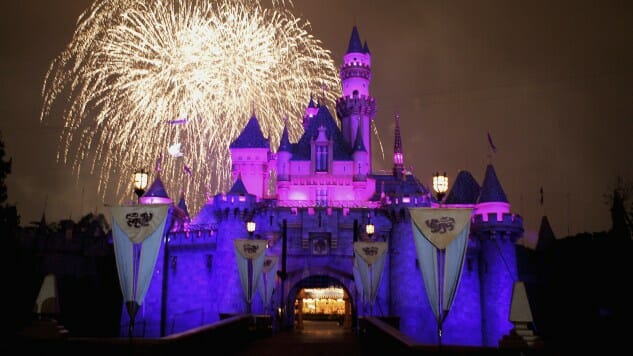 October marks the 100th anniversary of The Walt Disney Company, and the media juggernaut has been celebrating its birthday since the start of the year. Disney's iconic theme parks have been a major part of the massive, ongoing Disney100 celebration, and of course none of them are more beloved or iconic than Disneyland. The original Disney park has seen a number of additions and upgrades this year, from the opening of the Mickey and Minnie's Runaway Railway ride, to the breathtaking, century-spanning Wondrous Journeys nighttime spectacular. It's also said farewell to Splash Mountain, the popular but problematic attraction whose very creation, after Disney had already disavowed the movie it's based on, was always baffling. Disney's 100th birthday has been a year full of change for the always-changing Disneyland, and as a result it's once again time to upgrade our guide to the park's best rides.
If you've followed our Disney parks coverage over the last decade, you know these lists are always fluctuating. They're updated not just when new rides are introduced or when old ones are retired, but also when older attractions have languished to a notable degree, or after they've been refurbished. Basically, even an all-time classic Disney attraction can slip in our ratings if it hasn't been maintained in the best state, or if it's updated in ways that either improve or diminish it. Despite being the oldest and most nostalgic of Disney parks, Disneyland has never existed in some perfect, ideal state;  something always needs maintenance, new updates are always being rolled out, and the park's past isn't as preserved in amber as many might assume. It's always Disneyland, but it's rarely the same Disneyland from year to year. And with a new ride coming online, a whole section of the park being updated, and the closure of a major park icon, the Disneyland of 2023 is very different from just a year ago.
Based on the park you'll find today, here are Paste's picks for the best rides and attractions at Disneyland.
10. Walt Disney's Enchanted Tiki Room
There are obviously some deep and legitimate problems with turning real-world human cultures into cartoons. I readily admit that. I also fall in love with the Enchanted Tiki Room more every time I visit it, purely for the unabashed, innocent schmaltz of the whole thing. If you want to feel blasted back to your grandparents' time, just check out this show, in which a bunch of mechanical birds and wall decorations put on a show full of Borscht belt humor, bad stereotypes and cheesy songs. The first attraction to use Audio-Animatronics, it's another timeless Disney classic, and one that will hopefully always have a home within Disneyland. There's also almost nothing better for giving your feet a break.
---
9. Matterhorn Bobsleds
This alpine-themed coaster has also gone through a refurbishment since my original list in 2014, and not necessarily one that enhanced the ride. The new Abominable Snowman animatronic is a fearsome delight, but the now-gone crystal grotto brought a moment of shimmering beauty that the ride now lacks. It's still a must-do for thrill fans, especially if it's your first time at Disneyland, the only Disney park that boasts this ride.
---
8. Space Mountain
Space Mountain might not be as intense or thrilling as modern roller coasters, but its overall impact is more amazing and powerful than your standard unthemed coaster. Almost no theme park ride is more viscerally exciting than the first 30 or so seconds of this coaster, and the Disneyland version is by far the best in America—when it's actually Space Mountain, and not the Star Wars tie-in known as Hypserspace Mountain. That Star Wars theme, which has had a few lengthy stints at Disneyland, drastically lessens the impact of what otherwise might be the greatest themed coaster of all time. It also gets a goofy horror-themed overlay called Ghost Galaxy for about two months a year around the time of Halloween. The original returned right after Galaxy's Edge opened, but with Disney's love of brand promotion and ride overlays Hyperspace Mountain is always a threat to return. Space Mountain is still one of the best rides at Disneyland; Ghost Galaxy and the Star Wars version would struggle to crack the top ten.
---
7. Indiana Jones Adventure: Temple of the Forbidden Eye
Temple of the Forbidden Eye captures the spirit of an Indiana Jones movie, even if you're just tooling around in a huge, souped-up Jeep the whole time. Unlike the Star Wars-themed Star Tours, where you just sit in a box and get shaken up a bit until you're sick, Forbidden Eye herky-jerks you through an appropriately ancient looking and dangerous feeling fake temple to pilfer the most precious religious objects of a long lost civilization. It has that Disney commitment to selling the illusion, with a wait line that curls through fake caves and abandoned temple halls, before an old-timey newsreel sets up the story. It has a tendency to break down, but if it's running while you're at Disneyland, make sure you give it a shot. It's another ride that doesn't exist in Orlando. When it's running properly, it's one of the greatest attractions ever made by Imagineering.
---
6. Big Thunder Mountain Railroad
Thunder Mountain is the best roller coaster in the world if you're an eight-year-old frightened to death of roller coasters. It's the perfect intermediary between a kid's coaster and the scarier and more complex coasters you'd ride at other amusement parks. It's a fun, fast, basic roller coaster with exciting twists and dips and a great theme ripped straight from old Hollywood westerns. The attention to detail throughout, from the queue, to the set design of the ride's showpieces, to the frontier town you coast into at the ride's end, creates one of the best-realized environments of any Disneyland ride.
---
5. It's a Small World
A lot of people hate this ride. A lot of people hate a lot of great things. It's a Small World is a grand musical experiment, translating a single repetitive melody into the dominant instrumentation of a number of cultures. That simplicity and repetition and cultural exploration almost mark this as an unwitting, commercial cohort to the minimalism of Terry Riley and Steve Reich. In Disneyland it's housed in a gorgeous clockwork pavilion that far surpasses the Orlando version of the ride. It's the best piece of architecture at either Disneyland or Orlando's Magic Kingdom.
---
4. Mr. Toad's Wild Ride
My longtime personal favorite, Mr. Toad's Wild Ride is the weirdest, most idiosyncratic ride at any Disney park. At the end you die and go to hell, with a chorus of devils mocking you in a heated room. Mr. Toad doesn't die in The Wind in the Willows. Satan never spreads his wings in the book or the animated movie. And yet at the end of this ride your car hits a train head on and you go to hell. I loved that when I was a kid. Even without that perverse ending, Mr. Toad's Wild Ride would be one of my favorites because of how it turns the standard dark ride experience into a fast-paced, vertigo-inducing thrill ride. This might be the single most important reason that I now prefer Disneyland over Disney World—they ripped the Wild Ride out of the Magic Kingdom in 1998.
---
3. Haunted Mansion
The Haunted Mansion is an absolute classic that sets a standard that all other haunted houses have failed to meet. Frightening as a kid, gleeful as an adult, it's like a Tim Burton movie come to life (but, you know, one of the good ones.) And that Burton analogy becomes even truer during the too-long Nightmare Before Christmas overlay, which runs annually from September into January. From a design perspective, everything about the original ride is impeccable. The antebellum Southern mansion stands out from its surroundings, immediately capturing your attention. The pre-ride introduction from the cast member hints at the ride's tone, which is firmly established during the iconic speech of the Ghost Host during the ride's "stretching room" segment. And once you exit that room and board the Ommnimover "Doom Buggies," you'll find a joyously macabre ride through a Gothic nightmare. As fun as the Nightmare version is, it absolutely does not compare to the original; if you only go to Disneyland once in your life, make sure it's between February and August so you can see the real Haunted Mansion.
---
2. Pirates of the Caribbean
I could do without robot Johnny Depp popping up throughout this ride now. Pirates of the Caribbean has been one of Disney's top attractions since it first opened in 1967, decades before the movies, and it doesn't need to reference them to retain its magic. The ride today is mostly the same as what you remember from childhood, a slow boat ride through a beautiful and comical recreation of Hollywood-style pirate scenes, only Disney has now tried to imprint the barest outline of a story involving Jack Sparrow. It's easy to ignore it if you need to, and most of the classic scenes you remember from the ride are still here; they changed the auction scene in 2018 to remove the whole human trafficking aspect, but it's easy to understand why they'd do that today. Pirates of the Caribbean blew the dark ride concept up to an epic scale, and remains a triumph of fantasy-building.
---
1. Star Wars: Rise of the Resistance
Yeah, I'm not afraid to say it: Disneyland's best ride is also one of its newest. It remains to be seen if Rise of the Resistance will have the enduring, timeless popularity of Pirates or Haunted Mansion, but for now it's the single best example of classic Disney show design and theme park storytelling coming together with modern technology to create something that wouldn't be possible anywhere else. It's one of those attractions where the preshow is just as crucial as the ride itself, not just from a story perspective, but because of how it overwhelms you with its size, its scope, and the unrivalled opportunities for immersion and awe provided by theme parks. Rise of the Resistance is a legitimate experience, an 18-minute adventure that makes you feel like you're dropping in on a subplot from one of the new Star Wars movies. If you've been to Galaxy's Edge at Disneyland before and thought it felt unfinished, well, that's because it basically was: it was waiting for Rise of the Resistance to open, and reaffirm Disney's unrivaled excellence at creating theme park rides.
Also check out our guide to the best attractions at the Magic Kingdom.
---
Senior editor Garrett Martin writes about videogames, comedy, travel, theme parks, wrestling, and anything else that gets in his way. He's also on Twitter @grmartin.