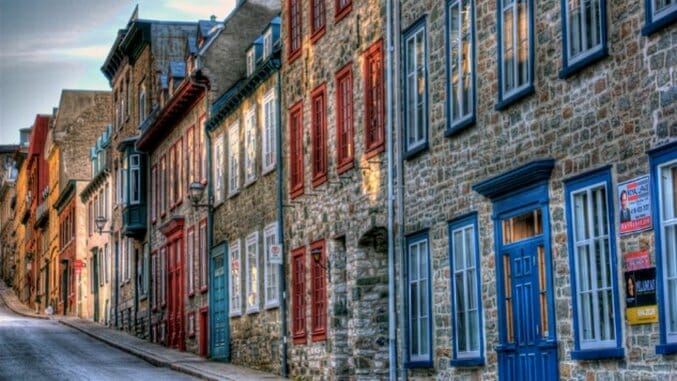 You don't have to cross the Atlantic to travel to Europe. In fact, select American, Canadian and Mexican cities come very close to simulating the age-old infrastructure and tight pedestrian quarters that the world's most romantic continent is traditionally known for.
For timeless looks, new-age sensibility and cheaper airfare, head to one of these instead.
Puebla, Mexico
Before you read any further, I exhort you to pause and search for Puebla on Google Images. I'll wait. Impressive, right? Makes you want a book a flight this week. Puebla has colorful, sun-bleached Spain written all over it. Due to surrounding volcanoes, snow-capped mountains and ancient ruins, however, it may be even better than the real thing. Located 70 miles southeast of Mexico City, this one deserves to be high on your bucket list.
Quebec City, Quebec
If you drive north from New England into Quebec, you'll suddenly feel as though you've been transported to another continent. The signs are in French. The air smells different. Along the way, Montreal will give a legitimate tease of Parisian life. But for an even more Paris-like experience with fewer skyscrapers and more French speakers, continue on to Quebec City (pictured at top). It's unlike anything you've ever seen or visited in North America.
Old San Juan, Puerto Rico
The capital of Puerto Rico looks more like Miami than it does Southern Europe. But if you head for the isle of Old San Juan, the historic eight-by-ten block core of the city, you'll probably feel as though you've landed in Spain. As a popular cruising stop, the 500-year-old district is touristy during peak season. But the forts, castles, colored villas and cobblestone are still worth it.
Boston, Massachusetts
New Englanders might roll their eyes at this inclusion. But that's only because they've become numbed to Boston's old age, creepy cemeteries, cobblestone streets and important New World history. For everyone else, this city just feels different. At 400 years of age, it's not as old as Europe. But it's not as young as the rest of America either, making it a good hybrid of what colonial life—and by extension the once ruling European hegemony—used to look like. Truly one of America's and the Old World's greatest cities.
Kansas City, Missouri
There is a highly-rated place here called Country Club Plaza that was modeled after Seville, Spain. It includes ornate towers, red tile rooms and cozy courtyards. For added European measure, there's also Roman fountains, life-size sculptures and outdoor murals. Granted, the parking stinks, which, coincidentally, is also European. But in between fine dining, twinkling lights and gondola rides, you won't believe you're in Missouri. A wonderful place to spend an afternoon or evening with the added bonus of being in one of the nation's BBQ capitols.
Photo: Steve Leclerc, CC-BY
Off the Grid columnist Blake Snow writes epic stories for fancy publications and Fortune 500 companies. Follow him on Twitter.