The Mayfair Supper Club Brings Great Food and Classy, Kitschy Fun to the Bellagio
All photos courtesy of the Mayfair Supper Club
Travel
Features
Las Vegas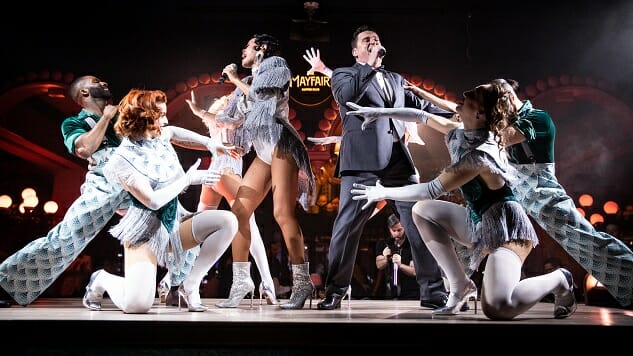 Don't expect crooners or showgirls, but if you miss the "dinner and a show" vibe of classic Vegas, the Mayfair Supper Club could be exactly what you're looking for. This new restaurant, which opened at the Bellagio at the start of 2020, and is styled as a modern-day speakeasy, features a nightly ongoing performance by a troupe of singers and dancers, backed by a band that can switch from jazz standards to recent pop hits at a moment's notice.They take the stage at the middle of the dining room throughout the night, often interacting with the crowd as they dine. It's a rolling, on-going show built for a drop-in, drop-out crowd of diners that come and go throughout the night, and if you're looking for a fun combo of knowing kitsch, legit talent, and delectable takes on classic American cuisine, you might want to go ahead and get your reservation in for your next Vegas trip.
Before you even see the stage or performers you can tell the Mayfair will be something special. After entering through an arch of fresh roses, you're welcomed by a gorgeous pink bar with a canopy of blue-tinted blown glass that looks like fish scales. You can start your night here with a selection of excellent cocktails, including a tangy Roosevelt, with rum, orange juice, vermouth and sugar. The Lemon Drop comes topped with a citrus bubble, which both looks cool and is fun to pop. (And drink, of course.) The drink menu is full of the classic and the novel, the traditional and the reinvented, as well as beer and wine. It's a classy, relaxed prelude to the ongoing show that awaits in the dining room.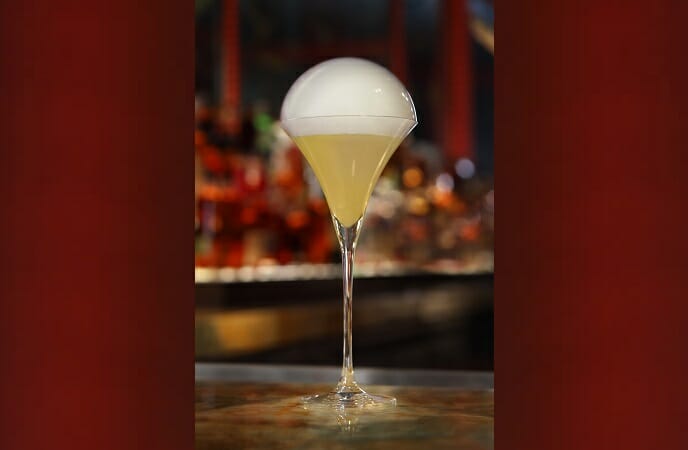 That show runs for several hours. A team of four dancers, two singers, and a band puts on high-energy, occasionally interactive performances built around a cross-section of pop hits from the last century. With vintage-inspired outfits, a songbook that dips into the Jazz Age, and jokes straight from Vaudeville, the Mayfair presents a retro chic take on the speakeasy and the classic nightclub. And don't worry if you're allergic to your grandparents' favorite songs: they might sing something from the '30s, but they'll eventually follow it up with James Brown, '80s hits, and maybe even a version of Eminem's "Lose Yourself" with a 60something man in the audience rapping along. It's flashy, fashionable, corny and somehow kind of hip at the same time—an old-fashioned bit of showbiz reconfigured for the audiences of today.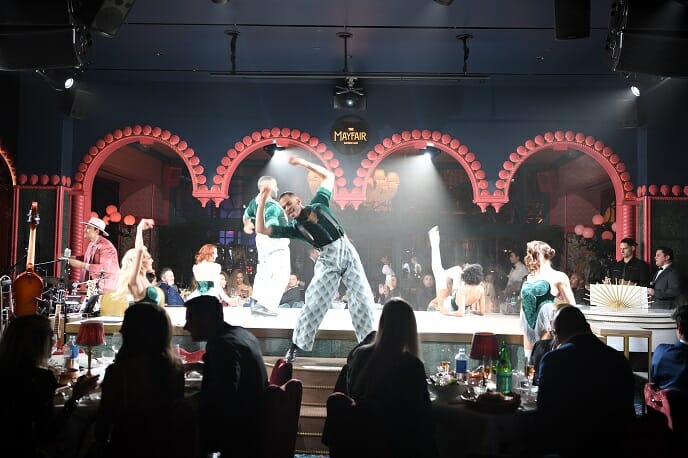 And yes, you're eating the whole time. This is a supper club, after all. The Mayfair's menu presents classic American dishes with a few unexpected flourishes. On a recent night you could start with a wedge salad with candied bacon, blue cheese, and thinly sliced bread. Appetizers include fried artichoke hearts with a bernaise sauce—the light, flaky coating and the rich sauce warmly surrounding the firm, chewy center. Even better is a butternut squash dish, where the gourd is cut into halves, roasted, and filled with parmesan, pepinos, cinnamon sugar and basil. It's not a main course, but it might be the most delicious thing on the menu. There's also a selection of sushi, both raw and rolls, and a variety of shellfish, including lobster cocktail and a seafood tower.
For an entree you can stay relatively light with the branzino or the king salmon, or dig into a filet mignon, a New York strip, or a Wagyu prime rib that's carved at the table. The mignon comes with a sweet truffle sauce, whereas the tableside-carved prime rib has a horseradish cream that's smooth and rich with just the perfect amount of prickliness. A lamb chop with minted pistachio crust, chicken persillade, and truffle fettucine round out the main course menu, with a vegetable pot pie as the primary option for those who abstain from meat. And if you really want to splurge, there's a selection of "supper club classics," including lobster thermidor, beef Wellington for two, and a 40 ounce porterhouse.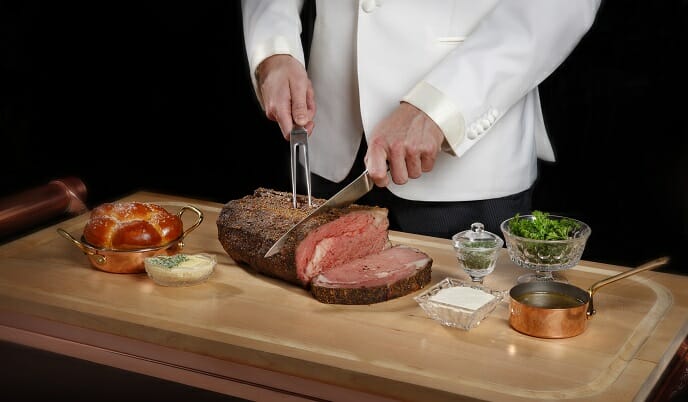 Obviously if you order a salad, an appetizer and an entree you'll be at your table for a while. You might not even notice that your meal unwound into a third or even fourth hour, because you'll be too busy not just enjoying the taste but the show, too. You might even wind up with a dancer or the night's emcee briefly chatting with you at your table mid-show.
As great as the food is, the real highlight of the Mayfair's menu might be the desserts. The baked Alaska, with yuzu, raspberry, and toasted meringue, is a showstopper, both because of its rapturous taste and because of the pillar of flame it arrives with. If you want to pretend you're a 1920s robber baron after an epic feast, you can order the chocolate cigars, which come in an ashtray with vanilla smoke and chocolate crumbles for ashes. The different "leaves" of the cigar are made with different kinds of chocolate, with a sturdy chocolate shell for a wrapper, and a solid white chocolate cigar band with the Mayfair's logo on it. It has just about everything you're looking for in a chocolate dessert—it's a rich, smooth combination of different textures and types of chocolates, with an amazing presentation. There's also another whimsical and visually inventive dessert in the form of a music box, with a medley of different cookies, sweets, and various mignardises.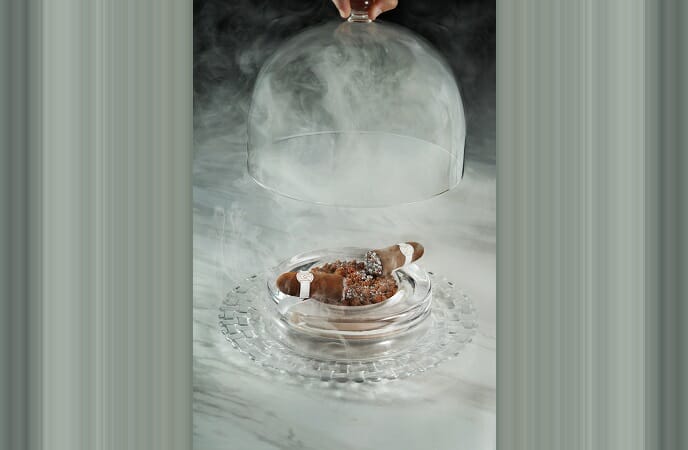 If you time it right, you should finish up your meal just in time for the Mayfair's transformation into a dance club. When the show is done the stage opens for all to enjoy, and a DJ starts spinning the music to make that possible. Of course it might be a little hard to dance after savoring that bountiful banquet, but that's what the alcohol's for, right?
If the fantastic food, gorgeous design, wonderful show, and amazing ambience somehow weren't enough, the perfect way to end a night at the Mayfair happens outside its windows. The restaurant has a private balcony overlooking the Bellagio's fountains. Throughout the night you'll catch tantalizing glimpses of the columns of water as they rise and dance outside; when the meal is done and the show is over, you simply have to retreat to that secluded balcony and enjoy a front-row seat to what's still perhaps the best show on the strip. You'll be closer to the fountain than you've probably ever been before, and with the backdrop of the other side of the strip, including the Eiffel Tower of Paris Las Vegas, behind it. It's an unforgettable finish to a lovely night.
---
Senior editor Garrett Martin writes about videogames, comedy, travel, theme parks, wrestling, and anything else that gets in his way. He's also on Twitter @grmartin.