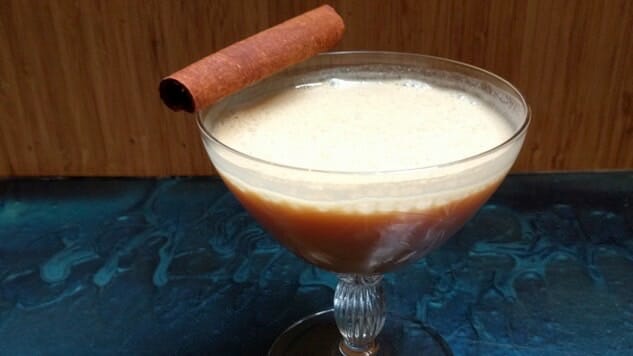 Thirsty? You're in luck. In Paste's drinking-and-traveling series, City in a Glass, we mix up a city's signature swills and slide them down the bar to readers. Grab a stool. This round, in Portland, Oregon, is on us.
Portland, Oregon, is right up there with San Francisco, New York, New Orleans and Chicago on the list of best cocktail cities in America. But Portland—in contrast to those other cities—doesn't have a long, classic cocktail history to draw on. Instead, the city's bartenders focus on moving the conversation forward. "We didn't invent the fundamentals of what we consider cocktails," local barman Alejandro De La Parra says. "For this reason, we can innovate in fun ways." Portland is where barrel-aging cocktails blew up and where retro drinks like the Amaretto Sour are being reimagined for a modern audience. "Bartenders around town are using unique ingredients with honed technique to create cocktails that feel like one is there, in that time, in that space," says Alise Michele Moffatt, owner of Shift Drinks. On this city drinks tour, we're going to introduce you to Portland bartenders' modern takes on three "classic" cocktails, show you where to find them and even how to replicate them at home.

1. Oatmeal Cookie
Where to order: Teardrop Cocktail Lounge
The list of classic cocktails at Teardrop Cocktail Lounge does not contain drinks that most people would consider "classic": There are obscure punches from the 1950s like the U.S.S. Richmond (rum, brandy, port and tea) and 1930s' cocktails like the Chilcano (a pisco-lime-ginger beer concoction), for example. "The scope of classic cocktails is staggering," bar manager Alejandro De La Parra says. "It's a beautiful thing to drink a cocktail that embodies a place and time and it would be a shame to allow them to get lost. Many of these drinks also combine flavors in ways that we would consider unconventional now. It's up to us as bartenders to nudge them and make them accessible to the modern drinker. Oftentimes this means making them less rich, but thoughtfully so, without losing the aromatics or the thing that made that cocktail special."
One way De La Parra convinces people to try—or retry—these drinks is by making most of the ingredients from scratch. Take the 1970s classic Oatmeal Cookie cocktail (above): The original recipe calls for a slew of frat-tastic ingredients such as Jägermeister, Baileys, Goldschläger and butterscotch schnapps. De La Parra makes his own Baileys (Irish cream), his own Goldschläger (cinnamon tincture) and his own butterscotch schnapps. He keeps the Jägermeister, though, which he says is an ingredient people are excited to try in craft cocktails. "The party scene has a diminished reputation in some circles, but when people are informed about Jägermeister's quality and complexity of flavor, it opens up the door," he says.
Oatmeal Cookie
1 oz. Jägermeister
1 oz. Irish cream (Teardrop makes its own, but you could use Baileys at home)
1 oz. butterscotch schnapps (buy or make your own, recipe below)
3 dashes cinnamon tincture (buy a cinnamon schnapps such as Goldschläger or make your own, recipe below)
Make butterscotch schnapps: Cut up 3 sticks of salted butter (24 Tablespoons) and place into a wide-bottomed saucepan. Heat over medium-low until the solids separate and the foam slightly subsides. Remove from heat. Skim off all the solids with a spoon. Pour gently through a cheesecloth. Add butter, 7 teaspoons caramelized syrup and 2 teaspoons Kosher salt to 750 mL room temperature Smirnoff 100 vodka. Cover and let steep for 12 hours. Freeze overnight. Strain off the butter.
Make cinnamon tincture: Combine 2 cups of high-proof rum such as Hamilton 151 or Lemon Hart 151 with 10 cinnamon sticks in a Mason jar. Let sit for one month, agitating every few days.
Make drink: Combine all ingredients in a shaker tin with ice. Shake. Strain into a coupe. Garnish with a cinnamon stick.

2. Grasshopper
Where to order: Pépé le Moko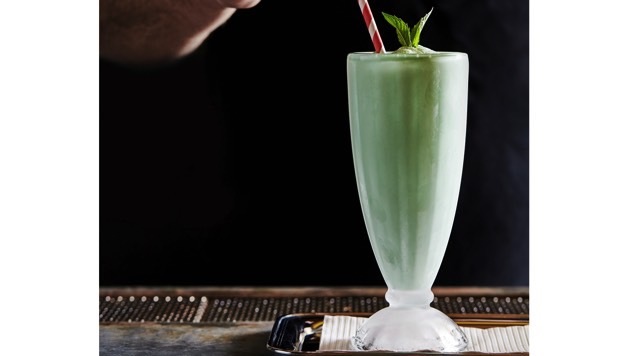 Photo courtesy of Pepe Le Moko
The undisputed king of Portland cocktails is barman Jeffrey Morganthaler. Barrel-aging cocktails? That's Morganthaler. Modern Amaretto Sour? Morganthaler again. He's the bar manager of local institution Clyde Common and the newly opened Pépé le Moko. He writes prolifically about bartending as well; his book, The Bar Book: Elements of Cocktail Technique, is an essential component of any home bar.
Morganthaler's philosophy is: "There are no bad drinks, only bad bartenders." With that in mind, he dissects much-maligned (but fun!) drinks of the 1980s and upgrades them into their best versions. His creamy Grasshopper—a boozy, classy Shamrock Shake—has a cult following at Pépé le Moko. The traditional Grasshopper is equal parts crème de cacao, heavy cream and crème de menthe, and comes served in a martini glass. Morgenthaler swapped out the cream for ice cream (a move that is called "the Wisconsin method"), added bitter Fernet-Branca and subdued the whole thing with some sea salt. He blends it up like a milkshake and serves it in an old-school soda fountain glass with a striped, paper straw. It's a modern take on a classic that doesn't lose its essence, its charm or its fun factor.
Grasshopper
1½ oz. green crème de menthe
1½ oz. white crème de cacao
1 oz. half-and-half
1 tsp. Fernet-Branca
Pinch of sea salt
8 oz. crushed ice
4 oz. vanilla ice cream
Mint sprig, for garnish
Combine all ingredients in a blender, except the garnish, and blend on high speed until smooth. Pour into a frozen soda-fountain glass. Garnish with a mint sprig and a striped straw.

3. Tijuana Pipe Dream
Where to order: Shift Drinks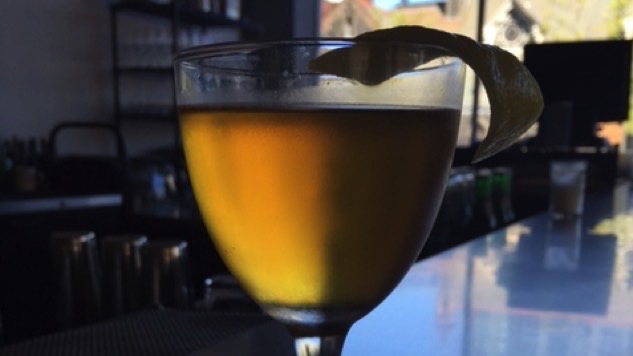 Courtesy of Shift Drinks
Another bar that celebrates place and time is Shift Drinks, which is named after the restaurant industry tradition of getting a free drink once you've clocked out. Or before you clock in. Or whenever you have two feet in the building. Here, co-owner Alise Michele Moffatt brings Kahlúa into the 21st Century. "I don't see Kahlúa very often in cocktails, but it's quite fun to play around with," she says. (Kahlúa is the coffee- and vanilla-flavored liqueur that plays a starring role in the White Russian cocktail.) "It can be a tough sell. Many people are still put-off by anything perceived to be sweet."
She first explains to people that a little can go a long way. Instead of using it as just another heavy ingredient in a heavy drink, she uses it sparingly, like a spice, to give a drink another layer or depth of flavor. Her Tijuana Pipe Dream cocktail, for example, is made with reposado (rested) tequila, whisky, a bitter French liqueur called Avèze, and a tiny dash of Kahlúa. The drink is bright and surprisingly lush. "The wood notes from the reposado tequila play with the high, bright herbs from the Avèze and almost create the taste of a dewy wooden morning," she says. "Rounding out the cocktail is a richness created from the combination of Kahlúa and blended whisky. The cocktail starts off big, bright and herbaceous, and then finishes with a subtle, warm vanilla kiss."
Tijuana Pipe Dream
1½ oz. reposado tequila
½ oz. Avèze liqueur
¼ oz. Kahlúa
¼ oz. Bank Note blended whisky
Lemon peel, for garnish
Combine all ingredients except lemon peel in a mixing glass with ice. Stir. Strain into a coupe. Squeeze the lemon peel over the glass to express the oils and then garnish the glass with the peel.

City in a Glass columnist Alyson Sheppard writes about travel and bars for Paste and Playboy. She currently resides in the great state of Texas.