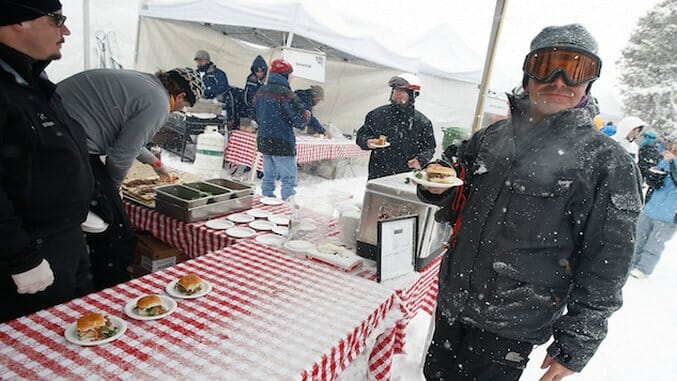 Whether or not you're adept at conquering the majestic mountains of Vail, Colorado—one thing is certain: everyone has to refuel after such a strenuous workout (even if you just stay on the bunny slopes). Knowing this, Vail has no shortage of the good stuff. Gastronaut or not, you'll appreciate Vail's high standards in food and gourmet delights and your tummy will growl for this fine fare. Here's where to find it:
1. The Remedy
The Remedy is a swanky new bar situated inside the Four Seasons at Vail. With a roaring fireplace and cushy lodge seating offset with modern accents and light fixtures, it is the perfect mélange of contemporary decor and modern lumberjack. In addition to an array of booze-addled potions and elixirs to whet your whistle, you'll want to lap up their Buttery Brie with quince chutney, apple mint salsa, and prosciutto chips on top. Prepare for a molten lava of goodness to ooze out, lap it up and slather it on a fresh French baguette. This one will be hard to share, folks.
2. Elway's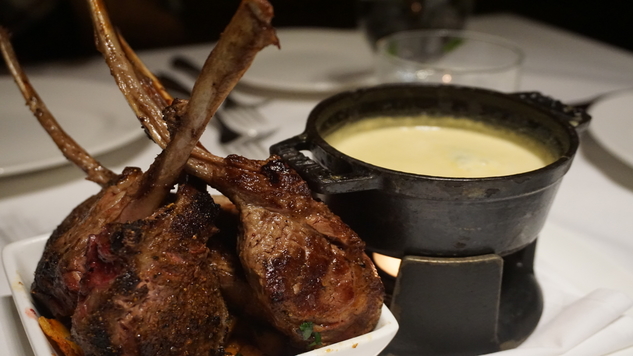 Photo By Tiffany Leigh
Elway's is a restaurant named after Colorado's beloved football player, John Elway, who played for the Denver Broncos. This intimate steakhouse is set inside The Lodge at Vail, which boasts views of the quaint village in the evening and towering white mountains in the day. Whether you're doing après-ski cocktail hour or joining a dinner party in the evening, the main attraction is undoubtedly the meat; USDA hand-cut prime steaks are grass fed and aged in-house for a minimum of 21 days. But the thing that will garner oohs and ahhs from your taste buds is the lamb fondue. Succulent lamb lollipops are cooked medium-rare; you are then encouraged to play with your food and dip the meaty-pops in a creamy green-chili sauce comprised of white cheddar, pepper jack and asiago. Cue umami euphoria for your mouth.
3. The Sebastian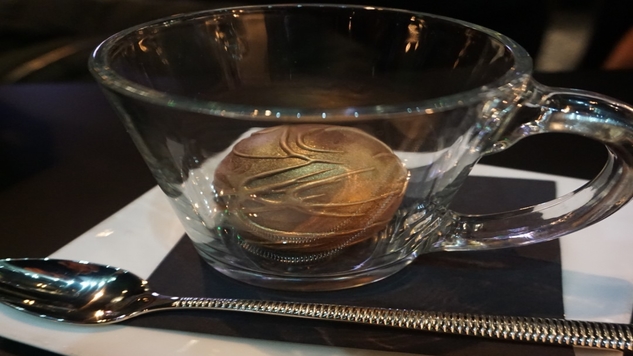 Photo By Tiffany Leigh
The Sebastian is a stunning hotel whose pleasing contemporary aesthetic features a porte-cochère cobblestone archway, velvet seating, hand-crafted woodwork, and pieces from a bevy of artists, sculptors and painters—including Manuel Felguérez, Leonora Carrington, Gunther Gerzso and Scott Chambers. But the most enrapturing part of the hotel would have to be the Frost Bar. One glance and you'll immediately conjure thoughts of Elsa's Frozen palace with all the hand blown crystals that dot the ceiling of the space. Sure, there are plenty of alcoholic-adventures you could have here but you'd be remiss not to try the hot chocolate. A large, handmade, gold-dusted ball made of Valrhona chocolate arrives in a glass; as dark hot cocoa spiced with cinnamon, cardamom, star anise, vanilla and cloves gets poured over it, the sphere erupts with marshmallows and crunchy chocolate pearls. It's a tasty, textural luxury for chocolate lovers and a not-to-miss item here.
4. La Bottega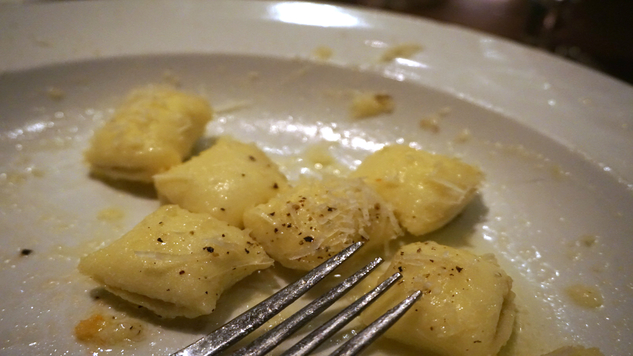 Photo By Tiffany Leigh
When the cold cascades down from the mountain tops, you can easily warm yourself up with comfort at La Bottega. Situated at the edge of the Vail Resort Village, this restaurant offers old-world European charm, fresh pizzas from their wood-fired oven, and an extensive wine list. You'll find the best dishes from Northern Italy on the menu, but the one item that had our party clamoring for more was the gnocchi. Certainly, it may sound like a humble creation, and it's not much of a looker when compared to the foie gras bruschetta, but what it lacks in appearance it makes up for in taste. You'll want to pounce on these addictive fluffy pillows with a soft chew and sweet butter finish before everyone else does. Don't forget to shower it with liberal amounts of freshly grated Parmigiano-Reggiano.
5. The 10th
If you're going to have one last meal in Vail, why not add a gorgeous backdrop to devour your dish with? The 10th restaurant, situated on Vail mountain, is the chalet of your dreams. With views of glimmering snow caps, skiers and snowboards zipping by, this is an oasis of delectable dining. The best bet is to work up an appetite on the slopes in the morning and cozy up to lunch at the 10th. Then, you'll want to order the roasted pheasant and chicken pot pie; a medley of tender chicken and pheasant chunks get coated in sage vermouth cream, a toss and tumble in seasonal vegetables and topped with a light, crispy puff pastry. It arrives in a cast-iron skillet you'll want to embrace with a warm-hug. Sure, you may want a nap afterward, but you deserve it.
Tiffany Leigh is a food, drink, and travel writer. She is a James Beard Foundation Scholarship Recipient and always travels with her companions #PinchietheLobster and #PJthelobster.