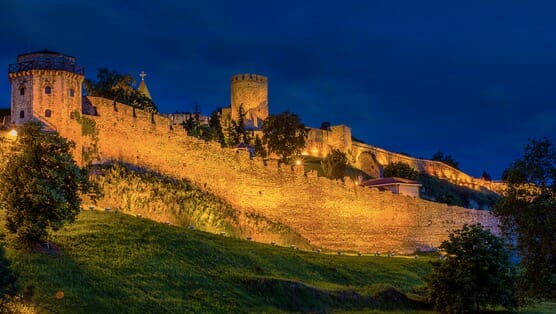 Belgrade has most of the trappings of an evolving magnet for hip travelers: a riverfront medieval fortress, historic shop-lined avenues, and former industrial zones that have become a lure for creative types. But the thing that makes the capital of Serbia, which started European Union accession talks in January 2014, special is that it brandishes a boastful and freewheeling energy while retaining (or as a result of) its enduring grit. Even after being destroyed and rebuilt some 40 times—after decades of sanctions, war and NATO bombings—the Balkan metropolis of 1.4 million entices visitors to partake in a new design district, barges repurposed as bars on the banks of the Danube and Sava rivers, café culture and partying long past zora, the Serbian word for dawn.
Day One
Morning
Belgrade's central hub is Republic Square, where young people wait for their mates at the equestrian statue of Prince Mihailo, which celebrates the end, in 1867, of 500 years of Ottoman rule. Framed by the National Museum and National Theater, it is a great place to get a feel for the city's diversity and a starting point for strolling down Knez Mihailova, the main pedestrian zone flanked with cafes and boutiques. Stop in at Leila, a coffee shop and record store, for a morning jolt or have a full breakfast at Snjezana or, a bit further afield, micro-roastery Przionica, which means little roaster.
Knez Mihailova culminates in Kalemegdan, the city's imposing medieval fortress built atop the foundations of Singidunum, a Roman settlement. Its location, at the confluence of the Sava and Danube rivers, makes it a lovely place for sunset. Before that, make sure you check out the structures left behind by Roman, Ottoman and Austro-Hungarian occupations. If you're a history enthusiast, check out the military museum, including an exhibit about the 1999 NATO bombing of Serbia.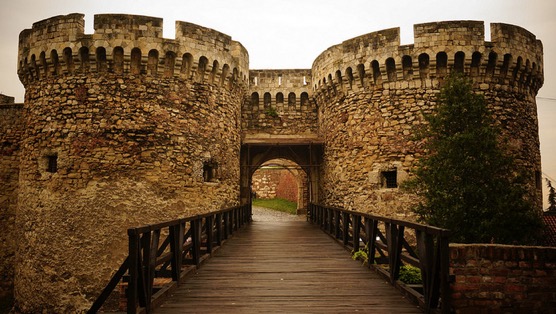 Kalemegdan FortressPhoto: Flickr/Goran Joka
Afternoon
Do not miss the Underground Belgrade tour. You'll learn about Belgrade's long history by visiting its hidden subterranean treasures, which include sites from its Roman, Turkish, Austrian, Yugolsavian and Serbian eras.
After the history lesson, head to Belgrade's "Sillicon Alley," as locals refer to Strahinjic Ban Street, if for no other reason than to witness the effort Belgrade women put into their appearances. The street is lined with Belgrade's nouveau riche, fancy cars, and a smattering of good restaurants and bars for people watching. Try the mod Supermarket, a restaurant serving an array of updated Serbian food and sushi with a full bar that also, curiously, sells the wares of Serbian designers. Or check out the nearby Smokvica, a little café serving mezze (a light meal) and a few Asian-inspired snacks in a homey environment that spills out to what was until recently a disused courtyard next to Belgrade's Jewish Historical Museum.
Silicon Alley ends at Skadarlija, a quaint pedestrian avenue preserved as the city's fin de siècle Bohemian quarter. The cobblestoned hill is teeming with traditional Serbian restaurants, or kafanas, where you can try muckalica, a pork and pepper stew and cevapi, or minced grilled meat, a Balkan staple. Locals request their favorite folk songs from roving troubadours playing traditional ballads until the early morning. Patrons who want to give the musicians a bit of baksheesh (a tip) do so by rolling up bills lengthwise and sliding them into the strings of the bass or into the folding part of the accordion. The food and prices are comparable in many of the establishments, so you can dine (with wine, beer or schnapps, known as rakija) for about less than 3,400 Serbian Dinars (or around $34 at 98.9 SRD to the dollar), but the best decor is at Dva Jelena and the best music is at Zlatni Bokal.
After Midnight
It's time to hit the splavs, Serbia's barge boats on the Sava river, across Brankov Bridge, where the party doesn't start in earnest until after midnight. Each has its own character, and with cover prices of approximately one euro you can afford to try them all. Hipsters head to Klub 20/44, while Klub Schlep, an old cargo boat, plays top-40 hits. The adventurous head to Jimmy's, where singers croon Turbo-folk songs—a fusion of folk and electronic synth—until past four in the morning. You might see some of the very same polished people from Silicon Alley letting loose here. Be warned, Serbia has no indoor smoking ban, so prepare your lungs in advance.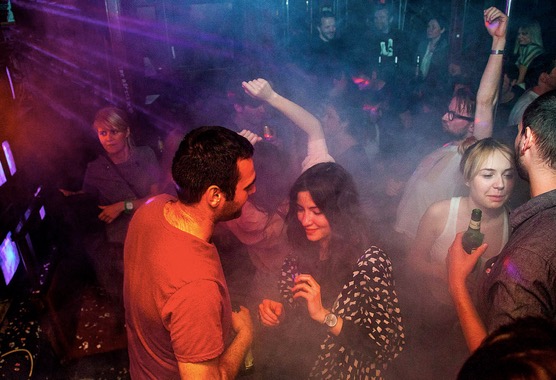 Klub 20/44Photo: FlickrSHARE Conference
Day Two
Morning
First things first, sleep in. Then walk down to pick up some fresh fruit for breakfast at Zeleni Venac, the city's most central marketplace. You can't mistake its red mushroom-like, polka-dotted cupolas. Make sure you walk by the iconic Hotel Moscow, which has hosted guests like Albert Einstein, Muammar Ghaddafi, Richard Nixon, Mikhail Kalashnikov and Orson Welles.
After reestablishing your day legs, make your way to the House of Flowers, the sprawling museum and burial complex honoring former Yugoslavia's leader Marshal Josip Broz Tito, who ruled from 1945 until his death in 1980. It is adjacent to the Museum of Yugoslav History, which always has an exhibit worth checking out.
Afternoon
Rent a bicycle or hail a taxi to Zemun for a fish lunch. The neighborhood has a different feeling because it was under Austro-Hungarian occupation from 1688 until after World War I. Try the local trout and the fish soup at one of the riparian restaurants like Saran or barges, like Pasha. Climb up to the Gardos Tower to take in the view of Kalemegdan and the Great War Island, which is today a peaceful and uninhabited nature preserve. Walk along the quay and check out some of the monolithic Yugoslav apartment blocks. Then, come back across the bridge and visit the Temple of Saint Sava, the largest Orthodox Christian Church in the world.
After taking your lunch for a walk, as Serbs say, you'll be ready to fill up again at Homa, one of Belgrade's most cutting edge restaurants. Chef Filip Ciric serves up fusion food, sous vide octopus with almond cream or salmon poached with butter and beetroot hummus. The food is on par with some of the best restaurants of any Western European city—with much lower prices. The innovative menu changes seasonally.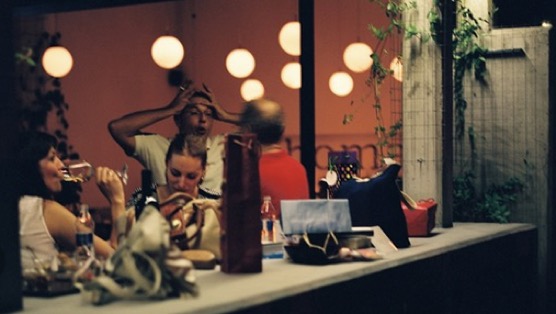 Homa RestaurantPhoto: Homa.rs
Round off your day by visiting Sava Mala, Belgrade's young and hip area, recently reclaimed from the doldrums of post-industrial wasteland. You'll see Belgrade's young bohemians. Check out the clubs Dvoristance, KC Grad, and Mikser Haus, all within a stone's throw of one another.
By this time you will have probably learned one of the most important words in Serbian—Zivjeli—Cheers!
Getting There
A handful of budget airlines have made it easier to travel to Belgrade. Check out cheap fares through the recently re-branded Air Serbia and budget airliners WizzAir and EasyJet.
To Stay
Top-End: Belgrade's Icon, Hotel Moscow, has double rooms starting at $195, with some discounts in the winter months.
Mid-Range: Old-fashioned elegance and a convenient location on Knez Mihailova await guests at the Rezime Residence. A double room starts at $73.
Low-Budget: The Hedonist Hostel is centrally located in a charming old building with a great garden. Beds start at $12.
Unique Experience: The floating barge Arka Barka Hostel has single beds in shared rooms start from $18. Private double rooms start at $44.
Valerie Hopkins is a journalist based in Belgrade.