In True American Horror Story Fashion, the Trailer for Apocalypse Is Disturbing, to Say the Least
Images via FX
TV
News
american horror story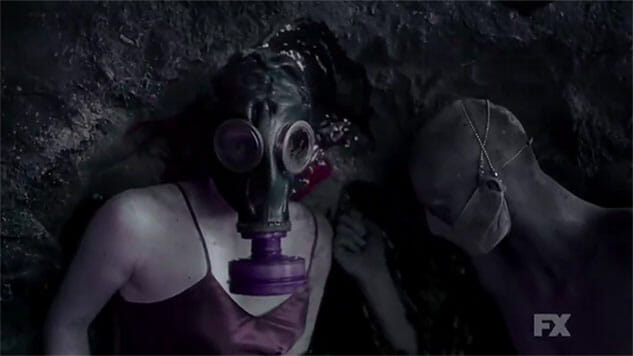 Season eight of Ryan Murphy's always-creepy TV show American Horror Story begins with the end of the world and centers around a demonic infant. On Monday, FX took to Twitter to unveil a new teaser for AHS: Apocalypse.
The teaser, which is set to the usual AHS theme music with the addition of an unsettling chorus of audible voices, features images of a baby in utero, a scorpion-filled fig, nuclear explosions and disturbing figures hiding their faces with gas masks. To top it all off, the womb is also an hourglass, presumably counting down the minutes until ultimate chaos and horror.
Season eight is set to premiere on Sept. 12 and it's a crossover of "Murder House" (as season one was unofficially known) and Coven. Apocalypse will star AHS regulars Sarah Paulson, Evan Peters, Emma Roberts and Kathy Bates. Cast members Billy Eichner and Billie Lourd will also return alongside Jessica Lange, who will be making her first appearance in the show since its fourth season (thank goodness).
FX chief John Landgraf announced at a Television Critics Association event that American Horror Story would be renewed for a tenth season, after having been renewed for seasons eight and nine at the same time. Watch the trailer for Apocalypse below.
It's time. #AHSApocalypsepic.twitter.com/z2FO9tKCZm

— AmericanHorrorStory (@AHSFX) August 6, 2018