Though Overstuffed, Apple TV+'s Dear Edward Is Still a Poignant Exploration of Grief
Photo Courtesy of Apple TV+
TV
Reviews
Dear Edward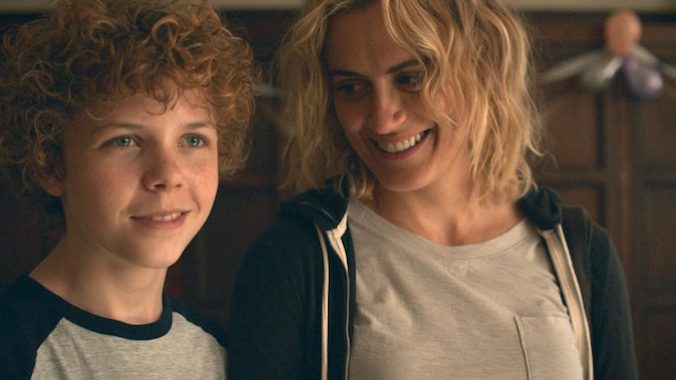 Plane crashes are great TV fodder: the great Damon Lindelof mysterybox show Lost on ABC was catapulted by a plane crash on an island with secrets; last year, the country was overtaken with love for Showtime's Yellowjackets, which follows a girls soccer team stretched to their limits while in survival mode in the wilderness. The latest show to take on all that comes with the tragedy of a plane crash is Dear Edward — but don't expect any four-legged statues or cannibalism here. The 10 episode Apple TV+ series helmed by Jason Katims is centered on the emotional aftermath of the crash, as the victims' loved ones deal with their grief and understand how to move on with life without them.
Based on a book of the same name, Dear Edward begins its story with the sole survivor of a cross-country plane crash—a 12-year-old Manhattan kid named Edward (Colin O'Brien)—before branching out to the people the deceased left behind. In some of the many threads throughout the show's run, Edward relocates from the city to upstate New York to live with his mom's sister (Taylor Schilling) and husband, a couple who were desperately trying to have their own child and have to activate their parental instincts; an aspiring Congresswoman (Anna Uzele) mourns her late grandmother and hopes to follow in her footsteps and serve her community; a Ghanian man (Idris Debrand) contends with the immigration system in order to bring his orphaned niece back to Africa with him; and a wealthy widow (Connie Britton) unfurls her husband's secret life in Los Angeles, trying to make sense of their own life together.
Telling an interconnected, humanistic story is one of producer Jason Katims's greatest assets. From Friday Night Lights to Parenthood, Katims is adept at leaning into the gray area of humanity and forcing his audiences to see people as more than just a stereotype. Dear Edward is no different, using grief as a launching pad for showing the depth of the human condition.
But there are some limitations in the way this series is rendered. The show is overstuffed with various threads and tangential characters, and 10 episodes isn't enough to let them all breathe. It often loses sight of its title, spending less time with the titular Edward and rarely digging into how he might be dealing with the trauma of being the only survivor of a plane crash. He's a young boy fixated on his dead brother and the life he never got to live, and the series seems to shy away from allowing his feelings to take up more space within the series' arc.
In highlighting the spectrum of coping, Dear Edward also makes a few odd narrative choices. Two characters that start as oppositional forces end up in bed together; ill-advised crushes form out of shared grief; some characters march along with life seemingly not feeling the trauma at all, while others are consumed with it. But in showing these varied approaches to grief, Dear Edward is true to life: the line is not always straight, and there is no "correct" way to grieve.
Britton and Schilling are the two biggest names attached to the show, and both give performances audiences will recognize and appreciate. Britton's is pitched closer to her The White Lotus and Nashville characters rather than Tami Taylor from Friday Night Lights, but as always she's effective and compelling whenever she's on the screen. She also gets the most interesting story of the bunch, investigating her "conservative Republican" husband's secret life as part of the LGBTQ+ community and coming to terms with the fact that she may not have known him as well as she thought. Schilling, meanwhile, feels eerily reminiscent of Piper on Orange is the New Black, but she does the most with her self-serving character who can't seem to understand that her husband is also deeply feeling the loss of his family members.
Despite its flaws, Dear Edward is a welcome entry into the TV-plane-crash show pantheon as a thoughtful look at the different ways that grief manifests and how community can be healing. Even with some disjointed storytelling, the pieces that land feel like they're worth the journey.
Dear Edward premieres Friday, February 3rd on Apple TV+.
---
Radhika Menon is a pop culture-obsessed writer and filmmaker. Her work has appeared in NY Post's Decider, Teen Vogue, Vulture and more, and is featured in Brown Girl Magazine's first ever print anthology. She is a proud alumna of the University of Michigan and thinks she's funny on Twitter.
For all the latest TV news, reviews, lists and features, follow @Paste_TV.